Premier League: Newcastle manager Alan Pardew is excited by new summer signings
Last Updated: 13/08/14 9:59am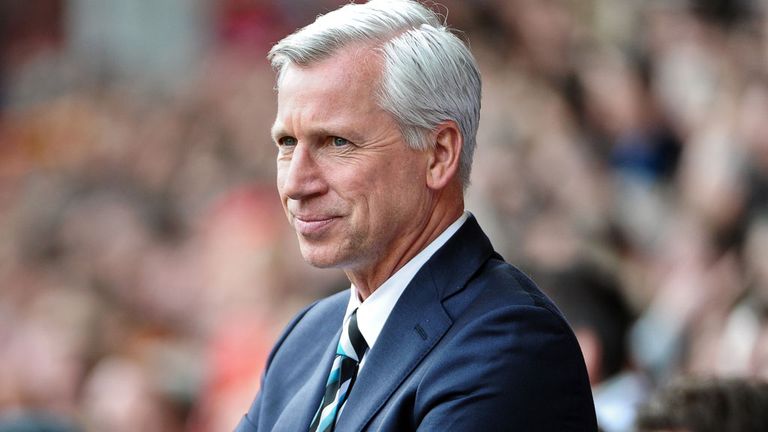 Newcastle boss Alan Pardew is excited by the new arrivals at St James' Park this summer.
Newcastle have made nine signings this close season, with Nottingham Forest duo Karl Darlow and Jamaal Lascelles being loaned back to their former club.
Speaking to Sky Sports News at Newcastle's open training session, Pardew said the new recruits will help his team to play a more attractive style of football as they kick-off their season against Premier League champions Manchester City on Sunday.
''We've brought in some real quality this year, and with the loss of Cabaye last year, it was important to add some offensive stability to our team and to strengthen it," he said.
''We're really pleased with the work we've done but the proof is in the pudding and we need to deliver on Sunday at 4 o'clock against the champions but we're looking forward to it. We're in a good shape and we had a good pre-season.
''I think we're going to play a brand of football that Newcastle United fans expect because towards the back end of last year we just didn't have enough offensive players to put on the kind of performances that we're used to.
''So this year we've got a lot of options from the bench, a big squad of good quality. Siem De Jong from Ajax, Cabella from France. A mixture of players, Jack (Colback) from just down the road, so we've looked out far and wide because it's a difficult agenda for us to get players who are good enough to play on this stage.''
Pardew also spoke very highly of new signing Siem De Jong in particular.
''I absolutely think he's a terrific player, I've been lucky enough in my career to manage some great players and I think he could be one of the best," he said.
"I've worked with Teddy Sheringham and he reminds me a lot of Teddy in the way that he conducts the game, the way he conducts himself and that'll be shown on a matchday.''
Pardew added that he would be open to bringing in one or two more players before the window closes, provided they are the right fit.
''I think we've been very much on the ball with transfers. I think if something comes along that we think is right for us, we have got scope to move. Whether we do or not will depend on the finances and whether it's right.''
Watch Newcastle United v Manchester City live on Sky Sports 1 from 3.30pm on Sunday.