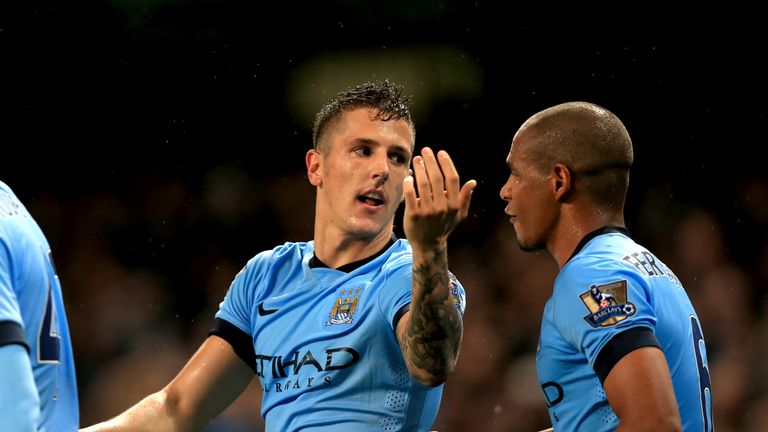 Stevan Jovetic says the support he has been given at Manchester City has helped to turn his fortunes around.
Having initially struggled to make the desired impact at the Etihad Stadium, through a combination of injuries and a loss form, it was suggested that the Montenegrin forward may struggle to last more than 12 months in England.
A return to Serie A, where he has previously shone for Fiorentina, was mooted this summer, with Inter Milan reported to be leading the chase.
It is most important when the staff, the coach and the president are satisfied with you.
Stevan Jovetic
City boss Manuel Pellegrini admitted that interest was shown in Jovetic, but made it clear that he was not going anywhere.
He said: "A lot of teams wanted him this year but we have always said no, he must stay here with our squad."
Jovetic has welcomed the show of faith, with the backing of his manager helping him to put future talk to one side and focus on his football.
He said in the Manchester Evening News: "It is most important when the staff, the coach and the president are satisfied with you.
"When they believe in you, it is very important, and my way of saying thank you is to play well."
Jovetic's form has improved markedly since the start of the season, with a brace bagged in a 3-1 victory over fellow Premier League title hopefuls Liverpool on Monday.
Meetings with the men from Merseyside appear to bring the best out of the 24-year-old, with deadly doubles now netted in three appearances for City and Fiorentina.
Jovetic said: "It seems like I enjoy playing them. I played against them in 2009 with Fiorentina and scored two goals, then two more against them in pre-season and again this time.
"I don't know why it is, but I hope it continues at Anfield. It is more difficult to score in big games, so that makes me happy.
"That season, in 2009, I also scored in the competition against Sporting Lisbon and two against Bayern Munich.
"But then I missed a couple of games through injury. After that, I could have moved somewhere, but decided to stay with Fiorentina.
"I was out for a year with a knee injury, but became stronger and better, started playing well again and ended up at City."