Premier League: Frank Lampard would have stayed at Chelsea if offered deal
Last Updated: 05/09/14 11:05am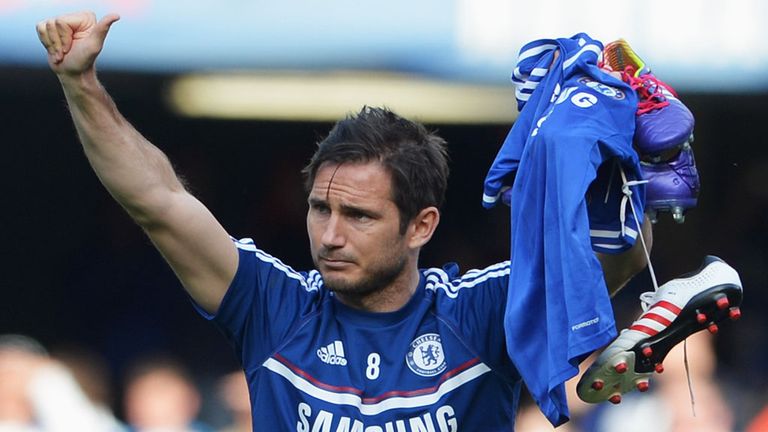 Frank Lampard admits he would still be a Chelsea player had a contract extension been put to him at Stamford Bridge.
The long-serving midfielder saw a 13-year stint in west London come to an end over the summer as he was allowed to walk away as a free agent.
Jose Mourinho and his board took the decision not to table fresh terms, with Chelsea looking to move in a different direction with younger options.
Lampard, at the age of 36, subsequently agreed a move to the MLS with New York City, with a loan deal then bringing him back to the Premier League with champions Manchester City.
I would have obviously stayed if Chelsea had offered me another year. There was no reason for me to leave.
Frank Lampard
The former England stalwart, who recently announced his international retirement, says things could have been very different had Chelsea opened talks, but he has no complaints at being allowed to leave with his head held high and with 11 major honours to reflect on.
Lampard told The Sun: "I would have obviously stayed if Chelsea had offered me another year. There was no reason for me to leave.
"Yes, I wanted to play a bit more regularly but I'm not stupid.
"If Chelsea had given me a new contract it would have been mad not to take it at the time.
"It wasn't that I didn't think I could still do it. If I felt like that I wouldn't have gone to City on loan.
"I had a chat with Jose Mourinho and both he and the club were always great with me. The decision was made – and I don't know who made it."
He added: "When we won the Champions League I knew there would be some sort of evolution. Chelsea wanted to bring in some younger players and it was the right move for the club.
"We had a fantastic spine of players who helped carry us through from one manager to another and win things, but it doesn't last forever.
"Jose was brilliant about it. I didn't walk out with any bad feelings towards him or the club.
"I knew things were coming to a head but I'm realistic and, in football, I move on quite quickly.
"I also felt like I didn't want to be a player who faded away – with that being the last memory people had of me.
"So maybe it was the right time. Maybe it was right that the club took it out of my hands.
"I certainly didn't want to go until I was 40 and just being rolled out for the Capital One Cup after the great times I had at the club.
"What I really want now is to make a really positive impact in my time at Manchester City and then again in the next stage of my career."