Key battles
Man United host Liverpool on Saturday lunchtime in a derby clash that whets the appetite.
Last Updated: 11/02/12 12:58pm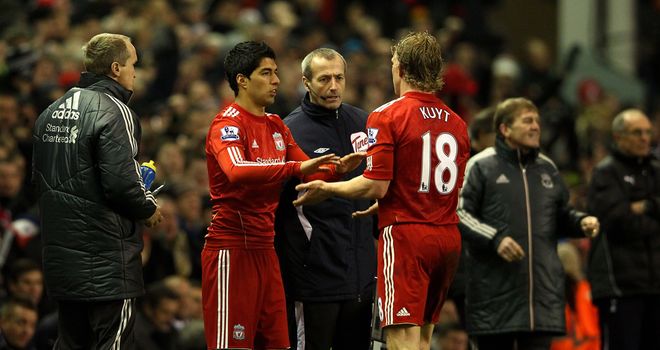 Manchester United host Liverpool on Saturday lunchtime as they look to leapfrog neighbours City at the top of the Premier League, if only temporarily. There is no escaping the fact all eyes will be on Patrice Evra and Luis Suarez but both managers have tried to take the sting out of the matter by claiming they have not given a moment's thought to the situation. Here, we look at where the game at Old Trafford may be won and lost.
PATRICE EVRA v LUIS SUAREZ
All eyes will be on the pair who are set to face each other for the first time since Suarez was banned for eight games for racially abusing the Manchester United defender. Suarez returned as a substitute in the Reds' draw against Tottenham and he is guaranteed an even more hostile reception than that directed at Evra during the FA Cup tie between the sides a fortnight ago at Anfield. It would be unrealistic to suggest the South American can expect anything less than a tough afternoon from the Old Trafford faithful but the hope is that post-match talk centres on what transpired on the field rather than what was said off it. Evra has not enjoyed the best form of late having been culpable for Liverpool's winner in the FA Cup clash and again for Chelsea's opener last weekend as Daniel Sturridge left the full-back chasing his shadow. Kenny Dalglish said it was touch and go whether he started with Suarez against Spurs and the improved performance of Andy Carroll will give him something else to ponder over. The temptation will be to field them in tandem.
PAUL SCHOLES v STEVEN GERRARD
Two former England team-mates are set to meet in midfield on Saturday lunchtime. Scholes stunned football when he announced his comeback at the turn of the year and his return coincided with three successive victories. He has great presence in the United midfield and displays customary control and accuracy. At Stamford Bridge he impressed coming off the bench with United struggling and it could be that Ferguson opts to use his metronome passing from the start against Liverpool. United bossed possession in the Anfield clash between the two clubs and could do again if Ferguson employs Scholes in the centre of the field. Gerrard continues to be a mainstay of the Liverpool team with his drive, power and inter-play with Suarez capable of unlocking any defence. Gerrard is vital if Liverpool are to provide good service for Carroll. After a prolonged spell on the sidelines he is starting to play himself into form and it will be interesting to see Dalglish's vision of playing Gerrard in tandem with Suarez and Carroll given opportunity to flourish in the next few weeks.
WAYNE ROONEY v DANIEL AGGER
Rooney started this season on fire and while he has not maintained such a scoring record, he has already got 22 goals for the season. The striker got two in United's stunning comeback against Chelsea and as ever, the Reds will need to be on full alert for his strength, power and pace. At Stamford Bridge he took the game by the scruff of the neck to rescue his side a point but Ferguson will be nothing less than apoplectic if United find themselves in similar trouble at the weekend. Agger has forged an impressive partnership with Martin Skrtel and reads the game well. Now Jamie Carragher has seemingly been reduced to a permanent peripheral role it has given Agger and Skrtel a chance to better understand each other's games. While United bossed possession in the first game they were reduced to just a handful of chances, with Agger a key player in what was a resolute defensive display.