Caution costs
Manchester United's reluctance to go toe-to-toe with their neighbours ultimately gave City the impetus in a game that has shifted the advantage in this season's title race firmly into the hands of Roberto Mancini's side.
By Alex Dunn - Follow me on Twitter @skysportsaldunn
Last Updated: 01/05/12 6:55am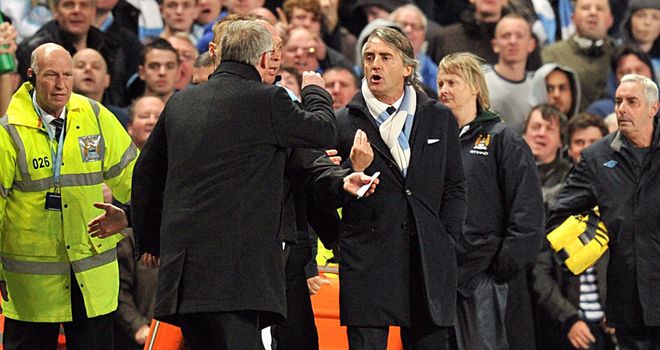 It may have lacked the last minute decisive drama of Michael Thomas' unerring finish for Arsenal back in 1989, but if Manchester City go on to win a first title in 44 years Vincent Kompany's bulleted header will earn a rightful place in the pantheon of English football's iconic goals.
The mother of all Manchester derbies was predictably one of its tersest and while for the neutral it lacked the goalmouth action one always craves from such occasions of true sporting significance, it would be churlish not to congratulate a Manchester City side who must now be considered strong favourites to end a barren run that stretches back to 1967/68.
Given the nature of Manchester weather perhaps it was inevitable back in '68 United would rain on their neighbour's parade somewhat by lifting the European Cup just two weeks after City claimed domestic glory but there will be no silver lining for Sir Alex Ferguson's side this time around. In Ferguson's 25 years at United a changing of the guard has never been closer than at the shrill of referee Andre Marriner's whistle that brought to a close the 163rd and arguably most significant Manchester derby.
The sky over Old Trafford this evening is as black as the mood that threatened to simmer over midway through the second half when Ferguson took exception to what was in reality a nothing challenge on Danny Welbeck by Nigel de Jong. Gesticulating widely in the direction of Roberto Mancini the Scot was in danger of becoming the first ever Premier League manager to literally, and in this case I do mean literally, implode on the touchline when his Italian nemesis implored silence via a gesture of his own. This was the night when United's noisy neighbours were never noisier.
It's been said City are forever the bridesmaid but never the bride, but a fairer summation would be for the most part since the halcyon days of Summerbee, Bell and Lee they've not even had an invite to the wedding. If they keep their nerve in their next two games as well as they did tonight though they will be sat at the top table come May 13th, as Mancini's talk of leaving a legacy starts to look to have real credence.
Having spent much of the past week bristling at the suggestion he might set his side up to suffocate the game at the Etihad in the pursuit of a solitary point, Ferguson pulled off his best poker face when handing in a team-sheet that had all the conservatism of a European away day. That United inexplicably managed not a solitary shot on target over the 90 minutes was testimony to the fact Ferguson, for all his bluster about his side only knowing one way to play, got it wrong. Even if his shape was right for the occasion, the personnel were not.
Whereas Mancini elected to utilise a full house of attacking talent United entrusted Wayne Rooney to play as a lone striker, in the process breaking up a blossoming partnership with Welbeck which had yielded an 85 per cent win rate from the 17 games in which they had previously started together this season.
Worried about City's predilection to play through the centre of the field Ferguson was also willing to sacrifice a significant portion of their usual width as Antonio Valencia was surprisingly left out. Nani was given the nod to go at Gael Clichy, whom he'd given a torrid time when at Arsenal, while Ryan Giggs was summoned from the periphery of late to figure in his 35th Manchester derby. Park Ji-Sung, who had started just two other games this calendar year, was another inclusion that didn't pay off. Ferguson went for experience; Mancini energy and drive.
It would be disingenuous to suggest United started the contest in awe of their hosts but without question the manner in which they set up was a compliment to City. It wasn't quite Rumble in the Jungle but there was a sense United's reservations about going on the front foot was a ploy to get City to punch themselves out. A United counter-attack at its best can be as deadly and difficult to defend as a right hand lead but ultimately it was the head of Kompany that had all the purpose of a George Foreman haymaker. Unlike Muhammad Ali, United didn't have a plan B.
For the opening fifteen minutes a compact United enjoyed little pockets of play as Paul Scholes and Michael Carrick did their best human metronome impersonations but with a predictably leggy Park soon tiring, Yaya Toure, Gareth 'six out of ten' Barry and in particular, Samir Nasri, came to the fore to dominate thereafter.
It was only when Welbeck was introduced from the bench did United even hint at breaking through a City rear-guard superbly marshalled by Kompany and Joleon Lescott all evening. When Kompany was cautioned for a foul on Rooney on 18 minutes it looked likely to be a long night for the Belgian but instead he seemed almost buoyed by playing on the precipice. Whereas he grew in stature as the evening progressed Rooney's influence shrunk, his exasperation exacerbated by his team-mates' continued profligacy. If David Silva was the player of the first half of the season and Scholes the second, Kompany - as much as Robin van Persie - has lasted the course as well as anyone.
Kompany's goal in first half injury time was as much an advert for the possible advantages of zonal marking as it was testimony to the fact United badly miss Nemanja Vidic at set-pieces, with Chris Smalling's failure to get touch tight on City's captain proving costly. Neither Rio Ferdinand nor David De Gea covered themselves in glory either. As omens go falling behind is not a great one for United as the previous seven times in the Premier League they'd conceded first prior to Monday's game they had failed to go on to win. History would repeat itself. City, for all their perceived lack of height, have scored 14 goals from corners in the league this season; more than any other side.
Rather than quell City's dominance in the centre of the field United's narrowness invited Clichy and the ever pugnacious Pablo Zabaleta to buccaneer forward at every opportunity down the flanks; Nani's lack of defensive nous allowed Clichy to get in behind the below par Phil Jones too often as City used the reverse ball effectively throughout. Surely Valencia would have been a wiser bet. On the other side Zabaleta showed why Micah Richards has been kicking his heels of late.
Although at times they overplayed there was a wit and verve about City's attacking play that was entirely devoid in United's game. Nasri in the past few months has really found his feet and perversely seems to be benefitting in Silva's drop in form, with City now less reliant on playing everything through the Spaniard, who so illuminated in the first half of the campaign but now looks like he's ready for a nice beach holiday and a good book. Roll on Poland and Ukraine.
Even City fans who see the glass as half full would concede there would be something not quite right if they didn't cock things up on Sunday at Newcastle but after the most seismic of Manchester derbies it does now look as if Mancini's side are on the cusp of edging over the line to come out on top in what has been the most fascinating title race of recent years.
Just before kick-off Guardian writer and ardent City fan Simon Hattenstone tweeted a mood that had permeated not just the blue side of the city but the whole of Manchester: "All day long, people have been talking to me as if I've got v serious illness 'how u feeling?'."
For once it will be Manchester United fans feeling blue on the morning after the night before.