What's the story?
Chelsea's pursuit of Oscar kicks off our new feature 'What's the story?' that looks to dissect the morning's lead transfer story. Each morning we'll peruse the transfer titbits making the news and look to get to the bottom of the one that seems to have the most legs.
By Alex Dunn - @skysportsaldunn
Last Updated: 11/07/12 1:00pm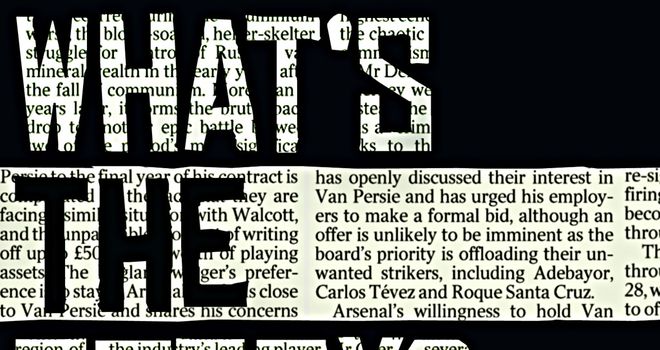 What's the story? It's all about Oscar this morning. Roman Abramovich's masterplan of turning Chelsea from staid to sexy in a single summer shows no sign of abating as he lines up a Samba signing. Brazil wonderkid Oscar is his latest infatuation and, if widespread reports are to be believed, the Internacional playmaker is set to take the European champions' spending to past the £60million mark.
Who's saying that? Pretty much everyone. The Daily Mail claim an EXCLUSIVE and have gone with 'Chelsea win the Oscar' as their back page lead. It's such an EXCLUSIVE around half of the other nationals are running the story, but let's not quibble. The Daily Telegraph clearly feel it's got legs as they dedicate almost half of their solitary page of football coverage to the story, while it leads the The Times' Window Watch column. The Daily Star go equally strong on the line that Chelsea are very much in pole position to land the 20-year-old.
What do the South American press make of it all? It's not just in England that news outlets agree to disagree. One of Oscar's agents, Carlos Meinberg Neto, has been pretty candid when talking to Brazilian internet channel TV Terra. He claims his client is indeed the subject of a substantial bid: "Chelsea did offer 25 million euros, but there is still no agreement between the clubs, that will probably happen within the next days." Oscar himself is decidedly more circumspect, telling Globo Esporte: "I will stay." On Radio Gaucha Internacional president Giovanni Luigi claimed 'there have been no offers for Oscar', but at the same time conceded 'Internacional have the practice of selling one or two players every transfer window. So we might sell a player'.
Wait a minute, weren't Tottenham supposed to be chasing this Oscar chap? It's fair to say Andre Villas-Boas will not be happy this morning. The Portuguese is known to be a big fan of the player dubbed the 'new Kaka' in Brazil and had earmarked him to take on the creative void that will be left should, as expected, Luka Modric swap White Hart Lane for the Bernabeu in the next few weeks. Just last week Oscar admitted he had heard of purported interest from North London, with reports suggesting Daniel Levy had lodged a bid in the region of £15million. It is thought Chelsea will have to go closer to £22million to land their man. Should both London clubs have bids accepted the player could favour a move to Chelsea. Certainly if his agent has anything to do with it: "Tottenham also made an offer, but he should accept Chelsea's offer as there is more exposure there." Rumours of Oscar starring in the next season of 'Made in Chelsea' are unconfirmed at the time of going to press.
Is he any good though? Oscar started his career at Sao Paulo but after just a handful of games for his hometown club moved to Internacional. He's won six caps for Brazil at 20, so he's probably not too shabby. By all accounts he acquitted himself pretty well in the senior set-up and is thought to be a new favourite of coach Mano Menezes. Although slight in frame, Oscar belies the stereotype of Brazilian schemers in that he doesn't mind putting in a shift. More a precision passer than trickster, he's doesn't come with Robinho flicks - or the strops. For his club he has scored 19 in 70 games, primarily playing behind a striker or in a deeper playmaking role. In the tradition of a 'No 10' he operates best in the lines between midfield and attack, although he also has experience of playing on either flank. An electric performance at the Under 20 World Cup last summer saw Oscar's stock rise considerably, with a majestic hat-trick in the final against Portugal seeing him shoot to the attention of Europe's leading clubs. Real Madrid, Barcelona and AC Milan are thought to have had him watched.
Wouldn't it be in handy if he was in London for the Olympics later this month? Would you believe it - he's only in the Brazil squad for London 2012. Chelsea/Tottenham fans who have already exhausted YouTube clips of the starlet can catch a glimpse of their potential new signing in Cardiff (v Egypt), Manchester (v Belarus) and Newcastle (v New Zealand).
Cards on the table, where's he going to end up? At the moment it looks as though all roads lead to Chelsea. Tottenham head coach Villas-Boas will be loath to have his former employers gazump him as he looks for his first major signing but as the old saying goes 'what Roman wants, he tends to get'. Chelsea's glorious night in Munich seems to have reinvigorated rather than sated the Russian's appetite for silverware, so expect further marquee signings at Stamford Bridge between now and the close of the summer transfer window.