Reds blue
Liverpool will be kicking themselves they didn't beat Manchester City, Gary Neville told Sky Sports.
Last Updated: 27/08/12 6:29am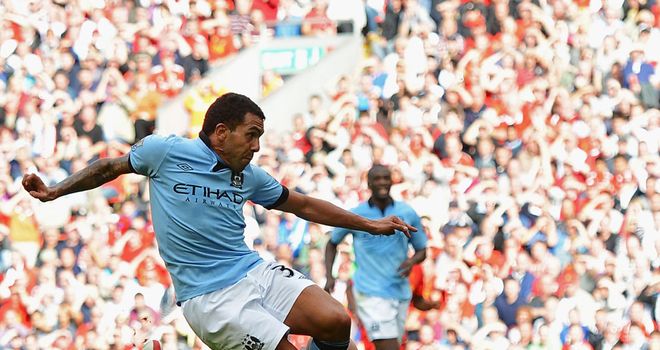 Liverpool will be kicking themselves they failed to hold on for three points against Manchester City, Gary Neville told Sky Sports.
The Reds twice led the champions at Anfield but, after Yaya Toure had cancelled out Martin Skrtel's opener and Liverpool had re-taken the lead through a Luis Suarez free-kick, defender Skrtel fluffed a back pass straight to Carlos Tevez who clipped in a late leveller.
"In both games they've played in the Premier League this season Liverpool have made costly defensive mistakes," said Neville.
"As well as you play in a football match - and they have played well here, and there will be plenty of encouragement for fans, players and the management - if you give goals away it kills you. And they've given away really bad goals today; both of them were avoidable."
"Skrtel was man of the match 80 minutes in, but he played a pass blindly. That's twice in two weeks now he's got caught on the ball defensively.
"He'll be devastated because he had played so well up until then. It's ok playing out from the back but don't get caught on the ball, don't deliberate, don't get closed down. Instead, pass it off to a full-back, move and then get it back.
"But credit also to Tevez. Forwards like him are never asleep. They're always alive and alert and he read it really well."
Jamie Redknapp concurred and said he thought Liverpool deserved to win the game.
"It's heart breaking for Liverpool because of the effort they put in. They drew nine games at home last season and often, just like today, they played exceptionally well but just didn't get that little bit of luck or the break they need.
"They deserved to win this match and were in control, but they gave away sloppy goals when there wasn't a great deal happening."
Fine free-kick
However, the former Liverpool captain was full of praise for Suarez's free-kick, despite saying it was unfairly awarded.
"First of all, it wasn't a free-kick," he said. "Gerrard hit it as hard as he could and it hit Jack Rodwell on the arm from two yards away. There was no way he could get his hands out of the way. It even hit his knee first! It was extremely harsh.
"But after that you've got to admire Suarez. Joe Hart was happy with the wall and it looked to be in the right place, but with the pace, bend and whip he produced, it was executed perfectly."
Carroll's future
Sub Andy Carroll came close to sealing all three points for the hosts. There is speculation he could be sold by the club but Neville said the former Newcastle man may instead opt to stay and fight for his place.
"If Andy Carroll feels he's at right club, why not stay and fight for your place and prove you're good enough?
"If he leaves Liverpool this week there will always be that suspicion could he have made it - did he jump out too early?
"He's got pride and he'll want to deliver at this football club. His price tag is big, the expectation is big but he's not been given too much of a chance since he joined. He may just dig his heels in and say 'no, I'm going to stay and prove myself'."