Deadline day deals
Skysports.com counts down 10 of the best last-minute moves of recent years ahead of Friday's deadline.
Last Updated: 28/09/12 10:30am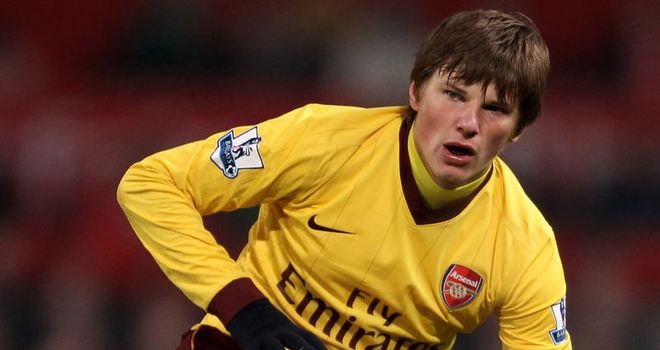 The transfer window is always a frenetic period but the chaos goes into overdrive on deadline day as clubs desperately try to push through deals that have previously eluded them.
There are many stages to go through in any move as various agreements need to be reached, medicals have to be undertaken and paperwork has to be completed, yet the process accelerates dramatically as the cut-off time looms.
This phenomenon occurs twice a year, usually on 31st January and 31st August, and invariably produces the most eye-catching signings.
As skysports.com counts down to Friday, we look back at 10 of the best transfers from deadline day in recent years.
Andrey Arshavin
Arshavin's form of recent seasons may not have fuelled much excitement but a couple of years ago he was just about the most coveted player in the world game, after setting alight Euro 2008 and then making it clear that he wanted to leave Zenit St Petersburg. His future was finally resolved the following winter on one of the most memorable deadline days of recent times, with snowy conditions in England making it tricky for clubs to conclude deals. A switch to Arsenal initially appeared to have fallen through in the morning before his signing was finally announced, and the Russian maestro settled into his new surroundings quickly, famously scoring all four goals for the Gunners in a thrilling draw against Liverpool.
Adam Johnson
A surprising entry in our list but he makes the cut because it was the move that involved the biggest fee on deadline day two years ago. Most of Roberto Mancini's business at Manchester City has revolved around big-money foreign imports but he demonstrated last January that he had an eye for young British talent with the capture of Johnson from Middlesbrough. The 23-year-old is capable of changing the course of a game with his dribbling and shooting ability, establishing himself as a key component of City's star-studded squad and also breaking into the senior England set-up.
Robbie Keane
Keane could not be left out of our top 10 after twice making winter deadline day moves. He sealed a remarkable return to Tottenham following an ill-fated stint with Liverpool, while he was also loaned out to Celtic after falling down the pecking order again at White Hart Lane.
Rafael van der Vaart
To call Van der Vaart's switch to Tottenham a deadline day deal would be kind as it was certainly not clear that he had signed at the moment the window shut. The agreement to bring him to White Hart Lane from Real Madrid was finally ratified by the Premier League the next afternoon but it is perhaps not surprising that there was a late hitch or two as Spurs had only emerged as contenders to sign the Dutchman hours before the cut-off point. The decision to turn to Van der Vaart looks even better with hindsight, as he has made a stunning impact in his first season at White Hart Lane, chipping in with goals that have been significant as well as sublime.
Ashley Cole
A night-time switch across the capital that was not without controversy as Arsenal finally agreed to let Cole join Chelsea after protracted talks in exchange for William Gallas. The unpleasantness had started much earlier with a tapping-up scandal and continued with candid comments from Cole in his autobiography, while it then looked as though the move would not be finalised in time as the Gunners held firm in their valuation of the player. An announcement was finally made a couple of hours after the deadline had passed and Cole's career has gone from strength to strength at Stamford Bridge, with the 30-year-old now widely regarded as the finest left-back on the planet.
Robinho
An incredible signing that effectively marked the start of a new era at Manchester City, as the club's new owners flexed their financial muscle to land one of the world's biggest names. The Abu Dhabi United Group only took control at Eastlands on deadline day in summer 2008 but wasted no time in making their presence felt as a host of high-profile players were suddenly targeted. Robinho had grown unsettled with life at Real Madrid and sealed a remarkably quick switch, much to the delight of supporters. The Brazilian's time at City ended in disappointing fashion but for a short period he took the Premier League by storm in scintillating Samba style.
Marouane Fellaini
The big-haired Belgian had been linked with the likes of Manchester United, Real Madrid and Bayern Munich before joining Everton for a club-record fee from Standard Liege. David Moyes had endured a frustrating few months in his search for new recruits prior to the £15million purchase of Fellaini but, looking back, will have no regrets over his decision to splash so much cash.
Carlos Tevez
Even the most deluded of West Ham fans must have been shocked when Argentine superstars Carlos Tevez and Javier Mascherano arrived at Upton Park in an extraordinary double deal in the summer of 2006. Mystery surrounded the move and it later transpired that there were 'irregularities' due to third-party ownership that resulted in the Hammers being fined but, crucially, not docked points. While Mascherano had little impact, Tevez produced a series of sparkling performances at the end of the season to keep West Ham afloat by the narrowest of margins.
Niko Kranjcar
Another great piece of business by Redknapp as he raided former club Portsmouth for Kranjcar at a bargain price. The Tottenham manager was forced to venture into the market following an injury to Luka Modric and could not have found better cover in the shape of compatriot Kranjcar.
Dimitar Berbatov
An ugly saga that looked set to end in deadlock after Tottenham complained about Manchester United's pursuit of the Bulgarian was finally resolved in a last-gasp, mega-money deal. Berbatov had been dropped by Spurs for a number of games at the start of the 2008/9 season after admitting his dream of playing at Old Trafford and 'losing focus', according to Juande Ramos. The agreement that was finally struck involved a fee of £30.75million and Fraizer Campbell moving to White Hart Lane on a season-long loan.