Saturday summary
The Soccer Saturday boys talk Man United, Darren Bent, Roy Hodgson and Chelsea's big win...
Last Updated: 08/10/12 11:10am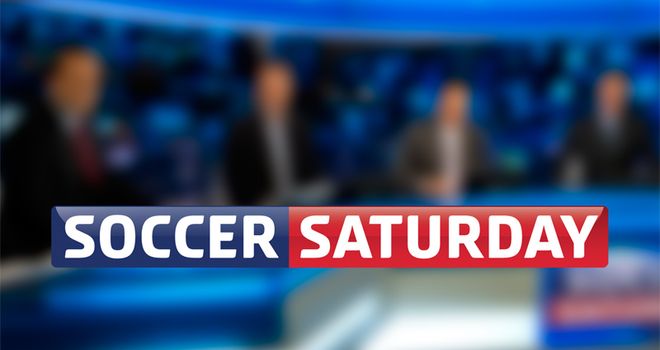 Charlie Nicholas on Man United's defensive issues
"Man United are playing this squeezing game at the back and it isn't necessary. There have been big gaps between the two centre-backs but there are also big gaps between the full-backs and the centre-backs. Both full-backs go and attack the ball, especially Rafael on the right as that is his natural instinct.
"He doesn't have the experience and knowledge but it is up to Rio Ferdinand to say: 'Sit and hold the line and wait for the midfield to protect you'. Rio may have lost a bit of pace but he should now have the authority to say: 'I'm not getting there, so wait'. Defending is an art - the less you need to do the better you are - and Rio needs to use his experience."
Paul Merson on Darren Bent's Aston Villa future
"Bent started on the bench at West Brom last time out but he is Villa's only natural goal-scorer, so to put him as a sub in a team that doesn't make a million chances in a game is something I could not believe. He is not going to give you a lot more than scoring goals - he won't get the ball on the halfway line and bring people into play - but you need him there.
"Villa need Bent if they are to stay up but he has had the captaincy taken off him and I would be amazed if he was there in January. If that is the case, then I don't think it would be a bad move for Arsenal to go for him. He would cost a lot of money and is not an Arsenal-type player but the Gunners create a lot of chances (and he could finish them)."
Charlie and Merse on why John Terry and Ashley Cole must be punished
CHARLIE: "I don't think Terry can remain as Chelsea captain (after he was banned by the FA for racially abusing Anton Ferdinand) but Chelsea will see this differently. If a fan used (racist language) you would say that he would probably be banned for life, so Chelsea must take action against their captain for the sake of football and respect. That shouldn't be too difficult.
MERSE: "If what Ashley Cole had Tweeted (about the Football Association) had come out of his mouth in the heat of the moment and he thought: 'I shouldn't have said that', that is one thing. But to write it down, look at it and say: 'I'm having that' is not on. The FA should do something and he should not play for England next week."
Matt Le Tissier on Roy Hodgson's chat on the tube
"It's sad that a chat with fans ends up on the back page of a newspaper but, having said that, that is the world we live in and Roy is long enough in the tooth to know that he should probably have batted away the question about Rio Ferdinand, not given anything away, and said: 'Wait until I announce the squad'. However, what has happened stops managers interacting with fans and I think that is a bad thing."
Paul Merson on Chelsea's 4-1 victory over Norwich
"Chelsea are not great at the back and there are definite flaws there; that showed when Norwich's Grant Holt netted against them to open the scoring, but when they went into overdrive they were different class and their third goal, set up by Juan Mata and finished by Eden Hazard, was phenomenal.
"Chelsea didn't get out of first gear in the second half but in the first period everything went through Mata. He made things happen and when him, Oscar and Hazard play they are an absolute handful; their moving, their passing and their one-twos are very clever.
"I thought Holt was very good for the visitors; he worked his socks off, got his goal and was always a handful, but you have to worry for Norwich as they are all over the place; it could have been five or six in the end. They need a settled back four but I think their luck will change and they will be alright."
Charlie Nicholas on Wigan's 2-2 draw with Everton
"I have never known a game with so many penalty situations but there was also some good football played, even though it wasn't a classic.
"Wigan started the better of the two sides, but there is a problem defensively and this back three that was so strong for Wigan at the tail-end of last season is not the same at the moment. They have more bodies in midfield and can squeeze the game but they are not clicking just yet.
"There were twice in front and couldn't see it out but they did have further opportunities and Roberto Martinez, always an optimistic character, will think they could have won it, but I think David Moyes will be disappointed as Everton dominated the game second half."
Matt Le Tissier on West Brom's 3-2 triumph against QPR
"QPR need to stop turning up for games when they are 2-0 down - but it was a great fightback; in the second half they came out with purpose and looked the much better team. They penned West Brom back and over the course of the 90 minutes probably shaded it in terms of possession.
"I thought Rangers were unfortunate to lose but they gave themselves a mountain to climb and if they keep doing that they are going to be in trouble relegation-wise. Adel Taarabt and Esteban Granero can make and score goals but they have to stop conceding.
"West Brom's backline has looked a lot more solid in other games, but I like James Morrison in midfield, and Shane Long and Peter Odemwingie, who both got substituted quite early on, were both decent."
Phil Thompson on Swansea and Reading's 2-2 stalemate
"Reading went 2-0 up so will be disappointed to draw but it was the most that they deserved; for most of the game they were on the back foot and it was Swansea that were attacking. Alex McCarthy in the Reading goal was absolutely inspired and he made some worldy saves, but they cannot allow him to make so many stops in a game.
"Swansea boss Michael Laudrup was forced into a change because Danny Graham got a bad bang on the head. That saw Luke Moore come on and he was very good, while Wayne Routledge, who popped up everywhere, was outstanding and had probably the best game I've seen him have. Once Michu pulled it back to 2-1 it was all Swansea and then Routledge clipped the equaliser past McCarthy - but Swansea really should have won it."