Saturday Summary
See what the panel had to say about wins for Man City, Man Utd, Liverpool and Swansea.
Last Updated: 20/10/12 8:48pm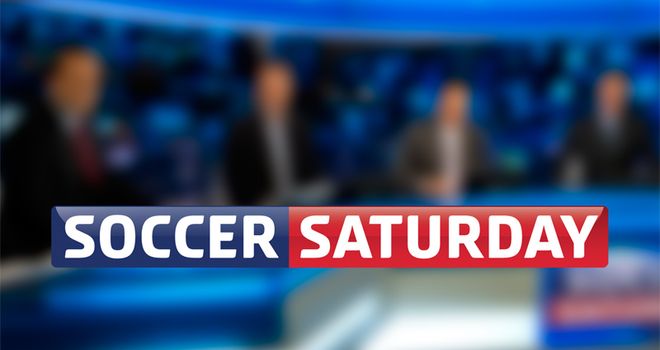 Phil Thompson on 10-man Manchester City's last-gasp win over West Brom
"I'd have probably said a draw was a fair result. Being down to 10 men then getting a draw out of it would have been great and I think Roberto Mancini would have accepted that. They were never out of it and although they were down to West Brom they were always in the game.
"At first I thought the referee may have got James Milner's red card wrong, but looking at it again, it was a mistake by Vincent Kompany and as Milner was running back he caught Shane Long, who is very quick. I thought Mark Clattenburg got it spot on. A few of the City players objected, but I think they knew deep down that the referee was right.
"This was a really good game between two different teams, but I think overall, with them being down to 10 men, a draw would have probably been a fair result. Joe Hart didn't have a lot to do except for some saves at the end, but they still conceded a goal. That will be one of the problems because they're normally better than that. Again, they showed that character, which is what they did a lot of the time last year, to come back when they've been behind and snatch things late on. As we know, the other team in Manchester have made a great habit of that!"
Paul Merson on the impact of Rooney, Van Persie and Welbeck in Man Utd's win over Stoke
"All of them scored and their movement was scary. One minute, Van Perise was on the left, Welbeck was down the middle and Rooney was out on the right but because they're all very good footballers none of them ended up in the same place at the same time. Sometimes you play three up front and you've always got a worry of players bumping into each other and it becomes a bit claustrophobic when everybody's on top of each other. But their movement was phenomenal. Even Welbeck deserved his goal; I thought he was very good today.
"I think Rooney likes playing with Van Persie up front because they both sit on the same wavelength. They're both on medium wave; if one does something then the other ain't sitting on Radio Luxemburg picking his nose. Their movement is scary and they just know what each other's going to do. There was one part of the game when Van Persie played a 50-yard ball to Rooney and I don't think he would have made the run if Van Persie wasn't on the ball. He controlled it and because Rooney was on the ball, Welbeck made a great run. He put it over in the end, under pressure, but the movement was phenomenal. These three up front are always going to score goals, but the problem with playing that way is they're always going to let in goals."
Charlie Nicholas on a mixed day for Luis Suarez in Liverpool's narrow win over Reading
"Luis Suarez is a great footballer, but he's just not a very good finisher. Today there were so many poor attempts. The young lad, Sterling, who got the goal after half an hour had two or three opportunities himself and they were created by Suarez. I always thought Liverpool needed a second goal and it was chance after chance for Suarez, he probably had four or five very good opportunities and never took them and they were always on the edge.
"I think Suarez had something like six challenges on him today. He jumped for one of them and the defender never touched him and was looking surprised when it was a free-kick. There were two times he dived and three or four other times he didn't get the benefit of the doubt, so his reputation is definitely working against him. He's still diving at the same time and I think Brendan Rodgers needs to say to him: 'Here's the VT, let's look back at it because you can't do that kind of thing. Here's the things you're not getting and you should be getting because you're a better player than that.'"
"Reading, to their credit, were very positive in the second half and they did have Liverpool worried. In the first half, I don't know if they over respected the other team. I was sat there thinking that if they pressed a little bit higher up the pitch to see where people are getting scraps off Liverpool with their new passing formation then they might have done something about it. It was if they stood off a little bit, but the second half was much better. I genuinely did think at the end that Reading were likely to nick a goal, but it didn't happen for them today."
Matt Le Tissier on Swansea's victory over Wigan
"The first half wasn't particularly notable. Wigan had a couple of half chances, but the game really exploded in the second half when it went from 0-0 to six minutes later being 2-1 and it was game on. I thought Swansea deserved the three points on the balance of chances created and efforts on goal.
"It's very rare you get a winger or a little wide player who turns it on week in and week out, but today Pablo Hernandez was very impressive. His all-round play was good and he took his goal very well. From that moment on, Swansea were so much in the ascendency and scored again two minutes later.
"Wigan got themselves straight back into the game with the goal of the game and probably the goal of the weekend. It was a brilliant piece of skill from Emmerson Boyce; he got his back leg up and I'd need a trampoline to get my leg up there! He back-heeled it and it flew into the top corner. As if that wasn't' exciting enough, a couple of minutes later Kone had the ball in the back of Swansea's net and on the replay it looked to me as if he was in line with the last defender and it shouldn't have been given offside. Wigan can count themselves very unlucky from that point of view that they didn't get themselves an equaliser."
Phil Thompson on John Terry retaining the Chelsea captaincy
"It's created a furore in football about what's right and what's not. It's probably great that it's brought it into light, but I wish they'd been a bit more transparent about what they'd done - and certainly if they'd said he's not having the captaincy then at least everybody would have seen that they are, as they say, leaders in trying to kick out racism. It is a cancer and it needs to be put that way."
Charlie Nicholas on Jason Roberts' Kick It Out T-shirt stance
"I don't think Jason Roberts was trying to put himself as the spokesman for the black guys. He was just saying 'this ain't happening quick enough for me'. A lot of black players would probably agree with him. I've been the victim of bigotry and we don't understand how the black guys feel because they get the hardest time of all. We get bigotry and personal insults from away fans - and sometimes your own fans - that you have to take on board and you have to disguise it and walk away from it. These guys get it different from what we know and I don't think he was trying to isolate himself, I think he just felt it wasn't happening quick enough. But it should be a united front, as all the managers said yesterday."
The Story of Soccer Saturday