Bent exclusive
Aston Villa striker Darren Bent talks to Sky Sports about his current fringe role, football's highs and lows and racism in sport.
By Peter Fraser - Follow me on Twitter @SkySportsPeteF
Last Updated: 29/10/12 10:38am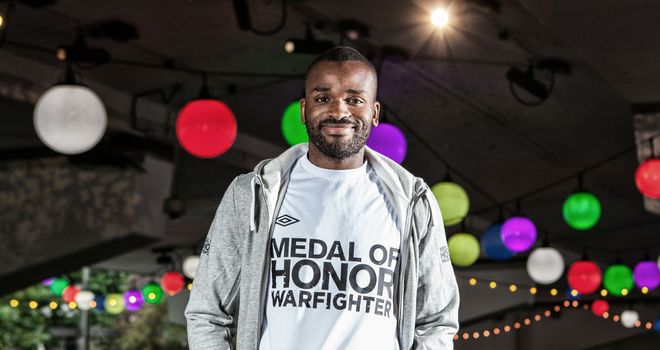 Prior to Euro 2012, England were desperate for Darren Bent to overcome a serious ankle injury in order to travel to Poland and Ukraine as arguably their first-choice striker. He did not recover in time and, wind the clock forward five months, Aston Villa's £18million January 2011 signing from Sunderland is now struggling to get in the first team of new club manager Paul Lambert.
Bent admits the current phase of his career is as tough as the problems he had at another former club, Tottenham Hotspur, where he did not play regularly and then-boss Harry Redknapp once compared the ex-Charlton Athletic star's goalscoring skills as inferior to his wife.
Here, ahead of Villa's Saturday lunchtime kick-off against Norwich City, which can be seen live on Sky Sports 2HD, Bent speaks exclusively as part of the launch of Medal Of Honor Warfighter about the highs and lows of football, his ambition to return to the England scene and the major talking point of racism.
As a former Ipswich Town player, you must be looking forward to the prospect of facing Norwich City on Saturday?
It would be a nice game to be involved in. I am fortunate enough to have played against Norwich before. In a friendly when I was at Tottenham, I scored four times. I also scored two against Norwich for Villa last season. It is always a special game to play against Norwich. Hopefully we can put one over on them.
It will also be a reunion for you with Norwich boss Chris Hughton after your time together at Tottenham, where he was a coach and you were a player. Will you be looking forward to seeing him?
Yeah, I was with Chris for a little while at Tottenham. He is a really nice guy and I wish him all the best.
You started against Fulham last weekend but have not been a regular under Lambert at Villa. Are you fit and hoping to be in the first team against Norwich?
I hope so. You can never tell if you are going to start or not. Obviously it is a new manager and it is his regime. I have been training well this week and hopefully I will get selected.
You admitted earlier in October that squad rotation can be frustrating. Is it more of a problem for a striker, who needs to find rhythm for goals?
Of course. When you are a striker and you are on the pitch, you are judged by goals. My career statistics over the years have shown when I play consistently, more often than not, I score a lot of goals. I can only speak for myself but it is massively important I get rhythm to score goals. I am not really one who can play one game here, one game there.
Have you always needed a consistent run of games to score goals all through your career?
That is how you find your best form. Those things become instinctive for me. When you play games and games, you feel those things.
Have you spoken to Lambert about your need for a regular run of games?
No, not at all. One man does not make a team, at the end of the day. I am never going to go to the manager and say, 'I want to play games'. He is the manager and it is his decision. If he feels I am the right man for the job, then I will go out and do the job that I can. If not, I will have to wait my turn until I can go out and show what I can do.
After suffering the injury which cost you a place at Euro 2012, you have gone from being arguably England's first-choice striker to not being guaranteed a place in Villa's first team. You must curse your luck about that injury?
I do, to be fair. It was my first serious injury and missing the Euros was disappointing. But, at the same time, I am happy to now be back fit. My rehabilitation went great. Hopefully I can get back in the Villa team, play some games and then get back in the England fold as well.
Roy Hodgson replaced Fabio Capello as England manager while you were injured and, over the summer, Lambert succeeded Alex McLeish at Villa. Did it feel like the football world had changed around you?
There were a lot of changes in a short space of time. But I have found that happens sometimes in football, unfortunately. It seems to change so quickly and sometimes you do not have time to adjust.
How does the current passage of your career compare to other difficult phases, for example your time at Tottenham?
I think the current phase is probably equally the same but I just deal with it better than I did back then. Maybe before, when I was a bit younger, and you do not get picked for the team, you take it to heart. But I am wiser. I have been in the game a long time. I understand these things happen and I understand how to deal with it.
Does that mean you now feel like an experienced professional? Are you a player who likes to pass on know-how to younger club-mates at Villa?
I have played a lot of games and scored a lot of goals so if I can help the younger players come through then, yeah, I am all about that. I have been around the Premier League for eight years. I am more than prepared to pass on the experience.
How would you explain the highs and lows of football to younger professionals?
There was the injury, missing the Euros and not playing as consistently as I would like, so it has been a hard period. But once you come through these periods, you can deal with anything. That is what I found at Spurs. The first year at Spurs was hard. In the second season, I scored a lot of goals. All you can do is focus, keep your head up and go from there.
Are you a player who needs to feel wanted or do you thrive off the motivation of proving a point to people?
The days of proving myself are over, because I have played a lot of games and scored a lot of goals. I am in the 100 Premier League goals club so I do not think I have anything to prove to anyone anymore. I used to probably feel like I needed an arm around my shoulder. But now, as I have been around for a while, if I get the knocks, I can deal with them. I am definitely a bit wiser and stronger.
Several recent events have brought racism in football under scrutiny. You have always been a strong supporter of Kick It Out by wearing the campaign sweatbands and T-shirts. What is your stance at present after several players decided against wearing the T-shirts last weekend?
I just feel that, at the end of the day, there is no right or wrong way to how people do things. If people do not want to wear a T-shirt, that is their decision. I cannot really comment on the opinion of other people. If people do not believe in it and do not want to wear the T-shirt, that is up to them. They should not be punished for that.
But surely the issue goes beyond a decision on whether or not to wear a T-shirt? Do current events highlight complacency in football towards racism?
I do not know if it has highlighted complacency. At the same time, you cannot change all people. Racism has been there since back in the day and it is still there. You can only change a few. You cannot change the opinion of everyone. But, as you say, it does go deeper than wearing T-shirts. The issue of racism has got better than it was before but, unfortunately, it is still there.
There has been a lot of talk of a separate black players' union to the Professional Footballers' Association. How would you react to that idea?
I can only speak for myself. If people feel that strongly about it, that is up to them. I am sure there are better ways of handling racism than how we do now.
Darren Bent was speaking at the launch of Medal of Honor Warfighter, in which gamers go head-to-head with the world's best special forces. Medal of Honor Warfighter is on sale NOW on Xbox 360, PlayStation 3 and PC. For more information and to order your copy of the game, visit uk.medalofhonor.com