'More to come'
Ahead of the 219th Merseyside derby, Everton captain Phil Neville talks in depth about rivalries, the changing world of football and his brotherly love for a certain Sky Sports pundit
By Peter Fraser - Follow me on Twitter @SkySportsPeteF
Last Updated: 27/10/12 9:12pm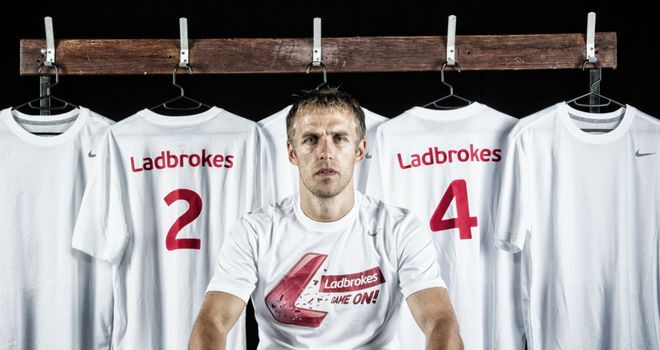 "That was funny," said Phil Neville as he remembered back to the August evening when he was interviewed by his brother and Sky Sports pundit, Gary Neville, live on Monday Night Football. "But I cannot see it happening again, to be honest with you."
The event took place after the younger brother by two years, Phil, had captained Everton to victory in a season-opening win over his, and his sibling's, former club, Manchester United. For a family bond, it was a moment of television gold as the pair exchanged deadpan, 'Hello, Philip' and 'Hello, Gary'.
Some cynics had suggested the routine was a setup. But 35-year-old Phil has insisted that was not the case. It was purely a reflection of his relationship with his big brother and ex-club and England team-mate.
"We got a little bit of stick for that," explained the younger Neville in an exclusive interview with Sky Sports in association with Ladbrokes. "Not stick as in abuse but the whole, 'Hello Philip', 'Hello Gary'. People thought it was staged. But that is the way we are. We are very serious with each other. To be interviewed by your brother live on TV was quite a funny moment."
For the younger Neville, it was slightly surreal and, as enjoyable as it was, he does not expect it to take place again anytime soon. But that is not a swipe at Gary, who has taken to broadcasting to widespread acclaim for his tactical analysis and ability to combine the role with a job on the England coaching staff. Phil is one of the many impressed viewers.
"He has been fantastic," he said of Gary. "Obviously, I am slightly biased. But the coverage on Sky Sports now is as good as ever. He has added to that. The analysis on Monday Night Football from 7pm until 8pm, for me, is fascinating to see somebody analyse a game with his enthusiasm. It is no surprise, because that is the enthusiasm he played with and the detail he went in to in terms of his preparation. He has taken that into broadcasting. I know the amount of work he puts in behind the cameras when he is at home, studying the players, the games and making sure what he is talking about is fact. He has been a breath of fresh air. Long may it continue."
Gary will be working for Sky Sports on this weekend's Super Sunday. But for Everton's Phil there is a more important matter on the horizon. Sunday lunchtime is the day of the 219th Merseyside derby and he will captain Everton when Liverpool visit Goodison Park.
As an ex-United player, Phil Neville knows all about rivalries with Liverpool. But, having now spent seven years at Everton since being signed for what looks a bargain £3.5million, he is also acutely aware of the derby competition.
Underperformed
Since being brought in by David Moyes in the August of 2005, Neville has experienced the lows of an own goal, two red cards - including being dismissed in his first Merseyside derby - and last season's FA Cup semi-final defeat at Wembley. His record in Merseyside derbies in all competitions reads: won three, drawn four, lost eight. He knows what failure against Liverpool can and would mean.
"It does take you a couple of derbies to understand the feelings," said Neville. "It was probably a season-and-a-half before I truly understood what it means to win one of these derbies. It is like no other game I have played in before. For the supporters, it is probably a matter of life and death. They want to go to work on a Monday morning with the bragging rights and it does hit them hard when they lose. In my time at Everton, I have gone through every emotion in the derbies. Let me tell you, when you lose a game against Liverpool with any club - even the last club I was at (United) - it hurts. But when you are at Everton, it hurts because you know how painful it is for the supporters."
Everton, though, are going into this season's first derby in an unusual position as favourites. Moyes' team have won 15 points from their eight Premier League matches and are fifth in the table ahead of Sunday. In 21 Premier League seasons, Everton have only once accumulated more points from their opening eight matches.
That previous occasion came in 2004/05, when they had 16 points and went on to finish fourth, booking a place in the UEFA Champions League qualifiers ahead of fifth-placed Liverpool, who only qualified themselves by winning the European Cup.
Both short-term, avenging three derby defeats by Liverpool last season, and long-term expectations are therefore high at Goodison Park. But while Neville is keen to embrace confidence, he knows it is too early in the season to be making sweeping predictions about an Everton team, who, it should be remembered, also finished ahead of Liverpool in the league last season.
"If we are favourites, because of our league position and form, then that is something we need to accept when going into the game," said Neville. "It is still a big game for us. But you cannot build these games up into more than they are. It is the ninth league game of the season and people are going on about the league positions. I have not looked at the league table yet this season, because it is too early. It is over the next month or two when the league starts to take shape. All I would say is that we now have great experience in the team at Everton. We have got a settled team, we are in good form and I do not think we can be in better shape going into a derby."
He continued: "We have definitely underperformed in the past, because in previous seasons we have started terribly - totally not in character with the players we have in the squad. This season, people might be raving about our performances but there is still more to come. What we have produced so far should just be standard. If you were marking us out of 10, you would say we are a seven at the moment. There is still room for improvement. People raving about our performances should take a reality check and realise we are just performing at a level of which we are capable."
For Neville, the big games are those to savour in the latter years of his career. At 35, he has no guarantees over how long he will continue. His current contract expires at the end of the season. But he is blossoming in the twilight years of his career and the captaincy at Everton has brought out his best traits.
Veteran
A player once the subject of ridicule after his penalty-conceding tackle against Romania, which was a final nail in the coffin of England's already doomed Euro 2000 participation, is now often held up as a role model and ideal elder statesmen of the Premier League.
"To be honest, you do not," said Neville when asked if he recognises his veteran and respected status. "Obviously, I am probably the oldest player in the Everton squad but I still do not look at myself. I always remember when I first broke into the Manchester United team and I was always the youngest one. We had two boxes of players, one for the senior players and one for the young players. I was always in the young box. Still, to this day, I would class myself as young, even though I am not. You develop over the years and you gain experience. But I still feel young and fit. Every day I go on to the training field. There is not a special programme for me. I train no different to the 18-year-olds. It helps keep me fit, my mind sharp and hopefully prolongs my career for as long as possible."
After progressing from that 'young box' at United, Neville is now a player who Everton's teenagers and Academy members can look to for advice. It is a responsibility he has grown in to.
"I do enjoy it," he explained. "But it is not something I set out in the morning and say, 'I am going to go and help the younger players'. It comes naturally. It was no different to when Steve Bruce, Paul Ince and Mark Hughes were helping me at United. In football, when you see a young lad coming through, you offer them advice almost off the top of your head, whether it is something they are doing in training, off the field, on the bus or in a hotel. You pass on your experience. It is not as if you are lecturing them. If you have a bad game between the age of 18 and 24, you think it is the end of the world. You think you will never play again. Once you get to an experienced stage, you realise it is just one game."
When Neville does finally hang up his boots, he has already made it clear he wants to move in to coaching and management. He wants to complete his coaching badges and recently built some experience by working with Stuart Pearce's England Under 21s.
But, from a playing perspective, will he recognise the game he leaves behind? Neville became a professional with United in 1994 at the beginning of the Premier League boom. England's top flight is now a billion-pound industry with a worldwide audience.
"It used to just be football," said Neville, who spent part of this week recording messages for an Everton sponsor to be sent to China. "You would go to training, play your football and go home. Now, there are so many side issues. Players have got their own personal endorsements, appearances and sponsors. Sponsors put massive amounts of money into the clubs and they want interactions with the players. There are lots of obligations nowadays. There is so much money being put into the game that obviously the wages are high. You have got all this money coming into the game and you have got to put a little bit back. Players are quite open-minded these days about putting a lot back.
"The main message has to be that players should not get involved in the distractions until they have established themselves in the first team and in their career. It is a tough enough task in itself to become a professional footballer and break into the first team. You do not want the added distractions of personal appearances and endorsements. I was given a great lesson when I was young, 'do not go chasing the money, the money will always come to you'. Up until I was 25 or 26 years old, I did not have any commercial obligations whatsoever. Football has come on since then and young lads are high commodities. But, still, football must remain the focus until you can handle mixing your family life, professional life and commercial life."
Super Money Back Sunday - If Manchester United beat Chelsea, we'll refund all losing first goalscorer, scorecast and correct score stakes as a FREE bet! Phil Neville is a best price of 22/1 to score at any time against Liverpool. T & C at Ladbrokes