Opta analysis
Sky Sports uses statistics to look at the disappointing performances of Fernando Torres and Oscar in Chelsea's draw at Swansea
By Peter Fraser - Follow me on Twitter @SkySportsPeteF
Last Updated: 04/11/12 10:11am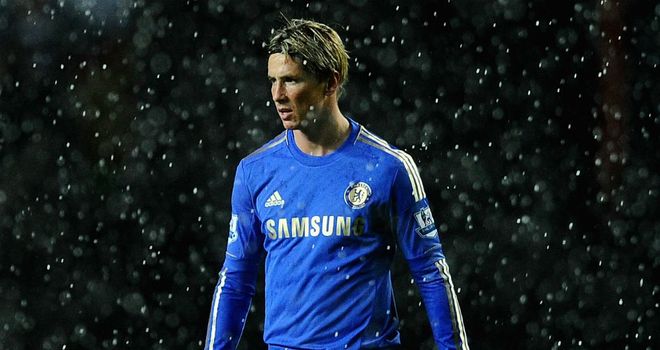 The question of what has happened to Fernando Torres has long become one of football's great mysteries and the Chelsea striker delivered another confusing performance in his side's Premier League draw with Swansea City on Saturday.
Debate often surrounds the Spaniard. What became of the player who took England by storm when first arriving at Liverpool in the summer of 2007, scoring 24 goals in 33 games in his debut season?
The issue is self-belief. Torres always has been and always will be the epitome of a 'confidence player'. It sounds cliched but the assured state of mind of any individual in sport is a major factor. It is why clubs spend vast amounts of money on psychologists.
Since losing his momentum due to a string of injuries in the latter days of his career at Anfield, the former Atletico Madrid man has never been the same. His pace has been sacrificed for muscle bulk in a bid to improve his fitness but his touch and control have also deserted him.
It has already been said Torres, famously signed for £50million in the January of 2011, has failed to live up to expectations at Chelsea. But now his performances are having greater consequences than just damaging his personal reputation.
With Didier Drogba gone, Chelsea have hung their hopes of winning the Premier League and defending the UEFA Champions League on the Spain international. He was supposed to flourish in the role but has just six goals in all competitions this season and he has now gone almost a month without scoring.
It is a major problem for boss Roberto Di Matteo, especially with Daniel Sturridge clearly not trusted in central areas other than in the Capital One Cup. Another concern for the Chelsea boss will be the fact a glove-wearing Brazilian, Oscar, did not appear to enjoy playing against Swansea as the English winter arrived and hail hammered down.
Player
Fernando Torres
Oscar
Appearances
1
1
Minutes played
90
80
Goal Attempts
 
 
Goals
0
0
Total shots
2
0
Shooting accuracy
100%
0%
Goals-to-shots ratio
0%
0%
Blocked Shots
0
1
Passing
 
 
Goal assists
0
0
Chances created (inc. assists)
1
2
Passes
20
36
Pass completion %
85%
89%
Crossing
 
 
Crosses
2
4
Cross completion %
50%
25%
Dribbling
 
 
Dribbles
3
0
Dribble completion %
33%
0%
Defending
 
 
Tackles
1
4
Tackles won %
0%
75%
With Juan Mata injured, Oscar was playing as the man behind Torres but they failed to strike up any kind of relationship. Passes were misplaced, the ball was lost and it required Victor Moses' header from a set-piece for Chelsea to take the lead against Swansea.
But the Torres of old did not always rely on service from the likes of playmakers like Oscar. While he flourished in a partnership with Steven Gerrard at Liverpool, he was also capable of making goals out of nothing. Against Swansea, there was little to no sign of that player.
In the first half on his return from suspension, moves frequently broke down due to his mis-control while a header was also wasted from a Moses cross. Instead of taking a touch on his chest and bringing the ball down, Torres tried to head straight at goal and got his timing wrong as he nodded into the ground before it bounced comfortably to the arms of Swansea goalkeeper Gerhard Tremmel.
Torres' shooting accuracy was 100 per cent from two efforts but, like his header, his one and only other attempt was tame. The fact Oscar only recorded one blocked shot gives an indication of the youngster's performance at Liberty Stadium. He was a passenger.
The two players, who cost a combined total of £75million, managed to create just three chances in the 90 minutes in Wales. They lacked spark and any sort of clinical edge. Oscar also produced no dribbles while Torres finished just 33 per cent of his attempted runs. When was the last time you saw the 28-year-old beat a player while on the run, which was a hallmark of his play at Liverpool?
Chelsea need January to arrive as quickly as possible so they can sign a striker. Radamel Falcao's name is refusing to go away. Their gamble on Torres is not working and, after last weekend's defeat by Manchester United, they cannot afford to keep dropping points having surrendered the lead at the top of the table.