Reds conundrum
They often look like a talented team. Some of the statistics indicate they should be a successful team. Except the one that matters. Adam Bate looks at why Liverpool are in the bottom half of the Premier League.
By Adam Bate - Follow me @GhostGoal
Last Updated: 12/11/12 1:34pm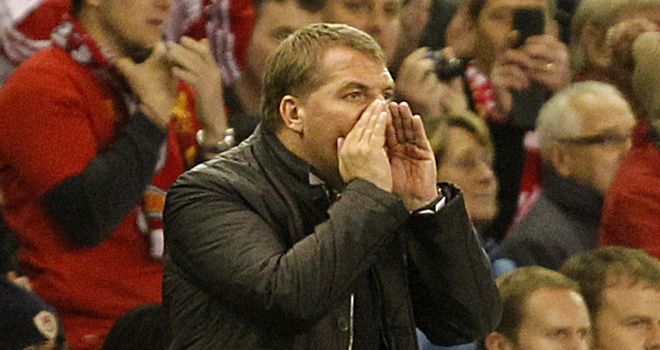 This was supposed to be a new dawn for Liverpool. But the club's supporters could be forgiven for feeling as though they've seen it all before as the hard luck stories continue to come out of Anfield. Former boss Kenny Dalglish spent much of last season bemoaning the team's poor fortune and the statistics were indeed remarkable. In the top five leagues in Europe, only Barcelona spent more time in the attacking third of the field, while the Reds out-shot their opposition in all but five of their 38 league games. And incredibly, the phenomenon has continued.
Of all the traits Brendan Rodgers would like to have inherited from Dalglish, this was unlikely to have been near the top of the list. While the Northern Irishman can content himself that his much-vaunted 'footballing philosophy' is reaping dividends in terms of shots, possession and passing statistics, the currency of points continues to elude the new man in charge at Liverpool.
The identity of the teams with similar statistics to the Reds would indicate that results should follow. Only Everton and Manchester City have had more shots. The country's Champions League representatives are the only sides that can better Liverpool in terms of possession. Arsenal, City and Tottenham are the only sides to concede fewer efforts on goal. Rodgers' men are in good company and seemingly doing the right things to precipitate successful results.
Liverpool - PL 2012/13
 
 
Discipline
Ranking
Shots per game
3rd
Shots conceded
4th
Possession
4th
Pass success
6th
Short passes
4th
League position
12th

And yet, the wait for this dominance to be converted into points goes on. Delving deeper into the figures reveals some of the issues that remain. While the Reds rank fourth-best for shots conceded, they are 14th when it comes to goals conceded. Third-most shots on goal translates into joint-11th for number of goals scored. It all raises the question - Are Liverpool both creating and conceding the wrong type of chances?
Defensively, as Sky Sports' Ian Watson recently explained in The Last Line, Pepe Reina's poor form can account for at least some of these problems. Moreover, one of the flaws of adopting a passing approach is that the ball can spend longer than is absolutely necessary on the edge of your own box. Martin Skrtel's disastrous backpass against Manchester City at Anfield in August killed much of the momentum of an impressive display. But it is presumably a hazard of the job.
As Chelsea boss Roberto Di Matteo noted after David Luiz and Oriol Romeu made avoidable errors in the 5-4 Capital One Cup win over Manchester United: "We gifted them some goals but we're trying to instil a philosophy and sometimes you have to take a step back to move forwards." Rodgers may well take a similar view that mistakes will be made as his players adapt to a style that can bring long-term benefits.
More complicated is the conundrum of Liverpool's chance-conversion rate. Could it be that the individual brilliance of Luis Suarez is distorting the figures? The Uruguayan forward has had by far the most shots on goal of any player in the Premier League so far this season and that's been rewarded with a healthy goal return. But it also reflects the fact that as an isolated figure in attack, he rarely has the inclination or opportunity to set up others.
"He's so often off balance because he's creating his own chances," claimed Guardian football writer Gregg Bakowski on Twitter. And the fact that Suarez ranks second in the Premier League for the most successful dribbles hints at this possibility. Twisting and turning past defenders, the former Ajax man frequently finds himself firing off a shot from an acute angle.

PL stats - 2012/13
 
Player
Key Passes
Leighton Baines
44
Santi Cazorla
35
Luis Suarez
30
Steven Gerrard
27
Steven Pienaar
25
Player
Shots, Total
Luis Suarez
63
Jermain Defoe
47
Marouane Fellaini
38
Demba Ba
37
Santi Cazorla
37
Player
Dribbles Completed
Times Dispossessed
Hatem Ben Arfa
46
36
Luis Suarez
35
18
Raheem Sterling
28
30

The result is that Liverpool have become over-reliant on their controversial striker. And it's something Rodgers is well aware of. Speaking after bringing on Suarez and skipper Steven Gerrard - who incidentally features among the top passers in the Premier League - for the Capital One Cup defeat to Swansea, Rodgers appeared frustrated by the situation.
"I would have loved to have kept them on the side to give them a breather but obviously when you need them you need to put them on," said the Liverpool boss. "The problem then is your squad becomes even thinner: I can't keep playing Steven Gerrard and Luis Suarez, who is my only striker. That will evolve over time, it is a team thing and we can't rely on two players. Over the next couple of transfer windows we'll get time to build the group."
There's an old truism in football that states you should add up the number of goals you'd expect each of your players to score in a season and if it isn't enough to achieve your ambitions then you have a problem. With Raheem Sterling probably outstripping immediate expectations already, it would seem Rodgers is a worried man.
Consider his comments on £10.5million signing Fabio Borini. "Fabio probably hasn't scored as many goals as he would have wanted to but I have been playing him in his No.2 position," said Rodgers. "He is better through the middle where you can see his qualities of moving off the shoulder and running in behind. Strikers, unfortunately, are judged on goals in games. That is where he is at. But over time, he will prove himself. Regardless of what anyone says, to come to a massive club at 21 years of age is a big ask."
Borini was injured after netting just once in his opening 11 games for the Reds. He has been replaced in the starting line-up by another young talent in the form of 18-year-old Spanish import Suso. "He is a wonderful technician, he's very bright and a thinking player - which I like," explained the Liverpool boss. "He needs to add goals to his game but obviously when you are a young player coming into the team you are really just trying to settle in."
In the meantime, Rodgers will plead for patience in the knowledge that he is playing a waiting game - hoping that his young guns will come good. His team are doing the right things and there seems a willingness, both in the board room and the stadium, to accept that the process will take time. But for now, supporters may be left wondering whether Liverpool are en route to becoming a top side as the statistics suggest or merely a mid-table imitation like Rodgers' former club Swansea.