London boys
From talking tactics with Bobby Moore in the pubs and cafes of the East End to now becoming QPR's new manager, Sky Sports listens to Harry Redknapp's story
By Peter Fraser - Follow me on Twitter @SkySportsPeteF
Last Updated: 25/11/12 12:13pm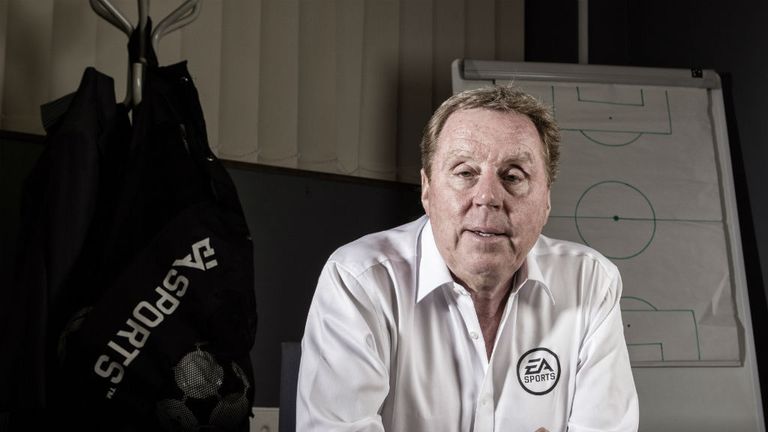 Our interview was over, we had stood up and shaken hands but Harry Redknapp was still talking. The man who is now the new Queens Park Rangers manager was retelling the tale of Nwankwo Kanu's uncanny knack of contracting debilitating stomach illnesses on the eve of training sessions. And then, with a shout of "see you later" over his shoulder, Redknapp was away to the other commitments of his evening.
It epitomises the former Bournemouth, West Ham United, Portsmouth, Southampton and Tottenham Hotspur manager. Most football fans have an opinion of the 65-year-old, whether it is formed on his ability to produce winning, attractive football teams, the disliked 'wheeler-dealer reputation' or the media-friendly car window interviews. Whatever you think, he is undoubtedly that sporting cliché of a 'character'.
Redknapp is currently hitting headlines. He has succeeded the sacked Mark Hughes at QPR having previously been in talks about the Ukraine national team job. At Loftus Road, he will be expected to again work his managerial magic and save the Premier League's rock-bottom club from the threat of relegation.
It would be a latest twist in a career which has taken in playing days with Bournemouth and Brentford before a spell in America with Seattle Sounders. There have then been the successful managerial reigns at Bournemouth, West Ham, Portsmouth - where the FA Cup was won in 2008 - Southampton and Tottenham - who reached the last eight of the UEFA Champions League in 2011 before then sacking Redknapp this summer.
But, of course, it all started for Redknapp as a fresh-faced winger with West Ham in the early 1960s, when he came in to a club with soon-to-be World Cup winners Bobby Moore, Geoff Hurst and Martin Peters. Taking the QPR job is therefore a return to his native London but a lot has changed in the more than 50 years since he started in football. Redknapp recognises it is a different landscape.
In an interview in Battersea, London, Redknapp, who was picking his EA SPORTS FIFA 13 Ultimate Team, told Sky Sports of his early playing days: "We just lived for football. That is all we did. They were great times. We all grew up together, East End boys. All the lads at West Ham at that time all came from the same area. We were all from West Ham, East Ham, Barking and Dagenham.
"Money was nothing. You went in the manager's office at the end of the year and he would say, 'you have had a good season. I am going to give you a £5 rise'. You would be delighted. We used to get four shillings dinner vouchers and every day we would go round the local cafe. You could have anything you wanted to eat in the world from steak and chips, two sticky toffee puddings with custard and three Coca Colas and still come out with change!
"We would sit in there all afternoon talking about football. You had people there like Bobby Moore. They would sit all afternoon moving salt and pepper pots around and talking football. That is what we did. That is why West Ham produced so many good coaches - Dave Sexton, John Bond, Malcolm Allison, Noel Cantwell, Jimmy Andrews and Frank O'Farrell. It was an amazing production line of people who went on to manage."
Talent
The nostalgia of the era is impossible to resist. Playing football with legendary English icons, in London, amid the popular culture boom of the 1960s must have been an incredible experience. But Redknapp and his team-mates were not overly interested in what would now be known as a celebrity society.
"I had a driver today who drove me through the West End of London," he explained. "But that is somewhere we never went back in the Sixties. We were from the East End of London and all grew up going to the pubs around that area. That was as far as we went. We never ventured up in to the West End.
"A lot of the players never even had cars in those days. Billy Bonds used to get a bus through Blackwall Tunnel to get to matches. Sometimes the tunnel would be jammed up with traffic and so Billy would walk through and, at the other end of the tunnel, get a bus from by Poplar hospital to West Ham Football Club. Billy would stand up on the bus, because there were no seats available with all the punters going to the match."
Redknapp's lifestyle away from football during his playing days is in contrast with many Premier League stars in 2012. Obviously, it is a different generation but players can now be found making headlines for their social activities as much as for a match-winning goal. So would modern players benefit from hearing Redknapp's stories and listening to the examples of World Cup-winning England captain Moore?
"You can tell them," said Redknapp. "But I think they think it is... you know. I took the Tottenham players for a run in Epping Forest last year. It was a beautiful morning and I thought, just to break things up, we would go to the forest. When I was a player, we used to go to Epping Forest in pre-season for three weeks every year and run and run. But when I took Tottenham, the players did not like it. They were like, (adopting a moaning voice) 'why are we running through Epping Forest?'. I do not think they really want to know too much about what happened in the past."
Another difference in football over the past half-a-Century appears to be the decrease in English homegrown talent. Liverpool's Raheem Sterling and Crystal Palace's Wilfried Zaha are among the most exciting players to have emerged on the international stage in recent months. But they are in the minority and could yet both choose to represent different countries.
The desire of England coach Roy Hodgson, who beat Redknapp to the Three Lions job, is for club bosses to give English talent more opportunities. But Redknapp knows it is not always possible for managers to fast-track up-and-coming players at the risk of results when experienced, often cheaper, imports are available from abroad.
"There is not the talent around these days that every Premier League club can field a team of homegrown players," said Redknapp. "If they did, I am afraid you would be watching a very second-rate product. There is no option, really. It is an open market now and you have got to bring in foreign players. We are not producing the same amount of talent as we did years ago.
Rescue mission
"In the Sixties, you did not have to go outside of London to sign a kid. We signed two Scottish players when I was a player and we could not believe it. It was like they had come from Mars."
UEFA's plan to introduce Financial Fair Play is designed at addressing this issue, encouraging clubs to become self-sufficient and produce their own talent. Redknapp is not overly convinced by the rule and does not see how it will be enforced.
But the policy is aimed specifically at ensuring the safe future of clubs by making sure they do not spend more than they earn. A prime example of this would be Portsmouth, who currently find themselves in administration having fallen on hard times.
The South Coast club's problems started shortly after they were accused of 'buying' the FA Cup four years ago when, with Redknapp as manager, they defeated Cardiff City at Wembley with an expensively-assembled squad under the ownership of free-spending owner Alexandre Gaydamak.
When Gaydamak ran in to financial problems, Portsmouth were in trouble. The club have since experienced a succession of bizarre and doomed foreign ownerships and now find themselves in danger of relegation from League One. Earlier this year, Redknapp himself was acquitted of two counts of cheating the public revenue which dated back to his time at Portsmouth. But a fan consortium, Pompey Supporters' Trust (PST), are now on the brink of completing a takeover rescue mission, if they can secure the ownership of Fratton Park at the High Court.
Coincidentally, on the day of our interview, Sky Sports had met PST in a separate appointment before speaking with Redknapp, who, when he found out, immediately asked of Portsmouth: "How is it looking? It is so sad what has happened there. At the end of day, I do not think anyone could see what was coming. As far as the club knew, they had an owner (Gaydamak) like Chelsea had Roman Abramovich.
"But when you look back at it, they (Portsmouth) made a fortune in transfers. People talk about high wages but the wages were not astronomical. The money that was made on transfers, where did it all go?
"It was probably the happiest time of my life when I was manager at Portsmouth. I do not know if I would say it was my most successful. At West Ham, we did not get relegated in eight years and produced great players. Bournemouth was fantastic for me and I loved that, getting out of the Third and Fourth Divisions for the first time in their history. I had a great time at Tottenham, getting to the quarter-finals of the Champions League. But Portsmouth was fun. We laughed. We took a team from the bottom of the Championship and into the Premier League. I had great times there with (assistant manager) Jim Smith - 'Arry and Jim. We had the time of our lives."
Take control as player, manager and coach in EA SPORTS FIFA 13 Ultimate Team, available on Xbox, PS3 and PC. Harry Redknapp picked Messi and Neymar in his Ultimate Team, would you? Get involved with EA SPORTS FIFA 13 at easportsfootball.com