Quality not quantity
West Brom's 4-2 win at Sunderland on Saturday lifted them up to third in the Premier League table. The stats struggle to explain Steve Clarke's stunning start but Adam Bate believes the devil is in the detail.
By Adam Bate - Follow me @GhostGoal
Last Updated: 26/11/12 2:00pm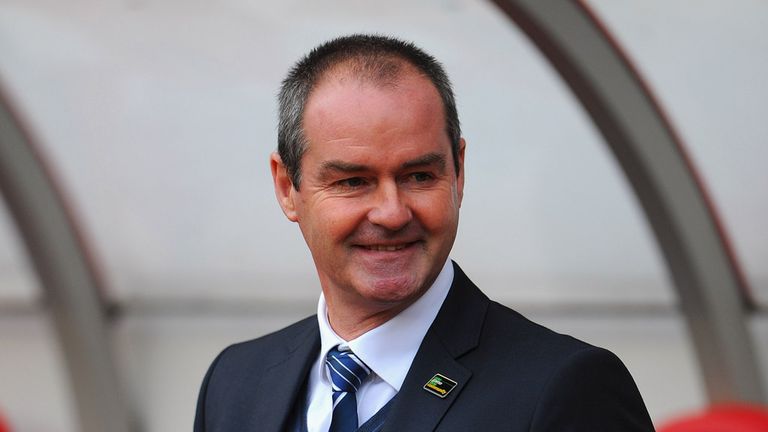 "Sunderland played like we do. They tried to counter-attack, which meant we had a lot more possession," said West Brom boss Steve Clarke after seeing his side win 4-2 at the Stadium of Light on Saturday. "But I thought we passed the ball brilliantly and we managed to pick them off. To score four goals against any team is a great performance. The way we passed the ball and controlled the possession we were a joy to watch."
It was another superb Baggies display in which they showcased their new ruthless streak to punish Sunderland and move up to third in the Premier League table. But Clarke's focus on his team's passing style and dominance of possession is intriguing. It's a theme that Albion players have been keen to stress following the new manager's summer arrival to replace Roy Hodgson.
"He has brought his own stamp on our football," explains Shane Long, the scorer of West Brom's second goal against the Black Cats. "Straight from the start it was all about passing football, and how he wants us to play. When he has an idea, he is able to put it across really well to the players. He has installed a bit of confidence in the lads to receive the ball in any situation and we are dealing with it pretty well."
Long's team-mate Peter Odemwingie expressed similar sentiments at the weekend. "I think we play more passing football. Roy was very organised and solid defensively," said Odemwingie. "Of course, we still had quality to go forward and did get goals. Now I think we hold onto the ball more."
Target
The 31-year-old Nigeria international even reveals a specific target identified by Clarke in order to mark their progression. "The boys are really enjoying his training and you can see our passing game has really improved," he added. "He said the goal was to build on our organisation and to almost double the number of passes that we make in every game. That was one of the targets. It helps you recover faster and create more chances."
Curiously, despite their upturn in fortunes, the statistics show that West Brom are playing six per cent fewer passes this season than they did last year under Hodgson. And while the Baggies did have 51 per cent of the ball at Sunderland, that was only the second time this season they have dominated possession in a Premier League game - the other being the home win over newly-promoted Reading.
Indeed, it is difficult to detect any improvement at the Hawthorns merely by assessing the statistics. Far from transforming their style, West Brom's possession, passing accuracy, shots per game and shots conceded are all inferior under Clarke compared to the record under Hodgson last term.
West Brom year-on-year comparison
 
 
Category
2011/12
2012/13
Shots per game
7th
13th
Shots conceded
8th
4th
Short passes per game
11th
13th
Possession
15th
17th
Pass success
11th
15th
Crosses
13th
20th

But this merely shows the limitation of the statistics. While Clarke may have ostensibly failed in his target of increasing passing numbers, the key to Albion's success this season has been quality not quantity. The type of chance is all important. As Hamburg chief technical scout Steven Houston recently told Sky Sports, "Passes in the final third are much more difficult to make and through-balls are passes that create higher quality chances for forwards rather than, say, a cross or something like that."
The example of crossing is a telling one. No Premier League team has played fewer crosses than the Baggies. But try telling Roberto Di Matteo that means they are not a threat from wide positions. The Italian's last league game in charge of Chelsea saw Albion win 2-1 at the Hawthorns thanks to two pinpoint crosses for Long and Odemwingie to convert.
As Clarke noted following the Sunderland victory, West Brom's style is to favour the counter-attack. Only Tottenham and Chelsea have scored more goals on the counter than Clarke's side this season. Such attacks allow the Baggies to utilise the pace of their forwards and expose the space in behind - usually leading to high-quality chances. Only three top-flight teams have had a higher percentage of their shots from inside the six-yard box in the current campaign.
"We create more chances because we bring out defenders from the opposition and create holes between the lines," explains Odemwingie. "Then we use our abilities of shooting or sliding the ball through to one of our quick players. You can see in our games, we come out of tight situations with the ball on the ground and don't just kick the ball forward."
Long concurs with his team-mate. "It is hard work on your own but we do play football," adds the Republic of Ireland international striker. "It means there are not many balls launched up to six feet tall centre-halves to come climbing over the top of me. James Morrison keeps threading those balls through."
Influence
Morrison has indeed been a growing influence playing in the hole behind Long. But against Sunderland the Scot was forced to drop deeper alongside Claudio Yacob as a replacement for the injured Youssouf Mulumbu. "He (Yacob) and Youssouf have got that central midfield nailed down," goalkeeper Ben Foster told the Birmingham Mail earlier this season. But even without both Foster and Mulumbu, Albion looked as fluent as ever. Squad depth is another of their great assets.
After Morrison had taken the plaudits in recent weeks, Zoltan Gera stepped into his role on Saturday and produced a man-of-the-match display. The 33-year-old scored a fine goal and linked the play superbly - completing 21 passes in the final third and providing a threat that Martin O'Neill's men never really got to grips with. The accepted wisdom that a perceived lesser side will tumble down the table when the injuries start to come could be challenged here.
"We look very strong as a team now because we also have a strong bench which we maybe didn't have in the first two seasons I was here," says Odemwingie. His boss agrees. Clarke claims: "We've got a lot of options in our squad which gives me some fantastic problems. I've got a quality squad and I have to use them. They know they're all valuable in terms of the club going forward." The manager isn't just paying lip service to his squad men - he has changed his starting line-up for each of his 15 games in charge.
So while the statistics might not add up for Steve Clarke's West Bromwich Albion, just look at that Premier League table. It shows the West Midlands side in a deserved third place - ahead of European champions Chelsea and a full six points clear of both Arsenal and Tottenham. And you can be certain that's the only statistic that will matter to West Brom supporters right now.