Transfer targets
As part of our new Transfer Targets series, we turn our attention to Italy to assess the chances of five of the biggest stars in Serie A moving to the Premier League in January.
By Adam Bate and Simone Bargellini
Last Updated: 13/12/12 10:59pm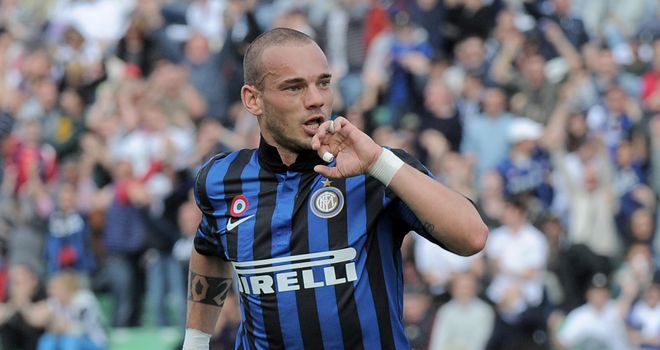 Wesley Sneijder - Inter
Sneijder has not featured for Inter since September and seems unlikely to play again until his contract dispute has been resolved. The Dutchman has a deal until 2015 but with the Nerazzurri eager to cut costs they are desperate for the player to accept the same money spread over a longer time period. The 28-year-old playmaker is believed to be unimpressed.
It's a measure of how far Sneijder's stock has fallen that this situation does not yet appear to have sparked a transfer frenzy. The former Real Madrid man was regarded as one of the world's finest players in 2010 when he helped take Inter to their UEFA Champions League triumph before winning the Silver Ball at that summer's World Cup as Holland reached the final against Spain.
But it's been a stop-start career ever since and a proposed move to Manchester United in 2011 came to nothing. Manchester City boss Roberto Mancini has played down reports of interest from the Premier League champions, telling Sky Sport Italia: "We have never contacted him. Wesley has great quality, but we have other players in that role, like [Samir] Nasri and [David] Silva." Now Paris St Germain coach Carlo Ancelotti has dismissed speculation too. So where will Sneijder end up?
Sky Sports' Italian expert Simone Bargellini says: "He'll surely leave Inter Milan in January after rejecting the club's proposal of a new contract on reduced wages. PSG seems in pole position, but City and United could renew their interest as he costs 'only' €12-15 million."
Stevan Jovetic - Fiorentina
"I'm fine here, I don't want to leave Fiorentina," Jovetic told RAI Sport earlier this month. But speculation regarding the Montenegrin's future will not go away. Not when the 22-year-old continues to alert Europe's biggest clubs with his excellent performances in Serie A.
Jovetic is a difficult forward to pigeon-hole as he is a goalscorer but also a dribbler and a player capable of bringing others into the game. He also has more shots per game than any player in the Italian top flight. These are all qualities believed to interest Manchester City, although the club's own chief scout Carlo Cancellieri has indicated that Radamel Falcao will be prioritised ahead of the youngster.
Sky Sports' Italian expert Simone Bargellini says: "City's interest in him is not a secret and Arsenal were linked with a bid too. But Fiorentina made great effort to keep him last summer and it's almost impossible they will allow him to go in January. Things could change at the end of the season though."

Serie A shots per game 2012/13
 
 
Player Name
Team
Goals
STEVAN JOVETIC
FIORENTINA
4.36
Edinson Cavani
Napoli
4.15
Antonio Di Natale
Udinese
4.08
Alessandro Diamanti
Bologna
4.07
Kevin-Prince Boateng
AC Milan
4.00
Daniele De Rossi - Roma
Until recently the prospect of the Roma icon walking away from the Giallorossi had been unthinkable but after a summer of speculation De Rossi's relationship with coach Zdenek Zeman continues to appear fraught. Zeman insists he wants the Italy international to stay but it is self-evident that the 29-year-old is not as central to the team as he once was.
Even so, Manchester City boss Roberto Mancini believes De Rossi will stay in Rome. The Premier league champions fought hard to take the player to the Etihad Stadium in the summer and are unwilling to be led the same dance again. "We tried to get him in the summer, but it ended there," said Mancini. "I think that he now remains at Roma. I do not think he will leave."
Sky Sports' Italian expert Simone Bargellini says: "Coach Zeman doesn't consider him a key player and his departure does not seem as impossible as a year ago. Roberto Mancini has high regard for him, as well as Carlo Ancelotti, but the costs are high: Roma will ask a high transfer fee and his wage is €6million per season."
Stephan El Shaarawy - AC Milan
El Shaarawy has been the breakthrough star in Serie A this season. The 20-year-old netted just twice for Milan in the top flight last season but he now tops the scoring charts in Italy in the current campaign with 13 goals already. The Italian-born forward of Egyptian origin has also become a senior international this year, netting the opener for the Azzurri against France last month.
This progression has not gone unnoticed by the Premier League's biggest clubs. "I really like El Shaarawy," said Mancini this week. "He is really good player who has seen an incredible improvement. He can become a great champion." The challenge could be persuading Milan to do business.
Sky Sports' Italian expert Simone Bargellini says: "All the top clubs, including City and United, are following him but he's extending his contract until 2018 and AC Milan have assured supporters they won't sell another star after losing Zlatan Ibrahimovic and Thiago Silva."

Serie A top scorers 2012/13
 
 
Player Name
Team
Goals
STEPHAN EL SHAARAWY
AC MILAN
13
Edinson Cavani
Napoli
11
Antonio Di Natale
Udinese
9
Miroslav Klose
Lazio
9
Diego Milito
Inter
8
Erik Lamela
Roma
8
Pablo Osvaldo
Roma
8
Fabio Quagliarella - Juventus
Quagliarella's reputation in England has been bolstered by goals both home and away against European champions Chelsea in the group stages of this season's Champions League. And the prospect of a transfer have increased following reports of a fall-out between the Italy international and Bianconeri coach Antonio Conte.
The 29-year-old was fined for an outburst after being substituted against Milan last month and with a number of big-name Premier League outfits anxious to boost their forward options in January, a swift exit for the Italy international cannot be ruled out.
Sky Sports' Italian expert Simone Bargellini says: "Juventus will get rid of either him or Nicklas Bendtner in January. Tottenham are reportedly interested in both of them for their attack and Juventus will ask for a fee of around €10million for Quagliarella."