The Waterboys
Michael Carrick and Gareth Barry may not be fashionable but is it time to re-evaluate their importance? The pair have been branded waterboys by many but Alex Dunn argues their significance to their respective clubs deserves to be recognised
By Alex Dunn - Follow me on Twitter @skysportsaldunn
Last Updated: 06/01/13 7:39am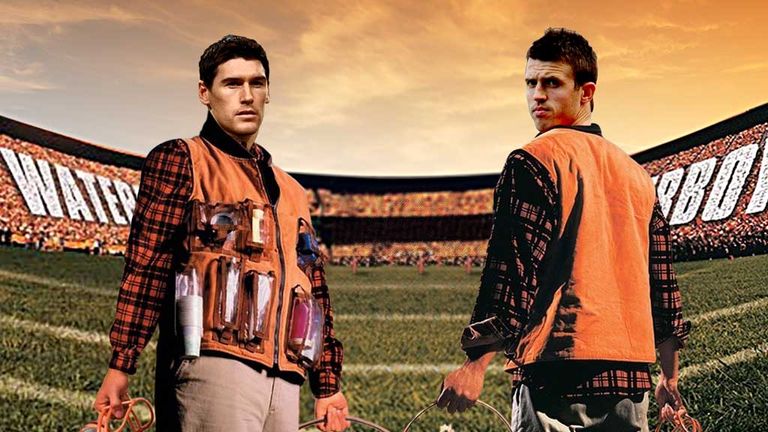 Ernest Hemingway once said 'happiness in intelligent people is the rarest thing I know', which if nothing else explains why laughter so often accompanies discussions on the respective merits of Michael Carrick and Gareth Barry. For many Manchester's disciples of dour are as grey as the city's skyline, a Lowry painting come to life, twin symbols of the death of a nation's on-field creativity. To be English and to like a square pass is to come last in the lottery of a life as a footballer.
Google 'praise for Gareth Barry' and the top search result is a 'Top Ten Overly Praised Players' feature. The eighth is at least a compliment from his manager. Martin O'Neill, in 2008.
Two more divisive footballers you could not wish to meet. You either dislike them a little or a lot.
It is of course a generalisation to say all football fans regard these pillars of precision as totems of mediocrity but a lack of dynamism, especially in the case of Carrick, and pace, with both, provides enough ammo to shoot down those who see talent maturing rather than on the wane post-30.
For naysayers, the sight of Barry - for wont of a better word - chugging on the touchline in pursuit of a fresh faced Mesut Ozil on that forgettable day in Bloemfontein is forever scorched on the retina. At the time, the summer of 2010, Joey Barton put down his Sartre to muse: "If you watch the fourth goal, when Ozil was up against Barry, it was like the hare and the tortoise. Barry's got a very good agent. He's also discreet and always agrees with the manager. He's like the guy who sits in the front row and listens to the teacher. I certainly don't lose any sleep when I play against him."
Oh to have had Joey's career thinks Gaz, before dropping off dreaming of his Premier League winners' medal.
Two years on and Carrick, whose own annus horribilis came against Barcelona in a Champions League final in 2011, could only have dreamt of such indignation having failed to even make the plane for Poland and Ukraine. It's fair to say Anna Wintour is unlikely to invite either for a cover shoot anytime soon. In Vogue, they are not.
They are though, as regular frequenters of the Etihad and Old Trafford will attest, in the best form of their careers. Michael Carrick's elegant straight back quarter-back promptings from deep are in genuine danger of silencing those who insist on barking 'he's not Roy Keane' to no-one in particular like the guy on the bus who's not quite one of us, while City's recent laboured defeat at Sunderland confirmed what many Blues have suspected for a while.Take Barry out of the equation and City are a lesser side in his absence (at least in terms of win rate over a much wider range of matches).
PL 11/12 - 12/13 - Man City
With Barry
Without Barry
Games
50
9
Wins
35
6
Draws
8
3
Losses
7
0
Goals For
109
25
Average Goals For
2.18
2.78
Goals Against
38
10
Average Goals Against
0.76
1.11
Win %
70%
67%
Points per game
2.26
2.33
Ditto Carrick and Manchester United:
PL 11/12 - 12/13 - Man Utd
With Carrick
Without Carrick
Games
50
9
Wins
39
6
Draws
4
2
Losses
7
1
Goals For
121
22
Average Goals For
2.42
2.44
Goals Against
49
12
Average Goals Against
0.98
1.33
Win %
78%
67%
Points per game
2.42
2.22
"I can't speak highly enough of Gareth," said Joe Hart in May. "Sometimes it frustrates me, not because I don't want people to get praise. I love the way Sergio Aguero and David Silva have set the Premier League alight. But it is frustrating that people don't see the hard work that others do. Everyone deserves their dues."
Barry, like Carrick, is the quintessential players' player. He's the guy who'll put you in a cab after a night out and probably pay your fare too if you ask nicely. Unfairly pigeon-holed a water carrier, that's in polite company, he's invariably seen as the player City must be looking to replace. Surely a player so uncouth he's English will be the next to fall prey to a more stylish continental cousin. Javi Garcia was the man earmarked by many to add a more swarthy presence (check out this month's Esquire) alongside Yaya Toure but thus far a series of lumpen displays and the fact, according to a colleague, 'he's slower than death', have kept Barry and his sensible haircut in Roberto Mancini's starting XI. That and the fact he was one of City's best players last season and continues to be so this term.
Given the porous nature of Manchester United's backline few of the club's supporters are averse to the idea of bringing in a traditional holding player - a snappy bad cop Riggs to Carrick's more conservative poised Murtaugh - but it's not a view shared by the man who matters.
"In the modern game, you don't need tacklers the way you used to," Sir Alex Ferguson has said. "There's no call for it, it's about anticipation and reading the game. If you look at the central midfielders in the Premier League, Michael can match up to any of them in terms of quality."
It's a perception of a changing game that is shared by Rio Ferdinand, who having operated behind his one-time England team-mate for over six years appreciates first-hand the 31-year-old's underappreciated qualities: "Intercepting is far more effective than tackling. It's not as flashy, so often it goes unnoticed. Michael Carrick hardly ever launches into a slide tackle or gets involved in a physical battle. That lands him some stick. But his stats for interceptions are off the chart."
Ferdinand's opinion of Carrick echoes Joleon Lescott's perception of Barry, with both of the view that while their respective team-mates can be ghost-like to the untrained eye in the stands, their cog-like function is never undervalued in the dressing room.
"He's one of those players you don't really appreciate until he's not there. He is just so consistent. You can't sing his praises enough. If you ask any of our midfielders who they most want to play with, their preference would be Gareth Barry. You need people like Gareth to balance attack and defence."
Range
Comparisons to Ray Wilkins are hardly a slight on Carrick but to suggest his range is crab-like is to do ill-justice to a player who in the past couple of seasons has taken on greater responsibility in driving the play as a senior statesman in the middle of the park. The graphic below helps demonstrate the variety of passes Carrick makes and their accuracy (misplaced passes are in red), with all three games played away from Old Trafford.
His passing was exemplary at the Liberty Stadium and the sheer number of touches, against a Swansea side usually so dominant themselves in terms of possession, gives a feel for how Carrick has stepped it up and is no longer willing, as Ferdinand puts it, to 'go unnoticed'. It's natural that against opponents of the calibre of Chelsea and Manchester City the number of passes he makes dips, especially given by the end of both games United were holding onto a lead, but a demonstration of range and depth is again in evidence.
Carrick's ability to regularly hit a ball that misses out a whole phase, from middle to front without the need for an intermediary agent, is one of the game's most difficult passes and yet, conversely, he is accused of being cowardly in possession. A straight pass to feet on paper sounds like a pretty prosaic task, but it is only astuteness in his thinking that buys him a yard to make it. After that it's all about angles and on his day Carrick plays as though he has a protractor for a boot. Watch how often Carrick hits Robin van Persie's feet. His passes are more kitchen sink drama than Hollywood but for a technical player like Van Persie, comfortable taking the ball in tight situations, they're more bespoke than a Richard James three-piece.
Barry has a similar understanding with David Silva at City. The Spaniard rightly makes the headlines but Barry is the perfect sub-editor, doing the boring bits well and it's an appreciation of the wider picture - facilitated by a real football brain - that so often sets City on their way from deep. Silva's movement drifting from left to centre is exemplary and Barry's willingness to play two-touch - to take the ball from his centre-half and move it on quickly - complements the playmaker perfectly. It was no surprise when at the end of last season Silva is said to have hailed Barry as his player of the season.
Again like Carrick, the lazy accusation is that Barry is negative and always takes the safe choice. Most City fans would argue to substitute 'right' for 'safe' paints a truer picture of the 80 minutes of a match that don't make the MOTD highlights. Mancini's predilection to routinely go for a two-man strike partnership this season has in some respects released Barry from the shackles of being Yaya Toure's wing-man when City played with a solitary focal point at times last term. The England man's last-gasp goal at home to Reading and virtuoso display at Norwich over the festive period, when allied to a growing inclination to make passes in the final third, has only further endeared him to a City faithful who have always been happy enough to share amongst themselves football's best kept secret. Gareth Barry is actually pretty good.
If Barry's referee is Silva, Carrick can call on Paul Scholes: "I can't see why people have a problem with Michael Carrick. I found him brilliant to play with. He is not a flashy person or a flashy player but he is a great talent. He has great mental concentration. He reads the game so well. He is a dream for any attacking midfielder to play with. He is like a Rolls Royce."
Passes per game - PL 12/13
 
 
Mikel Arteta
Arsenal
85.1
Yaya Touré
Manchester City
82.5
Michael Carrick
Manchester United
82.5
Santiago Cazorla
Arsenal
67.2
Bacary Sagna
Arsenal
66.3
Steven Gerrard
Liverpool
65.3
Mahamadou Diarra
Fulham
64.0
John Obi Mikel
Chelsea
62.9
Carl Jenkinson
Arsenal
62.7
Gareth Barry
Manchester City
61.8
It has long since been a truth universally acknowledged that English players are overrated but in the case of Carrick and Barry is there an argument to suggest as a collective football consciousness we have gone full circle? Are we so disheartened by the failings of our national side that its alumni are defined as industrial or limited just by definition of being English?
The pair may be the wrong side of thirty and peripheral figures in a Golden Generation that turned out to be copper at best, but given they continue to be key players in key positions at the two best clubs in England (and it seems unlikely messrs Ferguson and Mancini select them as a favour to Queen and country), maybe it's time for a re-evaluation of Manchester's waterboys.