Become your own football analyst with the Sky Sports for iPad app
Step into the shoes of Gary Neville and become a football analyst with the new version of the Sky Sports for iPad app.
Last Updated: 08/01/13 10:13am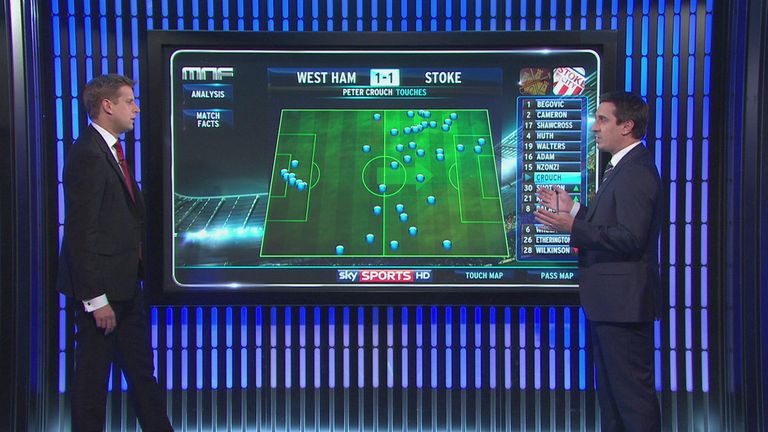 Updates to the Barclays Premier League section of the award-winning app allow fans to control their iPads in a similar way to Neville's interactive analysis on Ford Monday Night Football.
Fans can now discover even more about a match, a team, and the players - just in time for this weekend's Ford Super Sunday which sees Manchester United take on Liverpool and Arsenal play champions Manchester City.
Some of the new features include:
Average Formation Maps: Access to more in-depth team data including player movements and key formations.
Player Touch Maps: See the touches made by every player in the live match, as well as from the previous six fixtures.
Team form: Team line-ups and mapped formations mean fans can examine how squad selections affect results.
Betting made easy: Sky Bet is now integrated to the app providing a simple way to place your bet.
Neville said of the enhancements: "Since joining Sky Sports this technology has allowed me to get a greater insight into a match. Now Sky Sports subscribers can use the data I have at my fingertips, giving them the story behind the result."
Both the Average Formation Map and Player Touch Map include an adjustable timeline, enabling the user to customise their view to a specific period of play, as well as accessing half-time and full-time data.
David Gibbs, Director of Sky Sports Digital Media said: "We know that Sky Sports customers really enjoy the data that Ford Monday Night Football uses and with the update to the app, fans can find out similar stats - and not only for impressing friends at the pub. We have even more updates planned for the app over the coming months for football, continuing to provide fans with the top information and analytical tools that they have come to accept as the golden standard from Sky Sports. The update builds on the success of the Ryder Cup and F1 elements that add more depth to a viewer's enjoyment of our linear channels."
To find out more about the Sky Sports for iPad app and the range of apps available for your iPad, click here