Sky Sports experts look at likely impact of Luis Suarez and Robin van Persie on Super Sunday
Manchester United host bitter foes Liverpool on Super Sunday with the Premier League's hottest strikers - Luis Suarez and Robin van Persie - going head to head. The Sky Sports experts debate their strengths...
Last Updated: 12/01/13 7:32am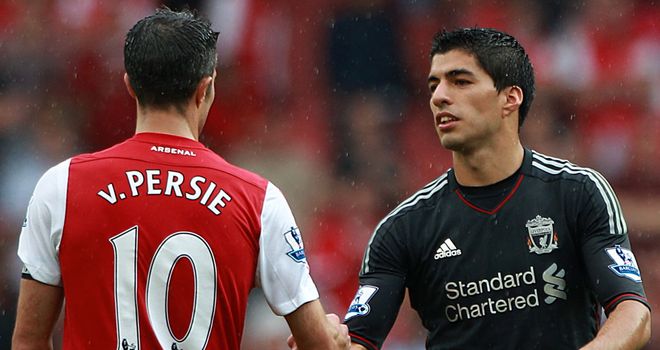 "Luis Suarez has been on fire this season and is having the best goalscoring spell since he's been in this country. He's electric and you can say the same about Van Persie at the other end, but these are the atmospheres where Suarez will thrive. You've got to be strong in the mind and that is what Suarez is like. It doesn't matter how big of an occasion it is, he will relish it and want the ball. He will want to turn defenders, not around the half-way line, but where it matters in and around the penalty box. Manchester United, as with a lot of the defences in the Premier League, have been vulnerable, but it's very important he keeps his cool. In fairness to him, over the last couple of months - and I know we had the incident in the FA Cup at the weekend - his attitude and commitment has been the same, but his discipline has been even better. I put that down to Brendan Rodgers and his coaching staff. When he goes out there, with what's gone on with Manchester United and some of the players, he's got to have ice in the brain."
David Fairclough on why Luis Suarez is more important to Liverpool than Van Persie is to Manchester United
"Luis Suarez is enormously important to Liverpool because he gives you more than just his goals. His goals this season have been a fantastic bonus and something that Liverpool fans were hoping he might have done more last year, but this year he's put the whole package together; enthusiasm, energy, commitment to the team. It's so vital to Liverpool and we hope that more players can contribute. Clearly he's in maybe the best form of his life and we need that to continue. I would choose Luis Suarez because he gives more. Van Persie's a great finisher and that's the key to his game, but Suarez gives much more. For that reason he's more important to Liverpool than Van Persie can be to Manchester United, who have more people that are weighing in on the goalscoring front."
Tony Gale on why he would rather have Robin van Persie in his team, over Luis Suarez
"They're both outstanding players. They're totally different in the way they play, but both outstanding players. Van Persie is just cold and clinical, he's got great clean feet and he brings people into play. The other guy, Luis Suarez, is all about deft touches in and around the area. He lures people in, but there's no better striker of a ball than Robin van Persie at the moment. If you show him onto his left foot then you're asking for trouble! Suarez is totally different, probably not as clinical at taking chances, but as far as beating people in one-on-one situations and making chances for himself there's probably no-one any better. I would probably rather play against Robin van Persie because he's the cold clinical player that I liked to play against, but I would have liked to have played with Robin van Persie because you know what you're getting for the team. Suarez must be an absolute nightmare to play against!"
Lou Macari on why Manchester United will fear Suarez on Sunday
"Suarez is a concern, as is anybody who has scored 19 goals in a team that's in the position that Liverpool are in. It shows what a player he is. We've all talked about Suarez time and time again this season about other things than his goalscoring, but I think if you concentrate on what he's best at - which is scoring goals - then he's a problem to you. If you give him any amount of time and room in that box then he will punish you. That's why I'm not over-confident that United will win on Sunday. People like Suarez and Steven Gerrard can't be written off. There are other players in the Liverpool team, but I look at their position at this moment in time and I don't remember Liverpool being 21 points behind United going into the second half of the season and only for that reason do I say it's been a disastrous season. Liverpool supporters don't remember occasions like that, going into a game against Manchester United 21 points behind. If United play at their very best then as far as I'm concerned they will win the game, but I am worried about Suarez."
Iain Dowie on the merits of the two in-form frontmen
"Ahead of Man United-Liverpool everybody is talking about Robin van Persie and Luis Suarez, who are the best centre-forwards in the Premier League by a country mile. Van Persie is the complete striker and there is nothing he cannot do; his touch is sublime, he has got great pace and his finishing is a revelation. Suarez, meanwhile, has great acceleration over a short period and he can score all types of goals so United cannot afford to leave space in behind and have to make sure they are tight when he has it at his feet. He might move into a deeper position to accommodate Daniel Sturridge, but I think that would be a dangerous move as he has been so good as that lone frontman."
Stewart Robson on why Manchester United have more goalscoring threat than Liverpool
"Even though Manchester United haven't been good defensively this season, they've been at their best in attacking areas. They've created opportunities, they've scored goals and key to that has been Robin van Persie, but also Javier Hernandez over the Christmas period has looked to be back to his best. He's been alert and aware around the box. He had four or five really good opportunities when he came on against Newcastle. He didn't take them, but he kept on making the right runs. His awareness in and around the box and his determination to get Manchester United back into the game and to win the game was excellent. As for Liverpool, we saw the best and worst of their traits over the Christmas period. In the game against Stoke they started off really well, but were beaten by some poor defensive play, particularly when balls were played at the back four. They have been at their penetrating best in the last few weeks though; earlier in the season they couldn't score goals and now they look as if they can score goals and Suarez has been outstanding. But at the weekend I still think Manchester United will have too many areas where they can score goals for Liverpool to win the game. I think Manchester United will win the game 2-0."