In praise of Sandro
While some herald the return of Scott Parker, the Brazil midfielder has been shining in his absence. Adam Bate looks at the statistics that show Sandro has earned the right to be considered Tottenham's first-choice enforcer.
By Adam Bate - Follow @GhostGoal
Last Updated: 16/01/13 1:15pm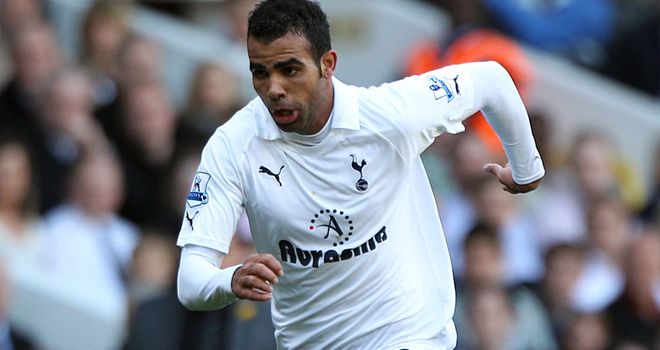 In a recent Daily Mail article, Sky Sports pundit Jamie Redknapp was asked to pick his Premier League XI to take on the best of La Liga. Redknapp opted for Tottenham midfielder Sandro in the holding role. Cue mass incredulity in the comments section. But while the Brazil international had to wait for his opportunity at White Hart Lane, the evidence is now clear - the 2010 signing from Internacional has developed into a top-class defensive midfielder.
The statistics are remarkable. No player in any of Europe's five major leagues has made as many interceptions as Sandro. It is the hallmark of an intelligent holding midfielder. But the 23-year-old also has a more combative element to his game too. He ranks fourth in the Premier League for number of tackles as well. It means that for combined tackles and interceptions he stands clear of the rest in European football.
Most Interceptions in Top Five European Leagues - 2012/13
 
 

Player Name
Team
Number
Sandro
Tottenham
80
Neto
Siena
78
Blaise Matuidi
PSG
70
Morgan Schneiderlin
Southampton
66
Giuseppe Biava
Lazio
65
Aurelien Chedjou
Lille
64
Heiko Westermann
Hamburg
64
Oliver Sorg
Freiburg
63
Dario Dainelli
Chievo
62
Jan Vertonghen
Tottenham
61
Ignacio Camacho
Malaga
61

This is the job Scott Parker was supposed to do. The England midfielder has a considerable national reputation as a ball-winning midfielder. He is that tough-tackling terrier; an efficient user of the ball for club and country. As such, throwaway lines about how much Spurs have missed Parker are to be expected. But anyone still clinging to the notion that Sandro is merely deputising for the senior man may need to revise their opinion.
Tackles and interceptions are key to Parker's game. A look at the stats show that to be true. Back in 2010-11, when the then West Ham midfielder won the Football Writers' Player of the Year award, he was one of only seven Premier League players to amass over 200 combined tackles and interceptions. Last season, his first at Spurs, only two midfielders managed such high numbers as Parker.
At 32, and with a troublesome Achilles problem, it may prove a challenge for Parker to return to his best. But even if he does, the real issue is the improvement of his midfield rival. Sandro averaged an impressive 3.7 tackles per game in each of his first two seasons in north London. And yet, his positioning - the ability to intercept the ball - had been less remarkable. Prior to Saturday's game at QPR when he was forced off injured early on, Sandro's interceptions per game had doubled on last season.
As a result, statistically-speaking, Sandro is now surpassing Parker at his best. And given the nine-year age gap, any comparisons are only likely to favour the younger man in the future. Parker has been wholesome in his praise of his team-mates while out injured and does not possess a reputation for troublemaking. But coach Andre Villas-Boas will already be wondering how best to accommodate one of his more highly-paid stars.
Sandro v Parker - Tackles & Interceptions per game
 
 
Season
Sandro
Parker
2010-11
5.9
6.4
2011-12
5.6
6.8
2012-13
6.9
-

One obvious solution would be to play both men alongside each other and push Mousa Dembele forward into an attacking midfield role. But is there any sense in breaking up such a successful pairing? Sandro and Dembele have arguably been the key behind the team's success this season. And while the Belgian clearly has the qualities to operate in an advanced role, it is precisely those skills that make him such a unique threat from deep. Sandro and Parker feels merely functional in comparison.
The alternative to disrupting things on the field is for Villas-Boas to continue to leave Parker out of his starting line-up. And that presents further difficulties for a coach who has endured a strained relationship with the British media. Criticism has already accompanied his decision to sideline Michael Dawson and confusion surrounded the replacement of Brad Friedel with Hugo Lloris as Spurs No.1. Benching another popular figure is an issue that could be seized upon if results falter.
Parker did a fine job for the previous boss in charge at White Hart Lane, Harry Redknapp. And yet, as the son of the former Spurs manager acknowledges, everything indicates that Villas-Boas would be justified in retaining his faith in Sandro. In the case of both the Portuguese coach and the Brazilian midfielder, the replacement looks more than capable of stepping out of the shadow of his predecessor.