No hiding place
Our resident goalkeeping expert Ian Watson catches up with Kevin Pilkington to ask if Gary Neville's assessment of Man United's unforgiving dressing room was how he experienced it whilst a young 'keeper at Old Trafford. By the sound of it, Sky Sports' top pundit wasn't far off the mark
By Ian Watson
Last Updated: 25/01/13 3:11pm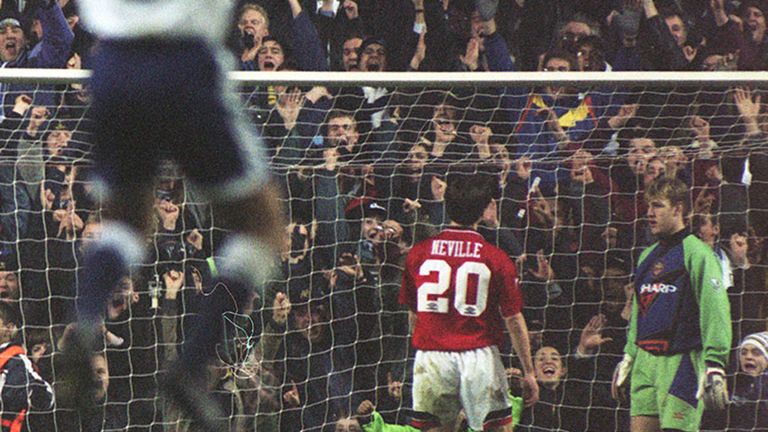 In the wake of Manchester United's draw at Tottenham, the finger of blame has once again been pointed at David De Gea, most notably by former skipper Gary Neville. The Sky Sports pundit highlighted on Monday Night Football De Gea's "big mistake" and the frustration of his team-mates which seemed to greet it.
Seemingly everyone has had their say on De Gea and, as is generally the case after one of Neville's soundbites, many have had their say on his say.
Certainly more so than Neville, Kevin Pilkington has sympathy for De Gea. Probably because he has been in the Spaniard's shoes.
Sir Alex Ferguson gave Pilkington his debut in the Manchester United goal at 19, the same age De Gea first pulled on the United number one jersey. After graduating as goalkeeper in the freakishly-talented Class of '92 - the group which also featured Ryan Giggs, David Beckham, Paul Scholes and Nicky Butt - Pilkington remained at Old Trafford for five more years, during which he played stand-in to the great Peter Schmeichel.
The Dane defended De Gea on Thursday, saying the the 22-year-old "did all the right things" in the 92nd minute at White Hart Lane. Pilkington agrees with his former mentor.
"De Gea made the correct decision. The only unfortunate thing is he has not got the required height on the punch," argues Pilkington when quizzed on De Gea's culpability.
"It is a poor punch but he did everything else right. It is unfortunate, but it is not as though he has let a 30-yarder in through his legs like Massimo Taibi."
Perhaps it should come as no surprise that Pilkington, now goalkeeping coach at Notts County, stands with his fellow stoppers; something honorary presidents of the Goalkeepers' Union, Bob Wilson and Gordon Banks, have also done in recent days.
Pilkington, though, can vouch for Neville's assessment of the United dressing room and the culture of accountability within it.
"The goal cost United two points so the manager, I imagine, will turn to De Gea and point the finger.
"Ferguson makes no allowances for age. He expects high standards straight away because you're playing for the biggest club in the world. If you are going to walk out for United, he expects brilliance straight away.
"The only one in the dressing room who ever had a go at me was the manager. He even blamed me for letting in a penalty at Coventry once. But I accepted that; it came from the best manager in the world - a fantastic man to whom I will be forever grateful. What could I say in response?"
During his three years around in the first-team dressing room, Pilkington regularly witnessed the United players "digging each other out" and arguments between Ferguson and his men.
"But that's the winning mentality," revealed Pilkington. "It is a dressing room full of winners.
"Only the very best is expected from everyone who pulls on the shirt. If for any reason they are not giving it then, like Gary said, others will start asking questions."
Unforgiving
Pilkington believes United should take collective responsibility for their late surrender at Spurs but, having stood in the Old Trafford spotlight, he understands that De Gea will have to learn to live with the scrutiny.
"It always seems to be the case that when a goal goes in, the first person looked at is the goalkeeper. Everyone forgets the four or five saves he made beforehand. If he doesn't make those saves, then United are out of the game anyway.
"But that's life at United. As a goalkeeper at Old Trafford, you are under massive pressure. You've got huge shoes to fill.
"But it's not like De Gea has come through from the youth team. He has played for Atletico Madrid so he should be used to that pressure and he should be able to deal with it."
Reports have been rife in the press since the weekend that Ferguson is losing patience with De Gea and is actively looking to replace the 22-year-old. Pilkington believes patience might pay with the Spaniard, but at what cost in the mean time?
"The concern is whether United can afford to have a goalkeeper who is still learning his trade." Pilkington said.
"De Gea is very, very young for a goalkeeper, but then you look at Joe Hart, who was that age when he got into the Manchester City team. United fans say he has made mistakes this season too but Hart is head and shoulders (no pun intended) above every other goalkeeper in the Premier League at the moment."
Pilkington had the invaluable experience of learning his trade from Schmeichel - "the best in the world". De Gea does not have the benefit of such an accessible role model, but Pilkington insists the youngster will want for nothing as he seeks to achieve his potential.
"Schmeichel looked after me and watching him in training was an absolute pleasure. I was in dreamworld. He was a great man as well. Some called him arrogant, but he backed it up. I considered myself very lucky to work with him.
"De Gea, though, will get everything he needs at United. He will be receiving the best guidance from Eric Steele, who is an excellent goalkeeping coach."De Gea's strengths are as clear as his weaknesses. The Spain Under-21 international has got "fantastic distribution" and is a "great shotstopper", according to Pilkington, even if "he uses his feet and legs a little bit too much for my liking".
His talented feet were a large part of the reason Ferguson spent in excess of £18million on taking De Gea from Madrid 18 months ago to replace the great Edwin van der Sar. Goalkeeping at the highest level has changed, so much so that the last line of defence is often looked upon more as a first line of attack.
However, Pilkington insists the correct balance needs to be found.
"The first thing a goalkeeper has to do is to stop the ball going into the net.
"Goalkeepers do need a broader range of skills now. A lot of my coaching is working with the ball at the feet and starting attacks. But you have to focus on doing the defensive job first."
And what De Gea must surely concentrate on more than anything else is improving his capability to deal with crosses.
Pilkington agrees: "He needs to work massively on dealing with the high ball into the box. It's not the same as it is in Spain. United are coming up against teams who will throw the ball into the box, like Stoke and West Ham, and De Gea is getting beaten up."
Cross to bear
If, as reports this week are to be believed, it is too late for De Gea to win Ferguson's trust, then who does the manager turn to next?
Pilkington is not so sure: "There are not many options out there, especially at a reasonable price.
"I was very surprised when De Gea was bought to replace van der Sar immediately. I would have thought Ferguson might have brought in a more experienced goalkeeper at the same time to allow De Gea to learn his trade before being thrown in at the deep end.
"I fancied Maarten Stekelenburg at the time. He had recently played in the World Cup final for Holland; he had good experience; he was a good age; but he went to Roma for £6million.
"If it was up to me and if it was at all possible, I would have tried to snap up (Juventus goalkeeper) Gianluigi Buffon.
"He is unbelievable. More than anything else, Buffon's outstanding quality is his temperament. He is very similar to van der Sar in that respect.
"There has been talk of United interest in Asmir Begovic, but there really is not very much top-class talent available on the market. United might be better off sticking with De Gea.
"There will be other teams in Spain who would take him straight away because they are aware of the potential he has. He is going to have a great future. He will learn, he will grow up. But United may have to help him on the way."
Schmeichel identified as a problem the tendency of United's defence to drop very deep, which is something Neville also picked out on Monday night. Pilkington accepts there may be an element of doubt concerning De Gea in the minds of the individuals in the back four, but Nemanja Vidic and co are doing more harm than good by retreating closer to their keeper.
"If the defence retains a higher line, it is so much easier for the goalkeeper to come and claim the ball. They left no room for De Gea to operate in on Sunday. His team-mates simply have to trust him."
The level of faith Ferguson has in De Gea, though, is ultimately what will decide the keeper's fate. The manager has rotated - or dropped, depending on who you believe - De Gea regularly since he arrived at United, with Anders Lindegaard coming in. But Pilkington believes De Gea has the edge.
"I think De Gea is a better goalkeeper than Lindegaard. I'd stick with him. In the short-term at least."