Reporters' Notebook
Sky Sports takes a look at some of the talking points from the weekend's Premier League action
Last Updated: 03/02/13 7:50pm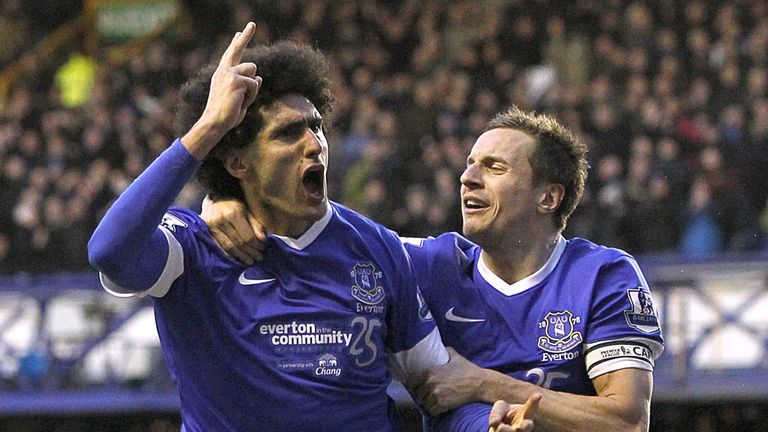 For individual match reports, statistics, player ratings and key moments from each game, click on the headers below.
Jack Woodfield
Having acquired six new players during January, Harry Redknapp has made his intentions clear at QPR, and should the Loftus Road club fail to stay up this season, few are going to emerge from relegation in a positive light.
With Loic Remy suffering an injury in training, Jamie Mackie led the line against Norwich, but in a fairly drab game, it was Mark Bunn and Julio Cesar that stole the show, with the Norwich goalkeeper particularly impressive.
Bunn's penalty save from Adel Taarabt was the game's main highlight, although QPR carved out enough chances to feel more disappointed with the point than the Canaries.
For QPR, they remain unbeaten in the Premier League this calendar year, but scoring goals is a priority if they intend to survive and it was clear that without Remy, the combination of Bobby Zamora and/or Mackie will struggle to offer that firepower.
Norwich, meanwhile, proved they have enough talent to avoid getting sucked into the emerging relegation battle, and Chris Hughton will be buoyed by his side's performance at Loftus Road after a very shaky January for the club.
Matt Westby
Stoke City manager Tony Pulis said he adopted an ultra-defensive approach to their game with Arsenal because the two clubs are not on a "level playing field".
Maybe so, but for a team that has firmly established itself in the Premier League and had no fewer than five strikers in their matchday squad, their lack of attacking ambition at the Emirates Stadium was startling.
Seldom has a striker been as isolated as Peter Crouch was, and seldom has a midfield five been so unwilling to push forward when in possession.
That wasn't a problem for Arsenal, for whom Theo Walcott, Alex Oxlade-Chamberlain, Jack Wilshere and Mikel Arteta pushed up in support of Olivier Giroud at every opportunity.
However, a cause for concern will be the lack of penetration in the absence of Santi Cazorla, who was rested but later sent on as a second-half substitute with the score locked at 0-0.
Although they had plenty of joy from crosses and corners, only once did they split open the Stoke defence, when Wilshere brilliantly played in Oxlade-Chamberlain to draw a fine save from Asmir Begovic.
Given their control of possession and territory, it was a game they should have won by more than 1-0.
Lewis Rutledge
The outcome may not have satisfied either side as Aston Villa were left two points adrift of safety and Everton squandered the opportunity to move fourth, but for the neutral it was an exhilarating spectacle at Goodison Park.
It was a tale of two Belgians as Christian Benteke and Marouane Fellaini grabbed two goals apiece, with both men producing the type of powerful performances that will leave their fans glad a transfer window has just closed but already fearful about the next one in the summer.
John Heitinga was given a torrid time by Benteke and was partly at fault for all three goals, but David Moyes will be hoping that a vulnerable defensive display by his side was a one-off.
Villa's inability to stay solid at the back will be a far bigger worry for Paul Lambert, because even though his youngsters again showed a tremendous work ethic, they allowed Everton to create far too many chances.
Lambert's side are now without a win in eight games and second from bottom in the standings. With relegation rivals starting to pick up points quite consistently, Villa must regard next weekend's home clash with West Ham as must-win, especially as their following two games are against Arsenal and Manchester City.
For Everton, Moyes will have been encouraged by the way Victor Anichebe played in attack after missing out on a new striker this week.
It has always been important for Everton to keep their key players fit and that will remain the case as they head to Manchester United next time out knowing they are still in contention for Champions League football. 
Rachel Griffiths
Newcastle's dramatic 3-2 win over Chelsea made it back-to-back successes after the midweek triumph at Aston Villa and fans will be hoping their campaign has hit a welcome turning point.
The Magpies produced an all-round impressive display, at the centre of which was the influential Moussa Sissoko on his home debut.
The new signing - part of what could prove to be a French revolution for manager Alan Pardew at St James' Park - will steal the headlines for his two goals, including a late winner, but was superb all afternoon, showing pace, power and skill in midfield.
Things were less rosy for Chelsea as they stretched their winless run to four games in all competitions.
Rafael Benitez claimed his side should have had a penalty after former Newcastle striker Demba Ba's nose was broken by a boot to the face from home captain Fabricio Coloccini, and also feels the skipper should have been sent off for the kick.
The fact that referee Howard Webb chose not to award even a free-kick will have raised a few eyebrows but the first-half incident cannot detract from the fact Newcastle more than held their own against their visitors.
For third-placed Chelsea, the defeat strikes a blow to their European ambitions as teams below continue to press. The Blues can take heart, however, from moments of inspiration on Tyneside, such as their two classy goals from Frank Lampard and Juan Mata.
Graeme Bailey
If you take the Premier League from New Year's Day onwards, Reading would be top six, so we should not really be shocked by their win over Sunderland.
The Black Cats were surprisingly poor and you could easily look at the new midfield signings. Alfred N'Diaye is a clear athlete, physically commanding but his passing was poor and he looked off the pace, which was in stark contrast to Hope Akpan. Signed from League One Crawley Town, he buzzed all over, ran his socks off and was excellent in midfield and highlighted the fact that you don't always need to look abroad for Premier League-ready talent.
All-in-all Reading remain just above the drop-zone, but they look a class act at the moment and are getting the results to match their endeavour.
They have match winners all over in the likes of Jimmy Kebe and Adam Le Fondre - and that is just what Sunderland look like they are bereft of, although Danny Graham's late appearance and performance was a positive as he looked like he could score goals in the red and white.West Ham 1 Swansea 0
Peter Fraser
Andy Carroll was immense for West Ham in both attack and defence, winning almost everything in the air and scoring the winner. He clearly wanted to make a point on his first start back from injury and West Ham's tactics - rudimentary long-ball - were built to his strengths. That the on-loan Liverpool player, who will seemingly be sold in the summer, needs to add another dimension to his game other than aerial power remains the reason why his previous £35million price tag will always look ludicrously over-priced.
Gerhard Tremmel was superb in the Swansea goal. He made several fine saves from Kevin Nolan and Carroll. It would be interesting to know who Michael Laudrup considers his first-choice goalkeeper - the injured Michel Vorm or Tremmel.
With Danny Graham sold in the January transfer window and no replacement brought in, the last thing Laudrup needed was to draw a blank. Michu hardly had a sniff of goal and has now gone six Premier League games without scoring. If the Spaniard does not rediscover his scoring touch, Capital One Cup finalists Swansea could have a big problem.
Daniel Storey
Will Southampton pay the price for an inability to hold a lead in the Premier League? At times against Wigan they looked like a top four team, playing with a fluidity and invention far better than their league position suggests. However, they have now dropped 24 points from winning positions. That is as many points as they have won all season, and would put them third.
For Wigan, the worry must be that these are the sort of games that must be won in order to avoid a long, hard battle against relegation. They were poor and looked to lack the quality required to break teams down. Their resilience must have been the only pleasing thing for their watching manager.
Chris Burton
The history books will state that Manchester United prevailed 1-0 at Craven Cottage on 2nd February 2013, with Wayne Rooney netting the only goal of the game.
That, though, tells only half of the story, with an eventful encounter wavering wildly between the sublime and the ridiculous.
Some of the football on show during an entertaining first half certainly falls in the former of those categories, with both sides striking the woodwork as back fours and goalkeepers were called into action at regular intervals.
It was, however, towards the end of the opening 45 minutes that the game lurched in the opposite direction, with floodlight failure leaving those in attendance quite literally in the dark as to what was going on.
Eventually someone fed the electricity meter and the game continued, but much of the zip was taken out of the contest by an unscheduled delay.
Fulham were able to stand firm at the start of the second period but it took them a while to get going again, while United looked a long way short of the all-conquering, free-scoring outfit the Premier League table suggests they are.
Sir Alex Ferguson's side are among the best in the business, though, at picking up points when not at full throttle, and it came as little surprise when Rooney sprang clear and stroked home what proved to be the match-winner 11 minutes from time.
The hosts have every right to feel aggrieved at having ended the game empty-handed, as they saw two efforts cleared off the line in the second half, but Martin Jol is the kind of coach who likes things black and white and will be the first to point out that the history books show his side lost, not that they gave potential title-winners and a side they succumbed to far too easily just seven days earlier in an FA Cup clash something of a scare.
Chris Burton
Tottenham's victory at The Hawthorns owed much to one moment of madness from Goran Popov and one moment of brilliance from Gareth Bale.
There was little the Baggies could have done about Bale's match-winner had they been able to keep 11 men on the field, but the fact that they were at a numerical disadvantage hardly aided their cause.
Spurs' goal came from a move down their right, in the left-back area Popov was supposed to be occupying. He had, however, departed proceedings some 20 minutes earlier after displaying a costly show of petulance.
Popov had actually got himself off the hook moments before the match-altering incident, with some questionable defending ending up with the award of a goal kick. The Baggies full-back then decided to take issue with Kyle Walker and, after a heated exchange of words, the Macedonian spat in the direction of his Spurs counterpart.
An immediate red card was flashed in his direction and you got the feeling that West Brom were always going to be up against from that moment on - against a side pushing hard for a top-four finish and aware of the need to take full advantage of such unexpected gifts.
Bale duly delivered the killer blow for Andre Villas-Boas' side, with the in-form Welshman shifting the ball onto his wand of a left foot and crashing an unstoppable drive from Ben Foster.
Spurs are now just a point adrift of capital rivals Chelsea and very much in the hunt for a third-placed finish and automatic qualification for the UEFA Champions League, while West Brom find themselves on a slippery slope after suffering five defeats in their last six Premier League outings.
Jack Woodfield
After Manchester United's 1-0 win at Fulham on Saturday, victory against Liverpool was imperative for Man City if they were to remain in contention to retain their Premier League title.
Alas, a 2-2 draw does nothing for Roberto Mancini's team, and had Sergio Aguero not equalised in sensational style, Mancini could arguably have been facing heavy criticism had his side succumbed to defeat.
Admittedly, Liverpool were superb at the Etihad Stadium, and their 2013 performances have been mightily impressive compared to the efforts they were producing in the first half of the season.
They also netted two magnificent goals through Daniel Sturridge and Steven Gerrard, and hopes of a top-four finish are not out of the question given their recent form.
For City, they are relying heavily on United slipping up in momentous style now, and they know that anything other than winning every game will see the title slip further and further out of their reach.