Secret Agent
The shadowy world of the football agent is one that is cloaked in secrecy amid accusations of greed. Thankfully, we have got one of the good guys on board to lift the lid on what life really is like at the sharp end of a notoriously cut throat business.
By Secret Agent - Follow me on Twitter @sssecretagent
Last Updated: 08/02/13 12:59pm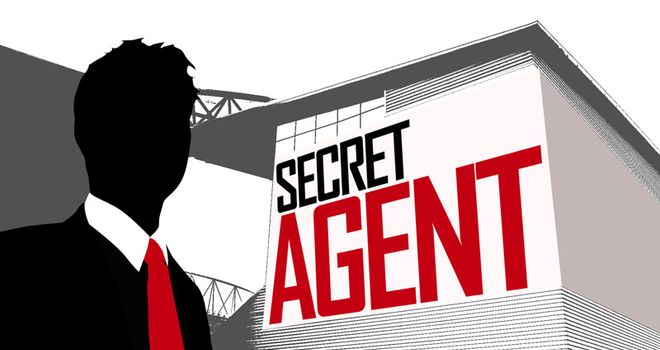 The window may be closed for transfers but it's very much open for sticking the boot into agents. David Sullivan and Lee Clark are the latest dissenting voices to hollow in a war against my profession that is if not raging certainly bubbling away at present. It won't be long until pistols are drawn.
Just last week I blogged about Harry Redknapp's 'gang warfare' riposte and it would appear his caustic comments have opened a festering sore. It's one that won't heal itself until football's ruling body can awaken from a collective inertia that engulfs them whenever the topic of agents and regulation is broached.
West Ham owner Sullivan has this week talked about being threatened by an agent, in candid comments which surely won't go unnoticed at FA and Premier League HQs: "In this window, I have had an agent threaten me and threaten one of our West Ham players with physical violence, because he thought he was being cut out of a deal. I heard of three or four agents trying to jump in on other deals. Some of these people are like scavengers.
"It was all deeply unpleasant and I'm glad it's over. Now we can get on with the football. Harry Redknapp was right: it feels like gang warfare out there and I can see it spilling over into violence in the future, unless there is legislation from the FA to curb the practices."
It's a disturbing revelation and while I'd concede that phone calls between agents and club officials are often bluer than a Miles Davis album, talk of violence - or at least the potential of it - is a new one on me. There is invariably frustration felt and shown on both sides of the table during negotiations but that's just business. Mr Sullivan, it's fair to say, has been round the block more times than Donnie Wahlberg so for him to feel threatened suggests whichever agent he was dealing with has clearly crossed the line.
In a further broadside Birmingham City manager Lee Clark backed up Sullivan's comments in lamenting the fact transfers are falling down because more than one agent, often four or five, are claiming they are involved in the deal. Anyone involved in football will tell you the same.
"I read what David Sullivan had to say about agents and I agreed with him," said Clark. "We have had deals in place this week and there have been seven or eight people trying to jump in on them.
"I don't know how it happens - perhaps a player says to a friend that he's getting a move and whether they'd like to earn a few quid - but it's getting so difficult to do them."
It's an issue I've talked about in previous blogs. Agents all over the place are claiming they are in control of the same player. If, and it's a big if, any deals actually go through a likely result is that claims will be lodged from three or more agents saying they are due a cut of the commission. The regulations currently in place are wafer thin.
It's always been a dog-eat-dog industry but it's getting like a zoo out there and the gamekeepers are napping. There is a simply remedy but for whatever reason there seems an inherent reluctance to clean up a profession as strong only as its weakest (most corrupt) link. The clubs need to know which agent officially looks after which player. That's easily solved. One call to the Football Association should clear up any 'misunderstandings'. All official representative contracts between agent and player have to be lodged with the FA in this country and the equivalent associations around the globe.
Instead of receiving numerous calls from three of four agents, legit or unlicensed claiming they represent the player, get the official name of the agent on the representation contract from the FA including their phone number. Call them, don't deal with anyone else other than the name on the paper and do the deal. Easy!
The suggestion from Sullivan that all players and their representative details should be published is something that I've suggested in the past. It's a sentiment echoed by Clark.
"Half the time you don't have a clue that actually represents these players. What I'd like to see is the player's representative actually listed with the Football Association. That way, it's transparent, it can be checked and everyone knows where they stand.
"Getting agents registered was supposed to solve the problem. It's not solved anything as far as I can see. It needs looking at."
The only potential stumbling block is when a player isn't actually signed to an agent. Some may have three or more agent 'friends' they speak to regularly, but refuse to sign a representation contract. Why? Well it's the footballers' version of comparison websites. A player will send out three or more agents to get themselves the best offer. The one with the most appealing deal gets the player and the commission.
Maybe it should be compulsory for players to have an agent to avoid all these problems, but I'm sure the bureaucrats in the EU will see this as a restraint of trade. Either way I agree with the points made by Clarke and Sullivan, both decent, experienced people in the business. I hope their comments are acted upon. I'm not holding my breath.
On a personal note the transfer window was a bit of a damp squib to be honest. Out of a dozen 'live' deals only three got to a stage that a transfer was very possible. The clubs wanted the players, the players were happy to discuss the move and the paperwork was present and correct. All three fell down. I know how Michael Douglas feels.
One deal collapsed because the clubs couldn't agree on how much the instalments were to be to pay the transfer fee. Another fell apart when after agreeing to take the player in January, the club's owner decided to wait until the summer window. It wasn't to be third time lucky either, as the final deal on deadline day was unceremoniously kyboshed when the player decided last minute he didn't want to double his wages in Russia. From Russia with love, my arse.
There were no underhand tactics by other agents at play and rather simply a case of luck going against me. Many deals collapse for similar reasons up and down the country and across the continents. You become thick skinned as an agent, deals fall apart all the time, so to get down when these potentially lucrative and life changing transfers fall through isn't worth it. The next deal is only around the corner and while I've heard more fat ladies singing than at a Loose Women night out at the karaoke, I'll fight on to live another day. If I wasn't getting close to the deals then I'd have to start to look at the situations vacant section of the local newspapers.
Fortunately, there are a couple of transfer windows still open around the footballing world. Russia and the Ukraine are still able to welcome new signings until the end of February while China and MLS have until April before they usher in their own version of Jim White from out of the broom cupboard.
There's no time to wallow in self-pity as there's always a deal to be done. It's just about having the right contacts in place and that's something I'm confident about.
It was another 'close but no cigar' window for yours truly but I'll carry on for another few months before the wife tries to put her foot down and tells me to get a 'proper job'. This is my job and to be fair it's a brilliant job as long as you know what you're doing and making enough money to survive. At various points in January I was chasing a bounty of £200,000. The fact I ended up making next to nowt only makes me hungrier (not literally - yet!).
Surviving is what I'm doing, no more-no less. It's getting tougher and tougher each year but I'm confident I'll make that big one soon. This time next year Rodney, this time next year....
Keep the faith!