Swansea or Spain?
Can Swansea prevent Michael Laudrup from leaving? Does he want to go? Chris Burton gets tied in knots.
Last Updated: 26/02/13 7:30am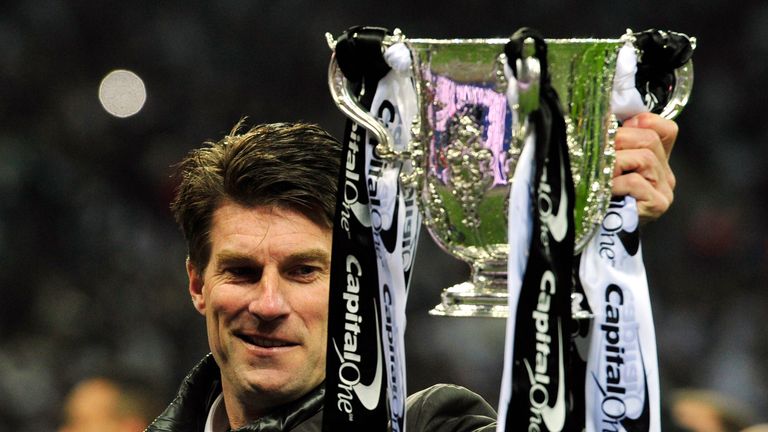 Will Michael Laudrup still be at Swansea City next season? Maybe, maybe not.
Even the man himself doesn't seem to know what the future holds.
Prior to Sunday's Capital One Cup final, Laudrup was saying: "I have ambition but I have never had any special dream to go to a specific team or a top team. I've been at the top clubs as a player. Maybe it's for that reason I don't have the dream like a young, innocent manager just starting out. If one day I'm there as a manager at a top club, then I'm there. If I'm not, I'm not."
Music to Swansea supporters' ears.
A few hours later, and with a first piece of major silverware in the club's 101-year history proudly placed on the mantelpiece, Laudrup had changed his tune slightly.
Pressed on rumours linking him with Real Madrid, the Dane told Spanish radio station Cadena Ser: "It is a pleasure that the fans think that I could be the next Real Madrid manager, we will see what happens in June or July. It's certain that I will return to Spain, but I don't know when."
What? I thought you weren't interested in top jobs?
Fast forward to Monday morning and there is still only one topic dominating the thoughts of those at the Liberty Stadium - will their boss be on his way at the end of the season or not?
Laudrup steps back in front of the cameras and is once again asked to offer his take on a poll in Spain which shows 78 per cent of Real Madrid supporters want him at Santiago Bernabeu next term.
He tells Sky Sports: "I am proud of that. I am very grateful but I can't really say anything more. There will always be rumours. I can only say what I have said before, that it is my intention to stay here."
Rumours
Asked if he would like to discuss a new deal at Swansea, with talks mooted, he adds: "I have said that I would like to stay here, but even if you have a 10-year deal there will always be rumours. My intention is to stay here next year."
So, he doesn't want to go but intends to return to Spain at some point and is ruling nothing out. Clear as mud.
It would appear that we are no nearer to knowing what will happen over the summer, with Laudrup offering sound bites that keep his audience at the time happy - tell the British press you are happy at Swansea, tell the Spanish media that you would love to return one day.
Maybe the Dane is too nice for his own good.
If he came out and said, 'I'm definitely staying here, end of story' the issue could be put to bed.
As things stand, this is a story which will run and run, with Laudrup set to face inevitable questions regarding his future at each and every one of his pre-match press conferences from now until a definitive decision is taken.
It is, however, not his fault that the Real rumours have surfaced. Jose Mourinho has made a rod for his own back at the Bernabeu and a parting of ways there seems inevitable.
That means there will be a vacant managerial post which must be filled, while reports linking Laudrup with Chelsea have arisen on the back of Rafa Benitez's continued struggles at Stamford Bridge.
It is, however, worth pointing out that it is less than 24 hours since Laudrup made his way up the Wembley steps to get his hands on major silverware. He is the man of the moment, flavour of the month.
Who is to say that Swansea will not suffer a cup final hangover, stumble their way to the end of the season and end the campaign lost in mid-table obscurity?
Prizes
Will Real be so keen then? Come the middle of May, grander prizes than the Capital One Cup will have been handed out, and the likes of Benitez and Carlo Ancelotti may have got their hands on them.
Real fans may alter their thinking slightly were Benitez to land the FA Cup, maybe the Europa League, and Ancelotti were to guide Paris St Germain to the Ligue 1 title and through to the latter stages of the UEFA Champions League.
All of sudden bosses with a proven track record at the very top of the game could be up for grabs, with Benitez and Ancelotti both believed to be working on borrowed time.
Swansea will certainly be hoping that attention is shifted away from them. They are enjoying their moment in the spotlight, and rightly so, but they would rather success did not end up costing them - again.
Brendan Rodgers headed through the exits last summer after furthering his reputation at the Liberty Stadium and the Swans will not want his successor to tread a similar path 12 months on.
The more you look at it, the more you get the feeling that they should be OK... possibly.
While offering mixed messages, Laudrup does appear to be enjoying himself in England and has the chance to lead Swansea into Europe next season.
Real represent a sizeable carrot to a man who spent two years in the Spanish capital during his playing days, of that there is no doubt, but Laudrup has his head screwed on and may decide that it is too soon to take such a leap, or that he doesn't really fancy stepping back into that particular bear pit.
The end of February is no time to be making such decisions, or trying to second guess what could happen. Let's wait until August and see which dug out Laudrup steps into come the start of the 2013/14 campaign.
Keep those fingers crossed, Swansea fans.