Stick or twist?
By all accounts Stoke City are still in pretty ruddy health but defeat to Newcastle on Sunday left some disgruntled supporters aiming their discontent in the direction of Tony Pulis. Daniel Storey assesses their dip in form and weighs up the pros and cons of making changes at the top
By Daniel Storey - @danielstorey85
Last Updated: 11/03/13 2:14pm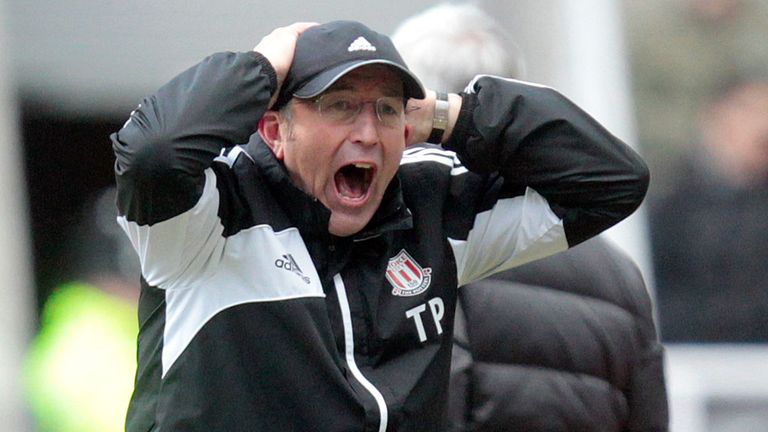 Tony Pulis is manager under a degree of pressure at the moment. After a home defeat to West Ham last weekend, supporters at the Britannia Stadium displayed their feelings on what they felt was another inept display. It left the Potters with just one win in nine Premier League games.
Whilst this was a poor home performance, it is Stoke's away record which is most concerning. Two away wins in the calendar year of 2012 (victories over Blackburn and West Brom), and the defeat at St James' Park on Sunday leaves their record over the last 23 away games making for grim reading: W1 D9 L13. They have scored less than a goal every two games during this period.
Despite this, Pulis this week received the backing of Stoke's owner Peter Coates: "We are clearly having a bad run and not playing well but I think these are fine margins. Our current squad is the best we've had and to me that represents progress. Tony has been here seven years and I think fair-minded Stoke supporters would think they were seven good years."
It is possible to see both sides of the argument. When Pulis took over in June 2006, Stoke had just finished 13th in the Championship. Within two years they were destined for the Premier League, upon which they were declared favourites for relegation. Since then, their worst finish has been 14th and they have reached an FA Cup final and played in the knockout stage of the Europa League. Those facts significantly back-up Coates' view. We must be careful of making a manager a victim of his own success, and the truth is that without Pulis, Stoke may well still be playing Championship football.
However, critics will point to the budget on which Pulis has been able to operate. Since 2008 the Midlands club have spent over £85million on players, and signings such as Tuncay (£5m), James Beattie (£3.5m), Diego Arismendi (£2.5m), Dave Kitson (£5.5m), Kenwyne Jones (£8m), Wilson Palacios (£8m) and Maurice Edu (£4m) have all failed to provide value for money. The most interesting statistic of all is that over the last five years, only Manchester City and Chelsea have a higher net spend than Stoke. Stoke should no longer be considered as a small club fighting above their weight, some may feel, and the lack of a top ten finish given the financial clout is viewed by a section of Stoke's support as an underachievement.
The role of chairman or owner at a football club is often seen as a cushy number by fans, who view the role with a degree of cynicism. It is often forgotten, however, that they make the most difficult and contentious decision in football, namely when to stick and when to twist with a manager's future.
Choosing the best time to relieve a manager of his duties is a thankless task. Patience is seen as a virtue readily ignored in the high-pressure situation of the Premier League, but there are occasions when it pays to be ruthless. The difficulty lies in examples on both sides of the line.
Try telling Norwich City fans that, in hindsight, Bryan Gunn should not have been removed from his position in August 2009 after just one game of the league season. His replacement, Paul Lambert, effected an extraordinary improvement at Carrow Road. And try telling fans of Manchester City that they should have given Mark Hughes more time when Roberto Mancini was given the task of spending Sheikh Mansour's millions as his replacement.
The same could be said of Chris Hughton at Newcastle. Former captain Rob Lee said: "I am amazed, Chris could do no more", and Sol Campbell (a Newcastle player at the time) stated that "the players will be wondering what the hell is going on, this will hit the players hard." Eighteen months later, and those players had helped the club qualify for the Europa League after a fifth-place finish.
On the other hand, a quick look at the league tables will tell you whether it was a good decision to relieve Sam Allardyce or Mick McCarthy of their duties, with Blackburn Rovers and Wolverhampton Wanderers now languishing in the Championship, and the rather kneejerk dismissal of Nigel Adkins at Southampton has yet to come to significant fruition.
Clearly part of the decision on timing concerns whether you have a suitable (and willing) candidate lined up, but even then there is considerable doubt. There are innumerable examples of expected failures succeeding and expected successes coming up short.
In truth, there is no correct answer, no magic formula, and the decision will differ on a club-by-club basis. Fans must be trusting that the chairman or owner will have an in-depth knowledge of the internal affairs, although I admit that this is sometimes hard to do.
The fact of the matter is that some owners will be fearful of their team simply treading water, feeling that standing still is equivalent to moving backwards in the modern game. Others, meanwhile, will be happy not to the rock the boat, unwilling to take a gamble that is by no means guaranteed to pay off.