Football Podcast: Manchester United, handshakegate, FA Cup & Premier League discussed
Man Utd's week of woe, the FA Cup and the weekend's Prem talking points are on the new Football Podcast.
Last Updated: 12/03/13 8:21am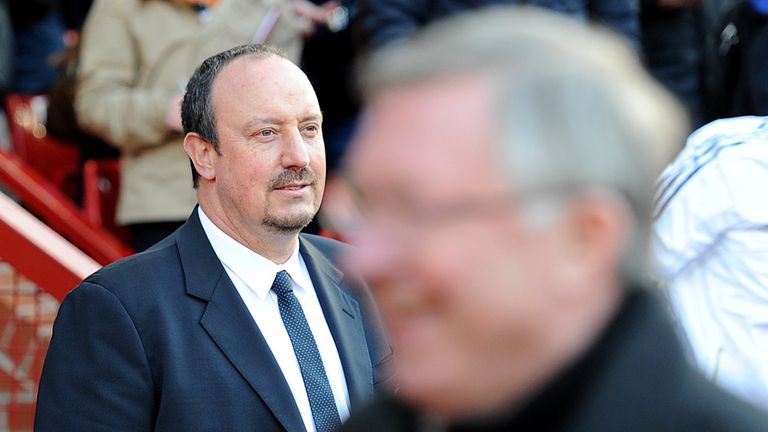 Sky Sports News Radio presenter Mikey Burrows is the host for this week's bumper edition, and is joined in the studio by TEAMtalk Editor Simon Wilkes and his fellow TEAMtalk journalist Pete Hall.
If you want to get a mention on the next Football Podcast, send a tweet to @TEAMtalk with the hashtag #ilovethepodcast - and we'll give your Twitter page a plug.
The trio start proceedings by discussing Sunday's FA Cup clash between Manchester United and Chelsea, debating the heat generated by Sir Alex Ferguson's refusal to shake Rafa Benitez's hand.
Hall, a diehard United fan, bemoans a woeful week for his beloved team, whose hearts were broken by Real Madrid and a shocking referee decision - but he receives little sympathy from his colleagues, who revel in his tearful tale of woe.
Wilkes puts the cat among the pigeons by tipping Wigan to win the FA Cup - and fights the corner of the underdogs, saying he'd love to see a new team follow Swansea's lead in lifting some silverware.
Turning to the weekend's Premier League action, there are loads of talking points that get the trio hot under the collar, in particular Grant Holt's 'dive' to win a penalty for Norwich and the outrageous decision to disallow Swansea's goal at The Hawthorns.
The relegation battle comes under the microscope, with Wilkes claiming he fears Southampton could get dragged into the bottom three.
The rest of the weekend's action is discussed - plus we give a shout to a listener who tweeted our #ilovethepodcast slogan.
The Podcast will be available on iTunes but you can listen to it here now.
Have a listen, then have Your Say.
Enjoy!