Secret Agent
The shadowy world of the football agent is one that is cloaked in secrecy amid accusations of greed. Thankfully, we have got one of the good guys on board to lift the lid on what life really is like at the sharp end of a notoriously cut throat business.
By Secret Agent - Follow me on Twitter @sssecretagent
Last Updated: 25/03/13 2:12pm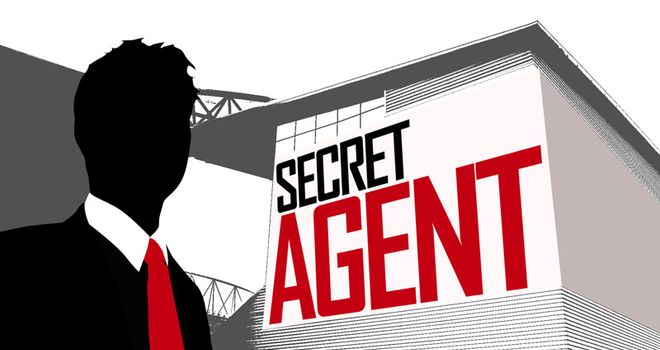 Standing still is the fastest way of moving backwards. By failing to prepare, you are preparing to fail. Without wishing to come over all Mr Miyagi (I haven't waxed my car since I bought it), these are two great mantras to live by if you're planning to survive in the safari occupied by football agents.
At this time of year if I'm not already planning five or six deals (maybe more with a good wind behind me) then come the summer I'll be playing catch-up before the last ball has been kicked. From a players' perspective, I would be doing my clients a disservice if I wasn't working on their next move or renegotiating their existing contract. On a personal level, to keep the wolf from the door, I've got to be permanently proactive. If I don't do the work, I don't get paid. Almost makes me hanker after my cushy desk job of yesteryear. Almost, but not quite...
As soon as the January window shut I started to put together plans for the summer window. The first part of my proposed evolution as a business is to get some fresh blood on the books. A lot of player/agent representation contracts expire around this time so it's a case of the early bird catching the worm and leaving no stone unturned. See what I did there?
There is no way to know when a contract between player and his agent ends. No information is available to check on an official website or even with The FA, so it's a case of using my contacts (primarily club staff and other players) to deduce who might be on the lookout for a change of agency.
It sometimes takes a bit of detective work, scratching of backs and the odd discreet coffee in Starbucks. If a quick latte and a croissant doesn't cut it when trying to get a new recruit to join the agency, a link-up or partnership with another agent or 'consultant' that has access to said player may be an option.
Don't forget 50% of something is better than 100% of nothing! If a new collaboration can bring in value then it's definitely something to seriously consider, providing you can agree on the legalities of it all.
The simplest way to conduct football business is to have players signed with your own agency. If you have control of the player, via a watertight contract, it means that when they are wanted by another club it's you who calls the shots. Life is so much simpler when conducting transfer negotiations without third party interest. At least when you've a contract in place any outside agencies looking to muscle in need my agreement in order to get involved.
As a community of agents, I think it's fair to say the January transfer window was an almost non-event. The aim for the most of us then is to attempt to make 12 months' worth of income from the summer window. The fear that the next January window could be just another month of damp squibs cranks the pressure up a notch. It's sink or swim, or worse - have to get a proper job!
If/when the recruitment of new clients is successful then it's time to get back to the bread and butter. It's essential to make sure my 'old' clients are still looked after. These are the players (or managers) who (hopefully) have served me well during the last twelve months or more. As with many other agents, my clients will also need their contracts with me renewed.
Hopefully this will be a simple case of signing a new contract after a happy and prosperous previous two years working together. It's a nervy time though, so I'll be going that extra mile for all my lads. Whether pitching for a pay-rise or a transfer, or even just trying to cadge a few extra pairs of boots, I'll be doing my best Jerry Maguire impersonation henceforth.
However, even if I think I've done well by my clients, there are still plenty of rival agents ready to jump in to pinch my boys. Many will try hitting on my players with claims they have an "offer" from another club. It's a classic way to tempt a player away. These "offers" often hold about as much credibility as Rick Waller fronting a Weight Watchers campaign but to the untrained/naive young footballer, the lure of an alleged offer from Barcelona can obviously turn heads. Hate to break it to you pal, but Barca's scouting network doesn't stretch to Scunthorpe...
If I'm doing my job right, which I know I am, all the clubs that potentially would be interested in my players will know that I'm their agent. They will, hopefully, contact me direct and if this is the case, there will be no need for any interference from a dreaded third party.
You've got to be always on your guard, one step ahead of the sharks that will try to ensnare your prize players. As long as you're in this business you'll repeatedly be cracked on the chin by disloyal players but that's all part of the game and there's nothing to be gained by sulking. Some players will invariably let you down and jump ship, so it's my job to make sure when it does happen I've got replacements lined-up.
There are times when losing a player or two from the agency isn't such a bad thing. Streamlining an agency is tough but when you're flogging a dead horse, sometimes a player being pinched can come as a blessed relief. I'd much rather be looking after my clients that one day might yield a return (what? It's a business!!) and add a positive number to my accountant's spreadsheet.
As long as I can safely say I've given plenty of time, effort and probably money on a player then I can be happy in the knowledge that I've done my best. A change of an agent may help them too. A new approach, with new ideas and contacts could well be the way to go for all parties.
I always wish any player that leaves my agency well and genuinely hope that they go on to have a good career. Although, not too good. I've a reputation to maintain!
I used to hate change, I liked comfort but sometimes you have to embrace a new direction and evolve to keep things fresh, to tick the agency over and make your mortgage repayments.
So, as we enter the last few weeks of the season let's hope this is the year I hit the big time. After all...
"Dreams come true; without that possibility, nature would not incite us to have them." John Updike.