Di Canio gamble
Sunderland shocked many over the Easter weekend by sacking Martin O'Neill and replacing him with Paolo Di Canio. Adam Bate looks to find the logic behind the decision and wonders what the new man can do to change things.
Last Updated: 01/04/13 12:27pm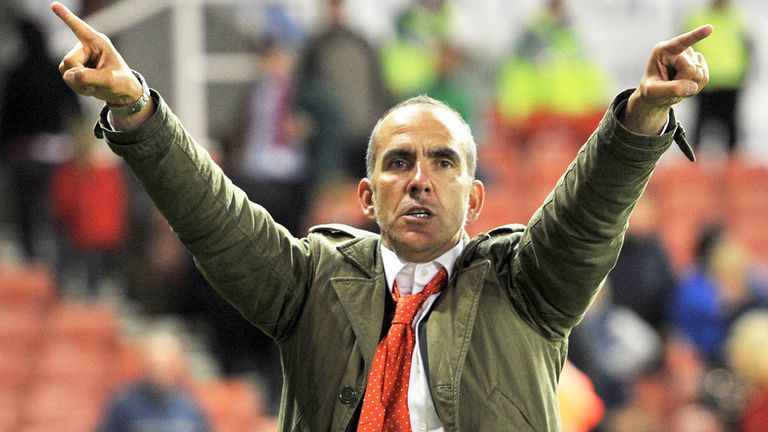 There was a time when it was Martin O'Neill who was regarded as the character. Here was the quintessential eccentric. Lecturing Robbie Williams on air didn't quite equate to verbal sparring with Muhammad Ali but the Nottingham Forest link was more than enough to ensure that the 'heir to Clough' line would persist for over a decade.
But just as O'Neill said at his opening press conference as Sunderland manager, he was always going to be judged on results - as a man and a manager. While the results were good, his manner passed for dark humour. When the defeats kept coming, it was simply bleak. "We lacked real true ability," he said after a disappointing draw with 10-man Norwich. It was hardly inspirational.
When pushed on his negative assessment, O'Neill added: "I heard people saying our performance that day wasn't that of a Martin O'Neill team and it's very easy to say that's a reflection of how I'm feeling. But I'm not sure that's true. If you're telling me that I am downbeat, I don't see that in my manner. I genuinely don't. Am I cracking jokes every three minutes? No, I'm not doing that either."
Sunderland supporters have repeatedly been told by outsiders that O'Neill is the archetypal inspirational figure to turn things around. It didn't feel that way to chairman Ellis Short. Do something, do anything, said the voice. With Premier League riches at risk, Short had to decide which was the bigger gamble - to do nothing or potentially accelerate the decline. Calculated panic.
Opportunity
As a result, the introspective O'Neill makes way for the overtly effervescent Paolo Di Canio. As one wag on Twitter put it, Woody Allen out, Jerry Sadowitz in. None of which is to say the decision won't pay off. Indeed, you could be forgiven for forgetting that Sunderland are not even in the relegation zone. Wigan's phoenix impression may be assumed, but this is still a huge opportunity for Di Canio.
On the face of it, there is little he can do in terms of personnel. The transfer window is but a memory and injuries leave the new head coach without both his captain and star striker. Options are limited and the weaknesses in the squad are clear - a lack of pace up front, a paucity of full-back options and nothing resembling a game-changer sat on the substitutes' bench.
In tactical terms, Di Canio's chief weapon is likely to be the opportunity to deviate from the structure of two lines of four. Creating chances has been a huge problem for Sunderland this season so unleashing the likes of Adam Johnson and Stephane Sessegnon is surely the best bet if the Italian is to resurrect the club's campaign. Allowing freedom of expression could be key.
Musa Okwonga recalls an illustrative example in his book Will You Manage? highlighting: "O'Neill's scorn for the self-indulgent footballer, that free spirit who refuses to fit within or perform the role to which he has been allocated. My enduring memory of the BBC's coverage of Euro 2000 was watching Martin O'Neill quietly fuming in the studio as his fellow analysts praised Francesco Totti."
Mistrust
The Ulsterman was also left mystified by the talents of Juninho at Celtic and once referred to Zlatan Ibrahimovic as "the most overrated player on the planet". Perhaps this mistrust of the mercurial left O'Neill with nowhere to go once the rot set in.
Of course, there is no Ibra lurking in the reserves waiting to set free by the new boss and whether Di Canio is the man to encourage such extravagance remains to be seen. Curiously, like many former flair players, he is known to put the focus on hard work and even harder training. Changing the mood will be the challenge.
But if Short and Di Canio need evidence of the ability to turn around a team's desperate fortunes, it can be found, ironically enough, in the initial impact of the outgoing manager at the Stadium of Light. Last season O'Neill picked up eight wins from his first dozen games at the helm after inheriting a side that had won just five of their previous 29 matches.
Now Di Canio takes over a similar squad that has won just six of their previous 29 fixtures. If the new man can spark anything like the immediate response that his predecessor produced then Short will feel his extraordinary gamble has been fully justified.