Tackle anomalies
As Liverpool chew over Luis Suarez's 10-game ban, Sky News' Paul Kelso questions a system that appears to deem biting worse than racist abuse.
Last Updated: 25/04/13 8:26am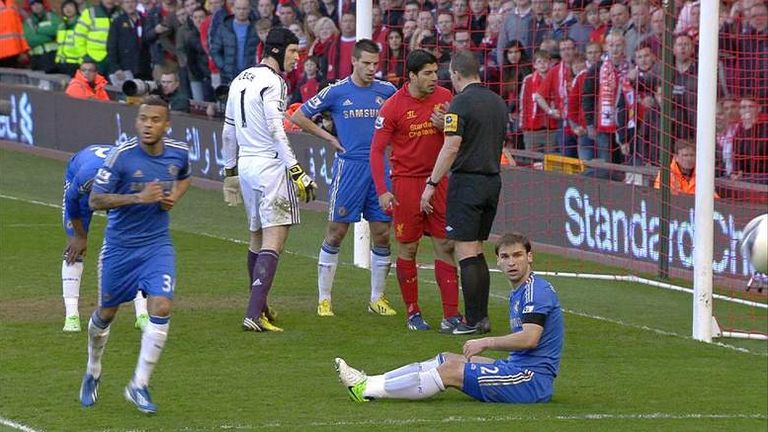 The Football Association will take some pleasure in having dealt with the Luis Suarez case quickly, but having put out one fire it has started another.
The 10-match ban handed to the Uruguayan for biting Branislav Ivanovic has exposed the inconsistencies in the FA's disciplinary approach, and particularly the penalties handed down by the independent panels that pass judgement.
Suarez's ban for an outbreak of cannibalism which, while extraordinary, left Ivanovic unharmed and spawned almost as much hilarity as it did outrage, is more than the eight games he received for racially abusing Patrice Evra.
That ban was double the four matches handed to John Terry for the same offence against Anton Ferdinand, although he was relieved of the England captaincy.
Even when we stick to cases of violent conduct, the charge Suarez admitted, ignore drug offences that have brought bans measured in months and the unique case of Eric Cantona, there are wild variations.
Ben Thatcher committed one of the most gratuitous on-field attacks in the game when he elbowed Pedro Mendes in 2006. That got him an eight-game ban, with a further 15 on a suspended sentence.
Last year, however, Joey Barton got a 12-game ban for his bravura hissy-fit while playing for QPR against Manchester City.
His red card for fouling Carlos Tevez got him four games, with another eight for the confrontations with Sergio Aguero and Vincent Kompany that followed.
So is chewing an opponent's arm worse than racism, or leaving an opponent concussed?
And are any of these offences three-times worse than a potentially career-ending tackles that bring only a three-match ban if the referee sees them, or none at all if he calls it wrong?
The FA has vowed to address some of these issues in the summer. Racism is already on the agenda, with a proposal for a minimum ban of five matches discussed in England, while UEFA favour 10.
The issue of retrospective action for dangerous tackles is also likely to be discussed.
The failure to act against challenges such as the shocking lunge by Wigan's Callum McManaman on Newcastle United's Massadio Haïdara undermines the FA's other disciplinary work.
Because the FA does not want to undermine referees it will not take retrospective action in incidents seen by the match officials, even if they get it wrong.
So because McManaman's challenge was seen by a linesman who did not deem it serious - when many felt a red card appropriate - the FA took no further action.
That position will be re-visited by the game's stakeholders in the summer. Last year only the Football League objected to changing the rules to allow a Monday morning review panel for contentious incidents.
Events this season make it more likely that the rules will be changed. If they are, at least one glaring anomaly will be removed from the rules that govern the English game.
Paul Kelso is Sky News' Sports Correspondent. Click here for the original article on the Sky News website.