All out of surprises
Wigan pulled away from the relegation zone in emphatic style last year and that has led some to assume a repeat this time around. But Adam Bate feels the element of surprise has been lost this season.
Last Updated: 01/05/13 12:23pm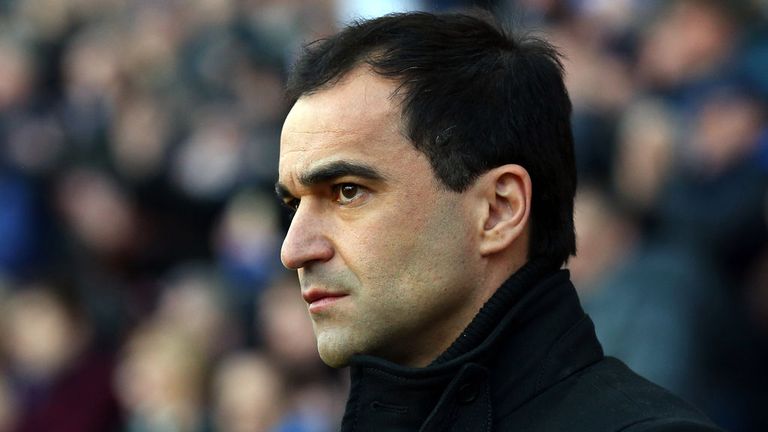 The prevailing wisdom appears to be that Wigan will get out of trouble this season because they always do. They are the only club to have played in England's top division and never be relegated from it, after all. But the Latics mythology is built around a fine finish to last season - and there were very specific reasons for that.
Roberto Martinez's side were in a dire position on January deadline-day last year. Rock bottom of the Premier League, three points behind Wolves and Blackburn with Bolton one point further ahead. Fortunately for Dave Whelan, his manager had a vision for how to haul his team away from the danger zone - and it worked spectacularly.
Martinez decided to be proactive. From February onwards, he switched to a 3-4-3 formation. He had purchased Jean Beausejour for the seemingly inflated fee of £4million in the transfer window precisely because he knew the Chilean would be able to operate as a wing-back. The Wigan boss was determined to ask a different question of the opposition and finally he had the players to do so.
"Part of it is to do with finding the right partnerships, finding the right context in the way you want to play. We invest in talent but that takes time," Martinez told ESPN. "If you do not attempt to always apply your own game, then you can only ever be dependent on what the opposition is doing."
Martinez's attitude is a rare one in the Premier League where rival managers routinely talk of the need to match up against superior opposition, despite the fact that such a strategy is inherently flawed. The famous story of David and Goliath is predicated on the logic that the underdog should not take on the giant at his own game. Martinez's genius last spring was that he presented opponents with a problem they had forgotten how to solve.
Turnaround
The subsequent turnaround was as astonishing as it is well-documented, as Wigan went on to win seven of their final nine games to comfortably retain their Premier League status for an eighth season in the top flight. But while Wigan are perceived as perennial strugglers, this was a one-off escape facilitated by a key acquisition and a change of formation. Two years earlier they had crawled over the line with eight points from their final 10 games.
As a result, Martinez is taking nothing for granted. "We have been in this position before and know what to expect but that doesn't make it easier," he acknowledges. "It is going to be a really tough ending of the season and for me it is the hardest battle we have had for a few years but we are ready for it."
One year on, he is still talking of forcing the opposition to play Wigan on his terms. Speaking after their trip to Manchester City earlier this month, Martinez told Sky Sports: "I thought the team, tactically, was phenomenal. We imposed ourselves and I couldn't be prouder with the performances and the way we played."
But they lost that game. And that highlights the problem. Despite being in the top division since 2005, the latest accounting information for the Premier League reveals that their wage bill remains in the bottom three. And so, the flaw in Martinez's strategy does not necessarily come down to his management skills but the ability of his players.
In the aforementioned game against Manchester City, his team spurned chances and City possessed the quality in the form of Carlos Tevez. They did everything right and still got beat. Martinez said: "If you watch our performance and think Wigan Athletic are a team in the bottom three you would scratch your head. That brings disappointment. The performance was as good as it gets but sometimes getting the three points is out of your hands and that was the case."
Failed passes in own half - PL 2012/13
 
 
Player Name
Team
Failed passes in own half
MAYNOR FIGUEROA
WIGAN
99
EMMERSON BOYCE
WIGAN
96
JEAN BEAUSEJOUR
WIGAN
86
Maya Yoshida
Southampton
86
Jonas Olsson
West Brom
83
Sebastien Bassong
Norwich
81
Wigan are still trying to do the right things, but that doesn't mean it will work. The statistics show that the Latics have failed to complete more passes in their own half than any other Premier League team this season. In particular, the three players who have misplaced the most passes this season all play for Wigan - Maynor Figueroa, Emmerson Boyce and Beausejour.
The blunt reality is that they aren't quite good enough to do what is being asked of them. It is telling that the wing-backs have been among the chief culprits when it comes to surrendering possession in dangerous areas. Beausejour, in particular, has endured a difficult season - frequently being pegged back and forcing Wigan into a negative back-five rather than a progressive back-three.
Both Everton boss David Moyes and Newcastle's Alan Pardew have spoken in the past of the difficulty that Wigan's formation presents. But crucially, that element of surprise has now been lost and opponents have adapted. There were no January arrivals to help Martinez unveil another tactical switch and key players such as Victor Moses and Hugo Rodallega are long gone.
We may have all got used to the idea that Wigan will survive in the end. But the reality is that for a club that has outperformed its budget for so long, the situation that cannot go on forever.