Niall Quinn
Football Expert & Columnist
Andy Carroll wins plaudits as 'below their best' Man City win
He may have tasted defeat at Man City, but Niall Quinn can't see why Liverpool don't want Andy Carroll.
Last Updated: 27/04/13 6:27pm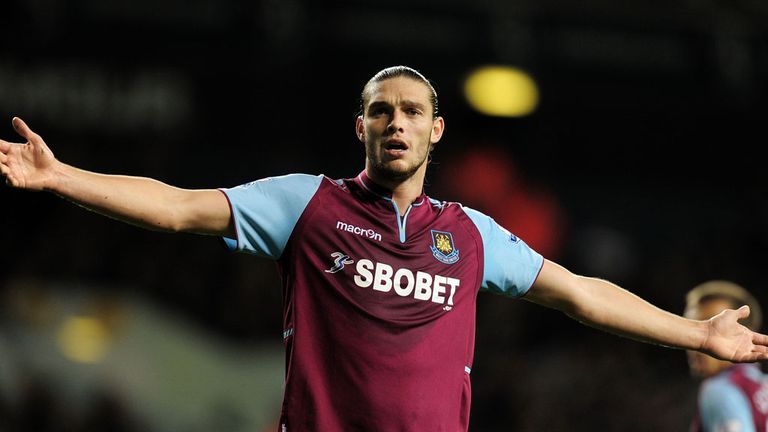 The on-loan Reds forward scored a late consolation for West Ham who, despite a valiant performance at Manchester City, fell to a 2-1 defeat at the hands of Roberto Mancini's men in Saturday's lunch-time kick-off.
Goals from Sergio Aguero and Yaya Toure had put the result beyond doubt when Carroll showed his strength in the 94th minute, holding off his marker and then rifling in from close range - with the aid of a Joe Hart blunder.
But former Sunderland target man Quinn reckons the slice of luck was the least Carroll warranted after producing an impressive, battling display against the Premier League's second-placed team.
"Carroll deserved that; he had a really good performance," Quinn told Sky Sports.
"He worked his socks off, he held the ball up when he could, he defended and headed a lot of stuff out, he was always trying to take it down and set things up for other people. He was at it all day.
"He's found his style of play now and everything Carroll did today was positive for West Ham. He did a power of good for the old-fashioned centre-forward role as well, because Man City were ruffled by him."
Quinn admits he's astonished Carroll's parent club boss Brendan Rodgers feels the England international is not needed at Anfield.
Despite limited forward options at the start of the season, Rodgers was happy to send Carroll to Upton Park for the whole campaign and has since insisted the former Newcastle hitman doesn't fit into his Liverpool plans.
"The surprise for me is why can't Liverpool see the value of him in their team," said Quinn.
"When Liverpool try to probe and don't get through and when Luis Suarez hasn't quite worked for them or if he's been out, what a great foil, what a different player to have in your squad Carroll would be.
"A couple of balls didn't quite bounce for him today but to me it's a mystery that Liverpool have this great player and a club like West Ham are going to sign him because they can see what he has and Liverpool can't."
Former Liverpool midfielder Jamie Redknapp agreed with Quinn adding: "You'd like to ask [Man City centre-backs] Vincent Kompany and Joleon Lescott if they enjoyed that against Carroll. My guess is their answer would be 'no'.
"He was an absolute nuisance and I think he's a real player. He's surplus to requirements at Liverpool but there will be a lot of clubs looking at him in the summer and West Ham would love to keep him."
Forward
However, despite Carroll's efforts, City took all three points from the fixture - although Redknapp felt last season's champions were below their top level.
After Manchester United wrapped up the Premier League title on Monday, City now only have the FA Cup to play for and Redknapp believes Mancini's men are almost marking time until their Wembley showdown with Wigan.
"Manchester City are winners and I don't think they like the fact they're only playing for second place; they're used to winning trophies," said Redknapp.
"They're just ticking these games off at the moment, getting as many three-points as they can and looking forward to the FA Cup Final. It's not easy for them and you could sense that atmosphere with the crowd.
"Some of the football they played was delightful when Samir Nasri and David Siva were in tandem, or through Aguero and Carlos Tevez, but they weren't quite at their best."
Credit
And Quinn pointed out that, if Toure hadn't curled in a spectacular second for City, the result could have been different.
"You have got to give West Ham a lot of credit for the way they performed in the second half," he said.
"They really were outclassed in the first half but Sam [Allardyce] got hold of them at half-time, organised them so they were a little deeper into the opposing territory and that caused Man City problems.
"When City didn't get the second goal you felt West Ham were always in it. But, just as they were putting the pressure on, the Yaya Toure goal came - and it was a very special goal.
"The result probably gave a fair reflection on the result, because West Ham did have some last ditch defending to do - but they gave City a fright in the second half."