Gary Neville says Gareth Bale needs to play in the Champions League
Gary Neville believes Gareth Bale needs to be playing UEFA Champions League football.
Last Updated: 29/04/13 11:10pm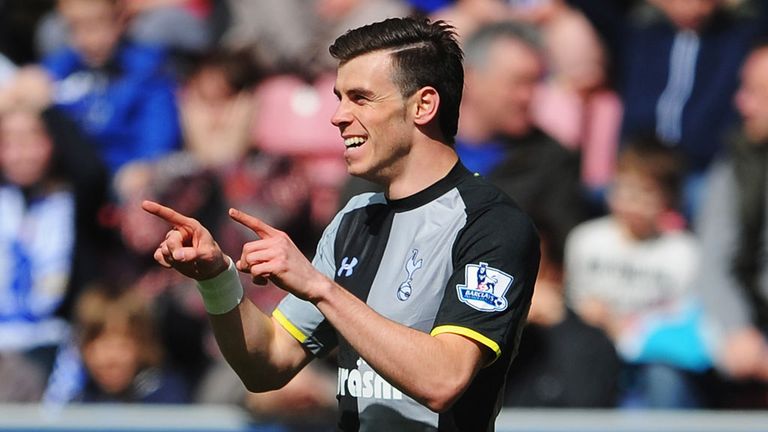 Bale picked up the PFA Player of the Year award, and the Young Player of the Year prize, on Sunday following a stellar season at White Hart Lane.
His progression over the past couple of seasons has seen Bale linked with other clubs, with the likes of Barcelona and Real Madrid rumoured to be fans of the Wales international.
Neville feels there will come a point when Bale wants to be regularly competing at the top level, but does not believe this summer is the time when the 23-year-old will move on.
"I think Tottenham need to get in the Champions League, and he needs to be playing Champions League football," Neville told Monday Night Football.
"Gareth Bale will not be satisfied if he's not competing in the next three or four years of his career in the Champions League or for championships.
"Tottenham have an opportunity to get behind him and put players alongside him. They've got some good players there.
"He loves being at the club, from everything he says, and there's no reason why he shouldn't try to give it another go at Tottenham, but eventually if Tottenham sell their best players, move people on and don't go big in the transfer market and don't get to his aspirations of where he wants to be in world football, eventually he may have to leave, but I don't think he's at that point yet."
Neville has hailed Bale's progress over the past year and now wonders if he can attain the same level as Cristiano Ronaldo and Lionel Messi.
He said: "He has progressed enormously in the last 12 months and he's getting better and better, he's more confident, stronger and physically he's improved enormously.
"He's now got the confidence to go with it and he believes he can beat players, and the goalscoring difference for him now is huge.
"He is doing what all great players should do and that's affect the biggest matches.
"He's getting there to that next level and it's where does he go from here? How does he get better? You can always get better.
"You think of the Ronaldos and the Messis are on a different planet, even with Gareth Bale's form, they're scoring 40, 50 goals a season.
"Can he get to that level where he scores 30, 35, 40 goals? Can he go and win trophies, affect the big matches and actually win the big medals you need to win?"