Gary Neville says officials right not to award Newcastle a goal at West Ham
Gary Neville tells MNF that the officials were right not to award Newcastle a goal at West Ham.
Last Updated: 06/05/13 8:35pm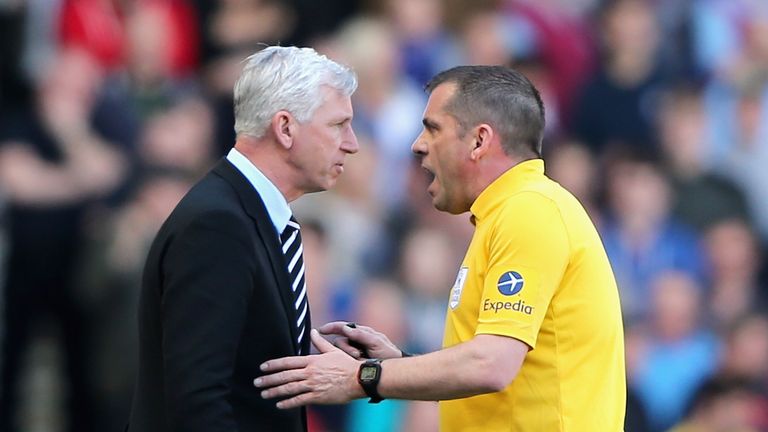 Newcastle striker Papiss Cisse rolled a shot past Jussi Jaaskelainen in the first half, which was cleared off the line by Hammers defender Winston Reid.
Television replays proved inconclusive and, speaking after the game, Magpies manager Alan Pardew felt that Newcastle had been denied a 'legitimate' goal.
However, using virtual technology to recreate the incident, Neville backed the decision of the referee and his assistant in denying Newcastle what would have been a vital goal.
"Alan Pardew wasn't happy after the game, but the fact we're still debating it tells you how difficult it is for the linesmen and referees to be able to spot," Neville told Monday Night Football.
"We've watched this effort on goal I don't know how many times and we've got the technology capable of building virtual replays and it's impossible for the referee to give it.
"There is no way any referee in the world could give that, he would be guessing and even from the linesman's view, you're guessing.
"The whole ball isn't over the line, you're talking millimetres and inches. The fact we're still debating it on Monday night, and we need this fantastic technology to prove it isn't a goal, tells you that the linesman and referee on Saturday could not give that goal, and they made the right decision."
Meanwhile, Neville also praised the approach of Newcastle's relegation rivals Wigan Athletic, who twice came from behind before winning 3-2 at West Brom.
He added: "I was on a coaching course a couple of months ago and we were talking about evolving systems and where the game was going.
"It was thrown in that the future of games would be played with a 2-8 system, with two defenders and eight players moving forward.
"You look at the average positions from the game on Saturday for Wigan and you've almost got it there. You talk about the full-backs pushing forward, but Beausejour and Stam are really, at best, wing-backs.
"It really is a bold way to play. We know Roberto Martinez, in these periods of the season, doesn't step backwards, he goes forwards and challenges his players to play exciting football. They never die wondering Wigan, they always go for it."