Brits abroad - Alan Brazil
Former Ipswich, Tottenham and Manchester United forward Alan Brazil discusses his experiences in the United States with the Detroit Express as well as his later adventures in Australia and Switzerland.
Last Updated: 13/05/13 1:28pm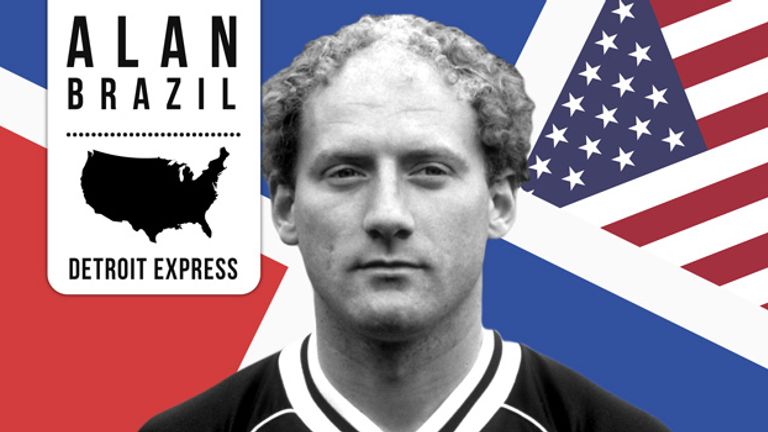 Alan Brazil is one of the game's great characters who found fame with Ipswich Town, Tottenham Hotspur and Manchester United. But his early taste of first-team football came in the unlikely surroundings of the Motor City in the United States. The Scotland international went out to play for the Detroit Express on the advice of Ipswich boss Sir Bobby Robson and never looked back.
Adam Bate caught up with Brazil to find out more about that adventure as well as his later experiences with Wollongong Wolves in Australia and FC Baden in Switzerland.
How did the move to Detroit come about?
This was 1978. I was playing reserve-team football at Ipswich under Bobby, just touching on the first team. When we got to the FA Cup final at Wembley against Arsenal in '78, there was only one substitute. It was between Eric Gates and Mick Lambert and Mick got the nod. David Geddis played though and I was pushing him so I wasn't a million miles away.
Anyway, Bobby came up to me and suggested that instead of having a summer break I should go over to America and play in the North American Soccer League. Maybe have a couple of months out there. His point was that he needed me to find a yard of pace. My stamina was good but I needed to sharpen up.
I thought it was fantastic so the following morning I flew out of Heathrow heading to JFK in New York City. Detroit Express, who were managed by Ken Furphy, an old friend of Bobby's, were playing the New York Cosmos. Unfortunately, I was delayed so I didn't get there until half-time.
That's quite an introduction though, to see them against the Cosmos...
I was 18 at the time so for me it was magnificent. I'd had to borrow £40 of Gatesy because I was a kid at the time earning peanuts and there was nobody at the airport to meet me. The British Airways girl at the airport was going to get me a helicopter to get to the stadium but I told her I was scared of flying and got a cab. Once I got to Giants Stadium there was someone there to meet me, we watched the game and then flew back with the team to Detroit. It was a fantastic time for me.
There were a lot of legendary players out there at the time. Could you feel the buzz there?
Without a doubt. Even at Detroit we had guys like Steve Seargeant from Everton, Ian Davies was the Norwich City full-back and a Wales international, Steve Hardwick was the Newcastle goalkeeper and then Trevor Francis came out there. That was just in our team. Then you'd go away and play against the likes of George Best. He knocked us out of the play-offs for Fort Lauderdale Strikers, I scored and then he scored the winner. It was just remarkable.
You played on Astroturf in Detroit. Was that tricky to adapt to?
Not really, because I felt I was a player with great skill and a good touch. I think centre-halves struggled to adapt. It was different playing regularly on Astroturf but in the end I revelled in it rather than struggled. I loved it and it sharpened me up, which was the whole point of going out there. I found a couple of yards of pace.
So you felt you came back a better player in some ways? More confident too?
More confident, more pace and I'd had a taste of the big time, if you like. Not just that though, going to away games in Portland, Vancouver, Seattle, San Francisco, Houston, Dallas, everywhere. San Jose was great but I loved playing in Tampa and against the Fort Lauderdale Strikers because I just loved Florida. They were great memories to have when you're a kid. It was brilliant.
Much later in your career you had another couple of moves abroad. How did you end up going to Australia?
It was a weird one. I was out one night in London and bumped into a guy who introduced himself as an ex-Yugoslav international who was scouting for Australian teams. He asked me if I'd consider going out to a place called Wollongong. Where?! He told me it was near Sydney so I told him that sounded alright. I was just trying to be polite to the guy because I'd finished playing football with a back problem.
About four nights later the phone goes in the middle of the night. Immediately you panic and think the worst. But it was a guy called Harry Michaels, who is actually the owner of Aerobics Oz Style on Sky in the mornings, and he told me that the visas were on the way for me, my wife and my two kids. He was phoning me up to confirm and thank me for agreeing to join!
So before I knew it I was on the plane out to Australia with my family. It was meant to be for three games only but we won two and drew one. So he pleaded with me to play another game in Melbourne. It was where my brother lived so I agreed to play and we won. I left and the following week we got beat, so he called me up and asked me to play again. I ended up going back for six games and we won four and drew two. I went back home and then the following week the centre-forward broke his leg and they asked me to go back again for another eight games! I just had an absolute ball. I was seeing Australia and living in Australia. It was wonderful.
Football in Australia is kicking off now with the A-League. Was it just a bit of fun back then?
To be honest, I was going for a holiday. But when you pull a shirt on and you're playing against Greeks, Yugoslavs and Italians, you don't want to get beat, you want to win. They give you a bit of stick and are pulling and kicking, so in the end you are playing like it's the Premier League.
Were there any particular games that stand out?
The second time I went back there, Harry called me back for the big one - Sydney Olympic against Wollongong. I'll never forget it. It was the first game in the new Sydney soccer stadium next to the SCG. We got on the plane from London on the Thursday evening and arrived on the Saturday morning with the game on the Saturday night. This was a massive game so it wasn't the ideal preparation.
They had so many problems with injuries I had to bring a guy who had been on Luton Town's books and played non-league for Bury St Edmond's. That's how bad the situation was. I told them he'd get them through a couple of games. His name was 'Bruiser' Keyes and he was a lovely guy. Lo and behold, in that first game against Sydney Olympic he went down the wing, beat two men and crossed to the far post for me to score. We held on 1-0 to win.
I later found out that Harry had a £10,000 bet on it because he wanted to join Sydney Olympic. They wouldn't let him buy-in because he was a Greek-Cypriot so he'd bought Wollongong instead. So it was a great game to win.
I'll never forget it because towards the end we were blowing out of our backsides, knackered. I was slowing everything down taking corners and a guy in the crowd shouted 'Pele' at me - my nickname at Ipswich. I looked up and there was a guy called Alec Jamieson who was a Scottish schoolboy international who'd played for Ipswich before emigrated out there. I jumped the wall, climbed up the steps and gave him a hug. I almost got sent off but we clung on for the 1-0 win!
And then there was a move to Switzerland. How did that come about?
When I came back, Trevor (Francis, who was also at Wollongong too) must have spoken to Raimondo Ponte, who he'd played with at Nottingham Forest. Raimondo was putting a team together near Zurich called FC Baden. He was looking for players and Trevor gave him my number. The next thing I knew I was going out to Switzerland for a year.
You scored a few goals out there too...
I loved it because he let me train gently. Instead of training every day like you'd do in England, he let me train gently most days and then work hard one day a week. I just about got through it. I wasn't as fit or strong but I was just about fit enough to do myself justice. Again, it was a beautiful part of the world and I had a ball. They even asked me to stay another year but I just thought enough was enough.
And you enjoyed the skiing out there?
Well, I learned to ski one lunch-time. The boys took me away one weekend when we didn't have a game. The local shop gave me all the gear and I got to the top of the mountain looking like Franz Klammer. Then they said, 'We'll go down there, we'll do this'... I said, 'Hold on a minute.' They looked at me in disbelief that I couldn't ski. So they taught me in an afternoon and by the following day I was turning and stopping and all the rest. I even taught me two children to ski and they ended up skiing for Great Britain juniors!
Given all these experiences, do you think British players should be more open to trying their luck abroad?
Oh God, yes. Don't get me wrong, I went abroad at the very start of my career and then the end of my career. But given a chance then you should do it. I think you've got to be careful where you go, that's all. For instance, I think Aiden McGeady made a bad move when he went from Celtic to Russia. I didn't like that. It was all about money. I think if British players have the chance, go and play in France, Spain, Italy or Germany.
I think it educates you in life, not just football. If you're very shy and quiet, there is a chance you'd be homesick and wouldn't like it. But I think if you're a character and you've got the will to go there and see it out then you'll learn a hell of a lot. And not just about football.
You can catch Alan on the Alan Brazil Sports Breakfast every weekday from 6am on talkSPORT.