Glenn Hoddle says Tottenham squad doesn't have quality of last season
Glenn Hoddle says Spurs' squad isn't as good as the one that came fourth under Harry Redknapp.
Last Updated: 09/05/13 9:13am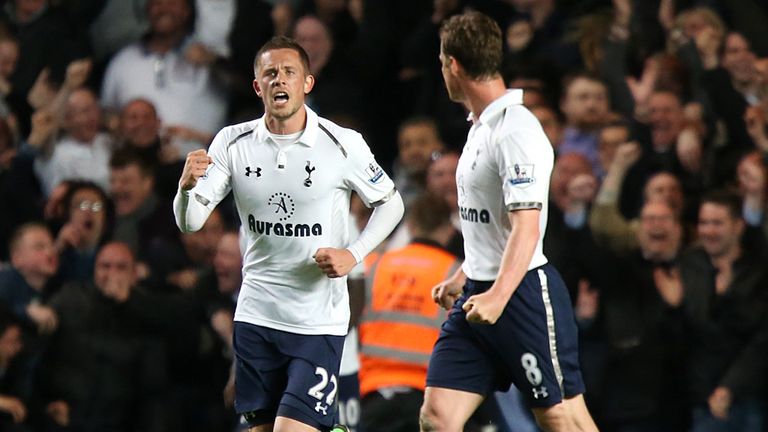 Spurs finished in the top four last season, but were denied a Champions League position after Chelsea won the tournament and Andre Villas-Boas was brought in to lead the team's push for Europe this year.
Key players such as Rafael van der Vaart and Luka Modric followed Redknapp out of the White Hart Lane exit door last summer with the likes of Clint Dempsey, Gylfi Sigurdsson, Lewis Holtby, Jan Vertonghen and Mousa Dembele arriving to bolster the squad.
But Hoddle, who both managed and played for Tottenham, senses the club have reduced their transfer budget as they look to build a new stadium and says a weaker squad is likely to see them miss out on the Champions League again this term.
"Players that have come in - people like Dempsey, Sigurdsson, Holtby in particular - are decent players, don't get me wrong, but are they really the quality that's needed to kick the squad on?" he said on Sky Sports.
"They've got to buy shrewdly. Don't forget Tottenham are trying to get into a new stadium and have got to raise the money. They've got a new training ground, which is exquisite.
"Will Bale stay or will he go? I know if Tottenham get a fantastic offer will they take it? I think they will because they've got to raise this money. I wouldn't have thought they've got 100% of the money yet. All these things are coming into play.
"They didn't really go out and get anyone in January, I thought that was a big mistake, and I think he's done a decent job with this squad, but I think this squad isn't as good as last year.
"The players he's brought in are not the quality that was needed, no disrespect to them, and that's down to the manager and the amount of money he's been given at a key moment.
"If you want the Champions League you've got to go there and put a bit of money behind the manager and the squad to improve it.
"Has he improved it? Not really. Not as a squad of players. Dembele's a different story; in the early season he was excellent and got injured. Spurs had their worst part of the season without him and he hasn't quite regained it. Scott Parker hasn't quite gained his form after his injury either.
"I don't think that squad is anywhere near some of the squads of the past at Tottenham."
Time
Tottenham's fate is now out of their hands after they could only manage a 2-2 draw at Chelsea on Wednesday evening and they go into their two remaining matches - against Stoke and Sunderland - trailing fourth-placed Arsenal by a point.
Hoddle says it will be disappointing to see the club finish lower than they did last season, but insists Villas-Boas deserves more time in the job.
"If they don't do it they've come very, very close," he added.
"They're building a squad and the manager who's come in has got to be given a little bit more time than just one season.
"I see them progressing in some ways, but the bottom line is a Champions League spot and that's out of their hands now. If Arsenal win both their games then it doesn't matter if Spurs win 6-0, 6-0.
"That is the disappointing thing about the points being shared [against Chelsea]."