Rio's reward
Rio Ferdinand's new one-year contract is recognition for his role in Manchester United's Premier League title-winning campaign as he prepares for his United testimonial, thinks Ryan Parrish
Last Updated: 23/05/13 5:58pm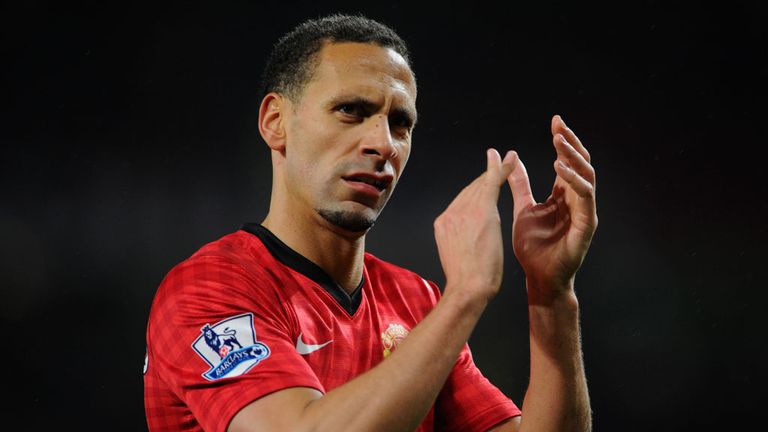 David Moyes' first signing as Manchester United boss has not quite been the one that many expected, but it is one with which most fans will be very pleased.
Unlike his former West Ham United team-mate, Frank Lampard, the pending expiry of Rio Ferdinand's contract had not quite attracted the media attention it perhaps deserved for a player who appeared 34 times in a Premier League title-winning campaign, working his way back into Roy Hodgson's England plans in the process.
The departure of Sir Alex Ferguson and the arrival of Moyes had cast brief doubts over the 34-year-old's future at Old Trafford, but having put his England saga behind him by announcing his retirement from international football last week, the prospect of having a fully fit Ferdinand in defence is something which Moyes clearly values.
Moyes' faith in Rio
Moyes himself is a keen admirer of Ferdinand, giving him a glowing report when he said: "It is clear for everyone to see that Rio has had one of his best seasons with the club and I think even from the outside can see what a big character Rio is around the dressing room so I am delighted he has signed a new contract and I am looking forward to working with him." It is hard to argue with any of the assertions Moyes makes.
Following his omission from England's Euro 2012 squad and United's surrendering of the Premier League title last year, it could have quite easily been argued Ferdinand's best days were behind him. But as Moyes says, this season has been one of his finest in a red shirt. As his pace has gradually diminished over the years, something which was much more apparent the season before last, Ferdinand has managed to adapt and build on his strengths, focusing on his positioning and reading of the game to his and United's benefit.
Improvement
In the 2011/12 season, the lack of a regular partner in the heart of defence cannot have helped Ferdinand's cause, with the likes of Phil Jones, Chris Smalling, Nemanja Vidic, Jonny Evans and even Michael Carrick all being deployed alongside him. But in the absence of Vidic for large chunks of this season, Evans has partnered Ferdinand on 16 occasions, allowing much more of an understanding to develop. Ferdinand has been the cool, experienced head in United's crop of fairly young defenders this season and it was telling he was the man Ferguson turned to as he attempted to try and halt the landslide at The Hawthorns last weekend. But with the game at 5-4 and West Bromwich Albion with all the momentum, his efforts proved to be in vein.
Another invaluable characteristic recognised by Moyes is the impact which Ferdinand has on his team-mates off the pitch and in the dressing room, something which anyone who watched the coverage of United's open top bus parade through Manchester last week would have been able to pick up on. With the bus parked outside of Old Trafford in front of thousands of adoring fans, it was Ferdinand who played the role of song master, much to the amusement of his team-mates.
The future
With Vidic's injury problems yet again hampering his season and Jones being moulded into more of a defensive midfielder, other than Smalling and Evans, United do not have an abundance of ready-made centre-backs, meaning unless Moyes brings someone in and he remains injury-free, Ferdinand is likely to stay a permanent fixture in the back four.
As United move into a new era under Moyes, by having experienced heads around like Ferdinand and Ryan Giggs, who appear to genuinely have the club's best interests at heart, the transitional period could prove to be much smoother for the new manger as he implements new ideas and brings in new faces. As he showed in the season just gone, Ferdinand still has a lot to offer on the pitch and there is no doubt he will be looking to repay United's faith in him as he chases his seventh Premier League trophy.
Since signing from Leeds United in 2002 for £29.1million, a figure which remains a British transfer record for a defender, Ferdinand has been a true servant to Manchester United. Scoring the winner in Ferguson's final game at Old Trafford seemed to be a fitting way to end his testimonial year and a new contract proved to be a deserved reward for one of the finest defenders the United faithful have ever seen.