Transfer guide
This summer's transfer window promises to be one of the most intriguing in years after the managerial changes towards the top of the Premier League. We've produced club-by-club transfer guides for every Premier League outfit as we assess the likely summer spending
Last Updated: 14/06/13 9:53am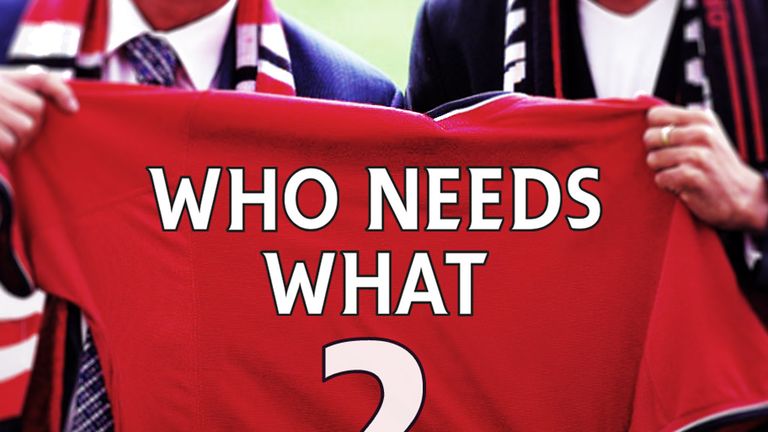 New appointments often want to imprint themselves on their squads by bringing in fresh faces, and it will be interesting to see whether David Moyes, Manuel Pellegrini and Jose Mourinho look to significantly alter things.
In addition, Arsene Wenger has been promised funds to invest, and with the potential for Gareth Bale and Luis Suarez to both leave for foreign climes, Liverpool and Spurs may have money burning in pockets.
Finally, the three promoted clubs appear to require significant investment, whilst clubs such as Stoke, Norwich and Newcastle will want to avoid the relegation battles of last season.
Arsenal achieved their eventual goal of Champions League football last season, but there has been recent talk of bigger budgets to fund an improvement at the Emirates. With managerial changes at many of their closest rivals, this may be the perfect time for Arsenal to speculate to accumulate. The pressure is on Wenger to get things right in the transfer market after several high-profile failings. Read our full Arsenal transfer guide here
After a season of struggle, much of Aston Villa's summer business depends on their ability to hold on to Christian Benteke. If the Belgian stays then Paul Lambert will again be expected to bring in reasonably cut-price moves from abroad, with experience surely key to complement the club's burgeoning youth talent. Leave, and Villa suddenly need a goalscorer rather desperately. Read our full Aston Villa transfer guide here
Cardiff are expected to be the top performers of the promoted clubs, but investment is very much needed on a squad that looked impressive at Championship level, but far less so in elevated company. Unfortunately, Malky Mackay is already talking about 'being cute' with budgets, which translates as loan deals and cheap foreign imports. Read our full Cardiff City transfer guide here
Jose Mourinho has taken over an immensely talented squad, but Fernando Torres' continuing problems surely dictates that an expensive striker will arrive in West London. Jose has spoken of evolution rather than revolution, and one stellar signing could be enough to initiate a serious title bid. Supporters will hope that reports of the sale of Juan Mata prove to be unfounded. Read our full Chelsea guide here
The last time Ian Holloway was in the Premier League he came close to masterminding an impressive survival despite the tightest of budgets. For 2010/11, read 2013/14, as Crystal Palace will look to sniff out value signings but spending little else.. They've lost their brightest talent, for starters, and Zaha's loss will presumably hit hard. Read our full Crystal Palace transfer guide here
The manager may have changed at Goodison Park, but one suspects that the ethos will not. Roberto Martinez will have money to spend on his squad, but only if high-profile players are again sold, seemingly including Leighton Baines and Marouane Fellaini. All of which make the Spaniard's 'promise' of Champions League football rather ambitious. Read our full Everton transfer guide here
More than any other side in the Premier League, Fulham desperately require an injection of youth. After releasing 12 players, the first-team squad looks rather threadbare, but quantity and quality is a difficult combination to get right with Martin Jol expected to operate on a strict budget once again. Good luck, would be the initial advice. Read our full Fulham transfer guide here
Hull City may look to invest in their playing squad, but it will take an awful lot to persuade onlookers that they have a decent chance of Premier League survival. Almost every area of the side needs improvement if fans are not to endure a season of rather torrid disappointment, and the club is already making noises that they will not risk following QPR's lead of signing players out of desperation. Promotion itself was the real achievement. Read our full Hull City transfer guide here
Brendan Rodgers will look to do deals that effect an improvement on Liverpool's seventh-placed finish, and if the club can go add to the file marked 'Coutinho and Sturridge' rather than 'Allen and Borini' there are genuine reasons for optimism on Merseyside. Clearly, much depends on the continued presence of Luis Suarez at Anfield. Read our full Liverpool transfer guide here
Roberto Mancini continuously bemoaned Manchester City's transfer dealings last summer, and it seems that Manuel Pellegrini will not suffer the same headache. A new striker to complement the arrivals of Jesus Navas and Fernandinho, and a title bid will presumably be readied at Eastlands. Carlos Tevez and Edin Dzeko could be the high-profile departures. Read our full Manchester City transfer guide here
Manchester United's spending this summer depends largely on how much of an instant impact David Moyes wants to make on the squad. However, the biggest question surrounding United is clearly the future of Wayne Rooney, and that decision will affect the volume and value of recruits. If he leaves, could Dortmund's Lewandowski be the replacement, and is talk of Cesc Fabregas just hearsay? Read our full Manchester United transfer guide here
There is an understandable suspicion that Alan Pardew may have spent much of his summer budget in January in order to fend off the threat of relegation. However, with Fabricio Coloccini set to return to Argentina and Papiss Cisse struggling at times last season, work is still needed. The danger could be if the club refuse to back Pardew with summer rumours regarding his continued employment. Read our full Newcastle transfer guide here
Norwich suffered from a lack of goals last season, but have already moved to sign Ricky Van Wolfswinkel. That is potentially a good bit of business, but €12million represents a fair chunk of Chris Hughton's budget. From now on, further spending may depend on departures at Carrow Road, and after winning just one league game between Christmas and late-April, there will be question marks as to whether such funds should have been used across the squad. Read our full Norwich City transfer guide here
Southampton appear to be a club for whom everything seems rosy. Nicola Cortese seems to have secured funds to invest significantly in order to improve a young and hungry squad. Southampton will not splash unnecessarily, but the defence does need some work, and there is a sense that Rickie Lambert's goal tally cannot be relied upon once again. Read our full Southampton transfer guide here
Mark Hughes may be tasked with changing the very ethos of Stoke's play, but it will be a slowly, slowly approach. His first task will presumably be to bring some full-backs to the club, but Hughes will also be in the market for a goalscorer. Hughes is renowned for relying on players with whom he has previously worked, and that may prove a factor in potential deals. Read our full Stroke transfer guide here
Paolo Di Canio was recruited after managing on a budget in the lower leagues, so the suspicion may be that Ellis Short expects a repeat. Good luck to him if so, because Sunderland require investment in a squad that looked seriously jaded at times last season. The appointment of an Italian Director of Football may offer a hint as to possible targets. Read our full Sunderland transfer guide here
Swansea's summer dealings could be slightly overshadowed by Michael Laudrup's claim that the squad needs significant investment to avoid creating a ceiling for itself. The manager is likely to have a lower budget than he'd like, with a goalscorer the main requirement, but one can see the Dane's point - the good work of last season must not be wasted. Read our full Swansea transfer guide here
Andre Villas-Boas must first deal with the elephant in the room, an elephant in the shape of Real Madrid sniffing around Gareth Bale. Any deal for the Welshman will reflect in Spurs' August business, but Spurs do need a striker to assist/replace Emmanuel Adebayor or Jermain Defoe. Will the mystical move for Leandro Damiao appear on the horizon? Read our full Tottenham transfer guide here
West Brom are a club constantly living to a budget, and this summer will be no different. Baggies' fans cannot hope to beat the achievements of last season, but they will be aware that their squad requires improvement if an eighth-placed finish is not going to be wasted by simply standing still. Losing Romelu Lukaku constitutes a huge blow to any optimism. Read our full West Brom transfer guide here
Whilst West Ham had a fantastic season after gaining promotion, Sam Allardyce's big signings (Matt Jarvis and Modibo Maiga) fared less well. Much will depend on whether they sign Andy Carroll, but it seems that the Hammers' owners will again allow a manager to be busy in the market, and have seemingly warmed to Allardyce's 'pragmatic' approach. Read our full West Ham transfer guide here