Moyes' mindset
David Moyes has given his first in-depth interview since taking over at Manchester United. Daniel Storey examines his quotes and draws some telling conclusions...
Last Updated: 23/07/13 2:02pm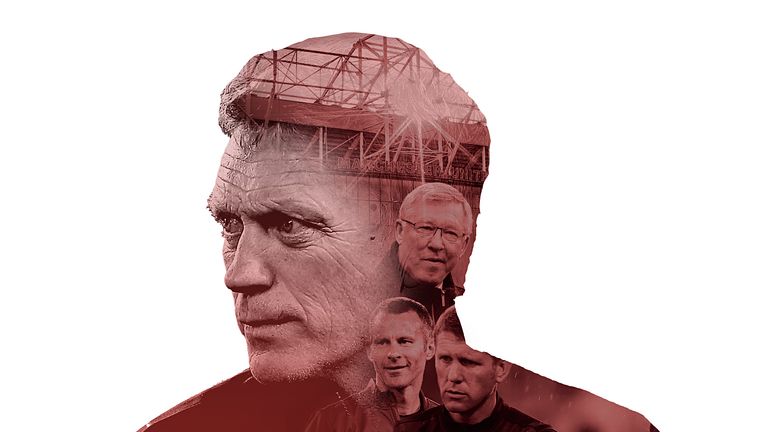 David Moyes has offered his first in-depth interview since taking over at Manchester United whilst his side tour Asia. He discussed the appointment of familiar faces, thoughts over the upcoming Premier League season and the honour of replacing Sir Alex Ferguson. We dissect some of his most notable quotes, examining whether they offer any thoughts for the immediate future...
Moyes on... appointing his own staff
"I needed it to be David Moyes's era now, so that meant me taking some of my own people."
The appointment of Steve Round, Chris Woods and Jimmy Lumsden (and, to an extent, Phil Neville) will have ruffled a few feathers within Manchester United's support, and certainly constitutes something of a risk. David De Gea's impressive form under the tutelage of Eric Steele will have strengthened the relationship between the two, and it is impossible to over-estimate the importance of a goalkeeper-goalkeeping coach bond. That Rene Meulensteen has been appointed as manager at Anzhi Makhachkala demonstrates quite how valuable an asset he was to Alex Ferguson in his final years.
The other issue is that United's existing coaching set up has been inordinately successful, and an initial clear-out rather challenges the insistence from the club that Ferguson was merely passing on the mantle to Moyes. One cannot blame a new manager for recruiting his own staff (feeling comfortable amongst familiar coaches is vital), but the fact remains that this is not just the biggest job of David Moyes' career, but also the sternest test of his assistant, first team coach and goalkeeping coach.
Moyes on... seeking help from Ferguson
"I will use the ex-manager as much as I can because of his knowledge but it is my team now and I have to take responsibility for that."
One could possibly surmise that David Moyes' utilisation of Alex Ferguson could be the definitive factor in making his tenure at Old Trafford a success. The balance between under and overuse of his predecessor will prove crucial in the battle for establishment.
On the one hand, why wouldn't Moyes use Ferguson's knowledge? Fergie knows the intricacies of Manchester United and the club's players more than anyone else, and will be keen to share his advice with his replacement. Leaning on such a resource would allow Moyes to bed himself into his new position, whilst also having the potential advantage of allowing the playing staff to experience a smoother transition into a new era for the club.
However, an over-reliance could easily undermine Moyes' early reign. Much of the negativity surrounding his appointment focused on the Scot's lack of experience on such a stage, and if Moyes is seen to be using Ferguson for extended advice, the evident conclusion to draw would be that he is struggling to cope, instead simply acting as a mouthpiece for an incredibly successful predecessor.
In the same interview, Moyes almost contradicts himself on the issue, and his mention of "I don't want to mention Sir Alex in every conversation I have" is then immediately followed by another reference to the same man.
Finding the middle ground will be key in ensuring that Moyes' reign is not simply viewed in 'after the Lord mayor's show' terms. One only needs to look to Stamford Bridge to see the downturn in the club's fortunes since the departure of Jose Mourinho to see that following brilliance is an awfully difficult job, and the Portuguese was only in charge at Chelsea for three seasons. Moyes will be following not just a prosperous reign but the creation of English football's biggest empire and the most prosperous manager in the history of the sport.
Moyes on... new coaches
"I couldn't do it without the help of Ryan Giggs [and] Phil Neville."
Moyes' insistence is that Neville and Giggs will prove vital because their comparable youth will ensure that fresh ideas and strategies can be initiated. However, it is crucial that the new manager does not expect too much too soon from his newly-appointed duo. Giggs only completed his coaching badges a matter of weeks ago and is still registered as a player, whilst Neville's only previous experience is a part-time role with England's U21 side.
The decision from Moyes to recruit two fresh faces with established links to Old Trafford hints at his intention to create his own 'project' at the club, but he must be wary of the dependence on those still learning their trade.
Moyes on... nerves and fear
"There has to be an element of fear that comes with managing a club like Manchester United. It's more to do with the magnitude of Manchester United and following arguably the greatest manager that football has ever known."
Moyes is right to appreciate the inevitable fear that he must feel. There are very few jobs in football that intrinsically feel different to any other, but managing Manchester United is one of that select group. Whilst some may see this admission of nerves as sign of weakness, to me the opposite is true. At the most basic level, fear is a survival instinct, a necessary response to threat. It inspires action and also acts as the indication that Moyes has been entrusted with one of the highest-profile positions within his industry.
It has become something of a modern football cliché, but there is an importance to nerves. They show that there is a determination to succeed and an understanding of what is at stake, and Moyes evidently appreciates both concepts.
Moyes on... his players
"I'm looking at players who are winners, who have been an incredibly successful team over the years, so I've got to make sure I learn from them."
One of the hallmarks of Fergie's reign was his complete authority, and he created a persona as the most autocratic and domineering manager in the world game. Many clubs aim to portray a 'no player is bigger than the club' air, but Ferguson instead demonstrated that, at Old Trafford, no player was bigger than the manager.
Moyes signifying that he will be looking to learn from the players demonstrates a diverse approach, but potentially places himself at a position of weakness, so different is it from the previous regime. United's players are not accustomed to teaching their manager new tricks, and may feel a sense of unease at such indications. The hint within the quote that the players are winners, whilst Moyes is not, highlights exactly the concerns sceptical United supporters retain.
And finally...
"I also needed it to be the David Moyes era now and I had to take David Moyes' era and David Moyes' time."
At the risk of being petty and pedantic, can our football managers please stop slipping into the trap of referring to themselves in the third person? I can offer nothing on the above quote because it simply makes no sense whatsoever.