The Gaffer: Alan Curbishley
What are the secrets to football management? Alan Curbishley is next in our 'The Gaffer' series and the former Charlton and West Ham boss tells us about the skills of being a boss
By Peter Fraser - Follow me on Twitter @SkySportsPeteF
Last Updated: 18/12/13 3:55pm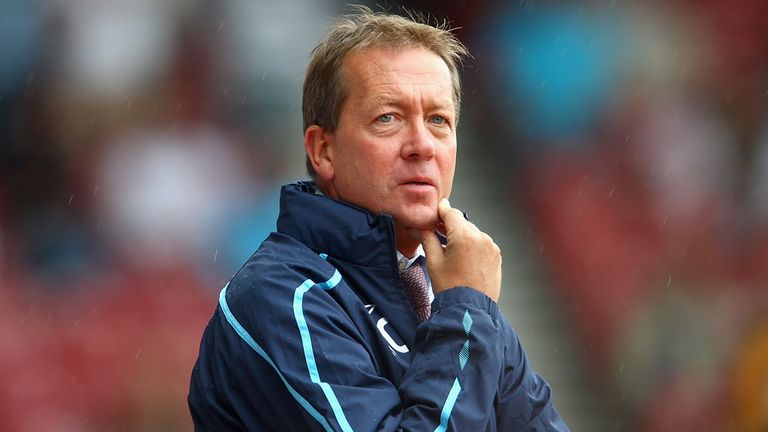 After a playing career which included time with Birmingham City and Aston Villa, Alan Curbishley has built a fine reputation as a football manager with another two of his former clubs, Charlton Athletic and West Ham United.
His managerial achievements over more than 15 years to date saw him linked with the England job in the past and his other highlights have so far included keeping Charlton in the Premier League, having twice been promoted - once via an incredible penalty shootout play-off win over Sunderland at Wembley and once as champions.
Curbishley has been out of football management since leaving West Ham in 2008 after a fallout with the club over transfer policy, having also succeeded in a Carlos Tevez-inspired battle against relegation with the Hammers in 2006/07. But, here, he gives Sky Sports an insight into being a boss.
Have you always wanted to be a manager?
Yes. I had various managers and coaches in my playing career and I have learned a bit and disregarded a bit. I always thought, if I was lucky enough, I would give it a go. Management was exactly how I expected it would be when I started - 24 hours-a-day work, full on and mad.
Who were your managerial role models?
I had Ron Greenwood and John Lyall when I was a player at West Ham. I learned the art of coaching from them. They were always trying to make everybody better. Whenever I came into contact with them, the decisions they took were to improve my game. I also had Ron Saunders at Birmingham. He came just after he had won the league at Aston Villa. We were only there together a couple of weeks but I realised why Villa were such a good side. I understood what he was trying to do and how he approached it. I took a lot from that.
What so far has been your best day in management?
I think it has to be getting my first job. You have to get in. I got in at Charlton and obviously we won promotion and stayed in the Premier League. But, actually, getting my first job was better, because it is so difficult, especially at Championship and Premier League level.
What so far has been your toughest day in management?
Leaving West Ham. It should never have happened. I have still got the best win percentage of any West Ham manager in the Premier League. I left the club when they were fifth from top. Who knows what could have happened if I had not left. But, unfortunately, it is history now.
What are the keys to man-management? How do you decide if a player needs an arm around the shoulder or the infamous hairdryer treatment?
That comes with experience. But the game has changed so dramatically. What a lot of managers could do 10 years ago, you cannot do that now. It is a totally different situation. Experience is a massive thing. It helps you steer clear of problems and, obviously, solve problems. But the art of man-management is now even more important, because of the way the game has changed.
How important is a strong relationship between a club's manager and owner/chairman/director of football?
I think it is the main relationship. I think it is more important than the relationship between the manager and the players in some respects. I think the relationship between the manager and the owner or chairman is paramount to being successful.
Is there a difference between managing a team in a relegation battle and managing a team in a race for promotion? Do you apply the same management principles?
Being in a relegation fight is much more difficult. If you have got the chance of going up, especially into the Premier League, you can see the big prize. Relegation is horrible. No matter what league it is, I would much prefer to be in a promotion push to a relegation scrap. The pressure, especially coming out of the Premier League, is enormous. You have to adapt in terms of principles. There are certain situations where you must get something from a game. That is how you mentally approach it. The hardest part about being involved in a relegation tussle is keeping the confidence up and asking the players to do what they are good at.
What is your opinion on transfer windows? Are they positive or negative?
It all depends on what side of the phone you are on! If you are trying to buy people, you could say it is a good thing. If you are desperate not to sell, it can unhinge you. We sold Scott Parker to Chelsea [in 2004] when Charlton were fourth in the Premier League. We ended up finishing seventh. I am convinced we would have finished in the top five if we had kept Scott. But these things happen.
How vital is it for a manager to have trust in their scouting network when it comes to recruiting players?
You trust the scouting system as far as it can go and then you have got to go and make the call yourself. You have got to go and see the player. You cannot just rely on scouting reports and you cannot just rely on videos. You have got to go and see the player at least, in my case, five or six times.
How do managers view football agents? Are they a good or bad thing in the game?
There is good and bad in it. Agents can often alert you to something that is going to happen and they can often make something happen. You have to take the rough with the smooth. There is no manager who can say they have been on the receiving end all the time from an agent. Managers can get players, because of the agent's influence. So, they are a necessary evil.
Are managers increasingly under pressure to sign foreign imports, who can often prove to be cheaper?
That is a point. Finding home-grown talent is a lot more expensive. You can perhaps buy a more experienced player. It all depends on the situation at a club and what you want.
How influential are statistics and technology becoming in management?
It became important five or six years ago. A lot of managers were heavily influenced by it. But I do not think it has the same power as it did have. I think managers manage with their own eyes. Statistics and technology became all too powerful. Perhaps the fitness coaches and psychologists were picking the team and training sessions. Although they are vitally important, I do not think statistics and technology have as much say as they used to in football.
Finally, what one piece of advice would you give for someone starting in management?
It is the same piece of advice that I was given when I took over at Charlton. I picked up the phone to some experienced managers and asked the same question. The answer came out resoundingly - win games.