Stoke taking shape
Mark Holmes takes an in-depth look at the changes Mark Hughes has made to Stoke's set-up and style since taking over from Tony Pulis.
By Mark Holmes - Follow @Homzy
Last Updated: 29/08/13 8:18am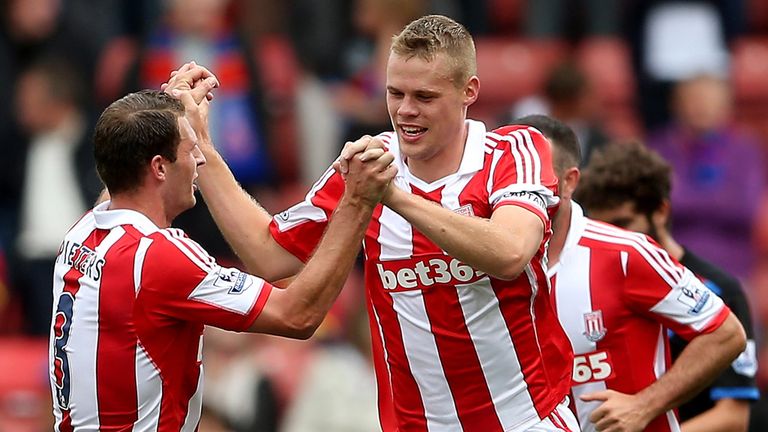 Tactically speaking, Stoke City are one of the most extraordinary teams in Premier League history. In five seasons under Tony Pulis they consistently posted some of the worst pass completion and average possession percentages in the league. Last season they were outscored by only bottom club QPR and no team at all in the season before that.
Yet, somehow, the north Staffordshire outfit never came close to relegation in any of those five seasons - they finished 11, 17, seven, nine and six points clear of the bottom three under Pulis - while they even made it to an FA Cup final and enjoyed success in Europe, reaching the last 32 of the Europa League the season before last.
However, despite their relative success, Pulis was sacked in May, with his pragmatic style of play beginning to put off even Stoke's own supporters and, crucially, failing to deliver the top-10 finish chairman Peter Coates had been craving.
Whether new manager Mark Hughes can fare any better on that front remains to be seen, but the comments of the club's latest signing, Oussama Assaidi, would suggest the style of play that the former QPR boss has introduced at the Britannia Stadium is already paying dividends off the pitch.
"I had a number of options available to me, but I really feel that this is the best one for me," said Assaidi, after agreeing a season-long loan from Liverpool. "He (Hughes) plays football the right way, the way that I want to play, and it was quite an easy decision for me to make in the end."
Change in set-up
Hughes' only signings prior to that of Assaidi were defenders Erik Pieters and Marc Muniesa - USA striker Juan Agudelo has also agreed a move to the club but will not join until January. With Muniesa brought in as a back-up player, left-back Pieters was the only new face on show in Stoke's opening two games away at Liverpool and at home to Crystal Palace.
Hughes has moved Marc Wilson from left-back to his preferred central midfield position, but otherwise his team against Palace on Saturday could easily have been picked by his predecessor, with Jon Walters utilised out wide and Peter Crouch as a lone striker ahead of a three-man midfield.
However, as the graphics below show, Hughes has made significant changes to the set-up of the team.
Under Pulis, Stoke looked to congest the middle of the pitch as much as possible, making them incredibly difficult to break down. It left Crouch (25) extremely isolated, though, with only Matthew Etherington allowed any freedom to stay clear of the middle battle.
Jon Walters (19) played almost as a central midfielder, while the full-backs were rarely tasked with the job of providing overlapping runs down the flank.
Even in the 3-1 win over Liverpool on Boxing Day, Stoke's best performance of the season, the vast majority of the play took place down the middle of the pitch.
Given their main sources of creativity cam from the wingers, it is not hard to see why the Potters struggled to score goals under Pulis. Hughes, however, has instructed his full-backs to provide much more width than they had done previously, with Walters getting much closer to Crouch in attack.
Change of style
Hughes is likely to further tinker with his team shape once he has completed his transfer business. Assaidi will offer greater pace and penetration in one of the wide areas, and Hughes appears to want someone to perform a similar job on the opposite flank - as well as a new striker - as Stoke move towards a 4-3-3 system.
Their biggest change, however, has not been the switch in shape but their change in style. Their goals against Palace may have come in rather typical style, but their general approach play could not have been more different to that of last season under Pulis. Although there is still room for improvement in terms of their passing accuracy, the lack of long balls Stoke have played in the opening two games is significant.
Stoke passing stats - 2013/14
Stoke City
Statistic
Ranking
Possession
46.99%
11/20
Passes per game
412.5
12/20
Pass accuracy
79.27
14/20
Short passes per game
369
12/20
Long passes per game
43
20/20
Assistant manager Mark Bowen said after the opening-day defeat at Liverpool: "The old adage of getting the ball forward and away from goal to keep it safe is out now because it's about keeping possession to keep it safe."
Stoke will even be expecting their goalkeeper, Asmir Begovic, to play a greater role in starting attacks and keeping the team in possession. "The way we are looking to play, he will also get more comfortable with the ball at his feet and become an extra outfield player for us," Bowen added after that game at Anfield.
Begovic has work to do on that front, but the passing of their captain, Ryan Shawcross, so far this season perfectly highlights the team's change in approach. Last season, whilst promising Stoke would evolve, Pulis stressed his dislike of passing in the defensive half. "We don't want to play it backwards and square, and pass back to the goalkeeper 50 times," he said. "That's not the way I think football should be played."
Hughes, however, has a different modus operandi and, remarkably, Bowen even accused Stoke's players of over-playing after the Palace game. "Maybe on Saturday the players wanted to impress the manager too much and passed a little bit too often at the back," he said. "At times you do have to be a little more direct, and even the bigger teams do this."
Bowen is right, of course, that there is a balance to find as Stoke seek to complete the transformation from a team that relied on set pieces and long balls to one which can dominate games through their use of the ball. The signs so far, though, are that Hughes is making great strides as he seeks to alter the reputation of not only his new club, but his own ability as a manager.