Should Lukaku leave?
As Romelu Lukaku continues to wait patiently for a first-team start at Chelsea, Daniel Storey makes the case for the Belgium international striker to be chosen ahead of Fernando Torres, Demba Ba and Andre Schurrle.
By Daniel Storey - Follow me
Last Updated: 29/08/13 8:21am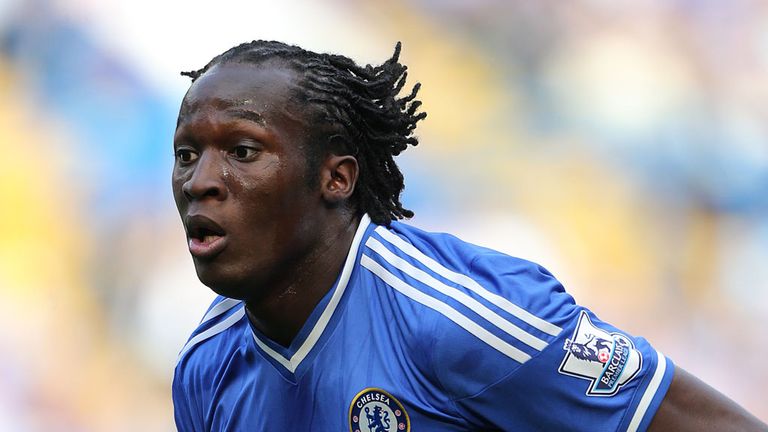 Following the 0-0 draw against Manchester United on Monday, Chelsea manager Jose Mourinho was probed regarding the immediate future of midfielder Juan Mata. The suspicion was that Mata, who has played just 65 minutes (and made one start) so far this season, had been cast adrift by Mourinho and may therefore be available for transfer. "The stories that are coming out are nonsense stories. He goes nowhere," was the Portuguese's rather curt response.
At precisely the same time, Jamie Carragher opined on Monday Night Football that the decision to drop Fernando Torres perhaps indicated that the Spaniard's career at Stamford Bridge was coming to an end. "I'm wondering if Mourinho was sending a message to the owner. We all know he wants Rooney. He's basically saying that his strikers aren't good enough. You could say it's probably the end at Chelsea [for Torres]."
Whilst the future of both Spanish players were right to be examined, for me there has been a rather more glaring omission to Chelsea's personnel this season - one that is more deserving of examination. Romelu Lukaku is yet to start a match, and has been on the field for just 40 minutes.
Blow
Chelsea's three matches so far have been very different in nature - a home match against a side far inferior to the Blues, a home game against an Aston Villa side buoyed by victory over Arsenal and a tough trip to a title rival. Whilst it is seemed understandable for Torres to be given the nod at home to Hull City, the selection of Demba Ba against Villa was unexpected, and must have been a blow for Lukaku, but there was a widespread belief that at Old Trafford the Belgian's ability to effectively hold up the ball would be utilised. Lukaku failed to even make it off the bench as Andre Schurrle and then Torres were preferred.
Furthermore, if his manager had his way then the Belgian would be sliding even further down the list at Stamford Bridge. Mourinho has made no secret of his interest in Wayne Rooney of late, and whilst he might not land the England forward's signature, it won't be for the want of trying. Chelsea's pursuit of Rooney must surely send a fairly damning message to the club's other strikers - it is clear that he would be the main man.
Even after seemingly missing out on Rooney, Mourinho has now gone in pursuit of Samuel Eto'o. Lukaku would be forgiven for feeling rather disillusioned. After scoring 17 goals last season for West Brom, including a hat-trick against Manchester United, and five goals in pre-season, it was felt that the Belgian was set to be Chelsea's principal attacking threat this season. With the club's attacking midfield options, the expectation was that Mourinho would line up with a triumvirate of midfielders (Eden Hazard, Oscar and Juan Mata more often than not) behind one striker, with Ramires and Frank Lampard providing defensive cover. Instead, Lukaku has been overlooked.
Speaking before Monday's match at Old Trafford, the Belgian expressed his desire to start the game: "'I'm getting closer to where I need to be and hopefully also closer to the starting line-up, my main ambition," the striker told Chelsea TV. "If I keep working hard, like I'm doing now, showing the talent that I have hopefully I get to start in the next game [against United]." After his latest omission, Lukaku's total Premier League starts in two years at Stamford Bridge still stands at one. Less than 200 minutes of football despite a £19million fee. He may not yet be 21 years old, but that will do little to offset the frustration.
The striker's absence seems even more bizarre given that his characteristics seem apparently perfect to Mourinho's preferences. Lukaku's similarities with Didier Drogba are well-documented, but the point still merits inclusion. During his time at Stamford Bridge between 2004 and 2007, Mourinho sculpted the Ivorian into a striker that spearheaded the club's most successful ever period, with Drogba scoring 65 goals and registering 25 assists in three seasons. Mourinho's admittance whilst at Inter Milan that Drogba was "more than a player for me, he is a part of me, an extension of the coach on the pitch" hinted that the use of a forward such as Lukaku could again be the hallmark of Mourinho's tenure at Stamford Bridge.
Moreover, the evidence shows that, in fact, Lukaku would be the most effective option for Mourinho as his out-and-out striker, as the below image shows the location of touches on the ball for each of Chelsea's forwards this season. Whilst Lukaku has had five touches inside the penalty area in his paltry 40 minutes of action, Torres has had the same number in 105 minutes. More ineffectively still, Demba Ba has had two penalty area touches in 65 minutes and Schurrle one in 135 minutes.
The final nail in the coffin of Lukaku's three main rivals for a spot comes with their lack of goal threat. In a combined 205 of Premier League minutes Torres, Schurrle and Ba registered four shots between them. Only one was on target. With their inundation of attacking midfield options, what Chelsea require is a forward that will pose a definitive goal threat - none have thus far done so.
Vital
This is a vital week for Romelu Lukaku. Belgium have almost sealed their place at next summer's World Cup in Brazil, and the striker will want to play as many minutes as possible in order to justify a place within the country's starting line-up. In Belgium's last three competitive internationals Lukaku has been benched, with Christian Benteke preferred in an attacking 4-5-1 formation. If the prospect of regular starts does not materialise, Lukaku must be considering seeking out a move.
There would be no shortage of Premier League suitors should Lukaku become available. Liverpool could look to replace a 'surely to leave at some point' Luis Suarez, whilst Arsenal fans would surely welcome a move after their failure to land deals for Suarez or Gonzalo Higuain. Finally, Tottenham still have an opening for a support to Roberto Soldado in their exciting new push for the top four.
Only five players scored more times than Lukaku in the Premier League last season, and four of those have been the subject of rumoured bids ranging from £20-95million, whilst the other is Robin van Persie. Meanwhile, a world-class striker, aged just 20 and with more goals than any Chelsea player last season, sits on the bench. A change may be better than enforced rest.