A risk worth taking?
Sunderland have put their faith in Gus Poyet to keep them in the Premier League after dismissing Paolo Di Canio. Lewis Rutledge looks at some of the challenges facing the new man and considers whether they will stay up
Last Updated: 11/10/13 3:47pm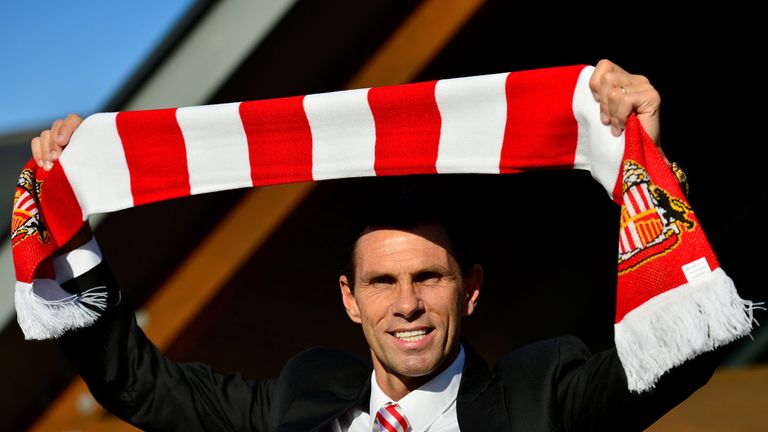 Sunderland owner Ellis Short stated three days before the appointment of Gus Poyet that 'sometimes the quest for stability can be interrupted by the absolute necessity of staying in the league'.
Having wasted little time in dispensing with Paolo Di Canio after a dismal start to the season and a reported player revolt, the decision to bring in Poyet as the man to lead the club to Premier League safety has been criticised in some quarters and called a gamble.
It has been suggested that all Sunderland have done is replace one volatile character who had no Premier League experience with another, and even at Poyet's first news conference he had to dismiss comparisons to his predecessor.
There is no doubt that the Uruguayan has a fiery temperament, and his reputation suffered as a result of the ugly manner in which he was dismissed by Brighton & Hove Albion at the end of last season on an unspecified charge of gross misconduct.
However, there was a calm aura about the way in which Poyet addressed the media on Tuesday which provided a nice contrast to Di Canio's headline-grabbing style.
There was an air of arrogance about Di Canio as he repeatedly referred to himself in the third person during his time in charge and, whilst he stressed he was not at the cub to 'make a revolution', the changes he made did not appear to go down too well with the players.
Poyet will have to evolve the team more gradually and he has already spoken about how important it is to inject a new sense of belief into the struggling Wearsiders.
He said: "I am a confident, positive person but it's too easy to talk in advance. I want to prove it. I want to show you. When we get to the end of the season, I hope we are going to be sitting here smiling and I hope I can show I can do it at this level."
Heal the rifts
Having brought in their sixth permanent manager in the past five years, Sunderland would now love to have a period of consolidation when one man stays at the helm long enough to make a significant difference.
Poyet's arrival on a two-year deal has been warmly welcomed by the players but another problem is that each new boss has overhauled the squad with a host of new signings, and there were 14 fresh faces at the Stadium of Light this summer.
Poyet will have to integrate the new players and heal the rifts which became apparent during Di Canio's reign, with defender John O'Shea revealing that several members of the squad did go to the club's board to complain about the Italian.
The signs are that the good work has already been begun by interim boss Kevin Ball, with the Black Cats showing plenty of fighting spirit in Premier League defeats by Liverpool and Manchester United since the departure of Di Canio.
While Sunderland's odds of staying up have barely moved following Poyet's appointment and some bookmakers have even priced him at 12/1 to be sacked by Christmas, the 45-year-old former Tottenham Hotspur player will hope he gets the chance to put his own stamp on the squad in the January window.
A few top-quality additions may be required in the New Year to sustain the fight for survival and the new boss will have his say on who comes in, but it is Roberto De Fanti who looks after transfer activity at Sunderland and Poyet says he has no problem working with the director of football
The summer signings brought in by De Fanti have been largely unconvincing, though, and Poyet will have to rely on his own strengths as he confronts his main challenge as Sunderland boss - getting the team out of the bottom three.
He may not have had a top job in the Premier League previously but Poyet's coaching resume is nevertheless promising, having spent time as assistant boss at Leeds United and Spurs before taking the reins at Brighton in November 2009.
The improvement he masterminded on the South Coast was eye-catching as Brighton progressed from a struggling League One club to a Championship force, culminating in last-season's finish in the play-off positions.
Brighton also became known for the attractive brand of football played under Poyet, based around keeping possession and playing the ball out from the back, and there was a sense that he would one day lead the club into the Premier League.
Survival over style
Poyet's dismissal from Brighton has left him with a point to prove and he has admitted he will have to take a more pragmatic approach at Sunderland as he prioritises survival over style.
He explained: "This one is about winning games and then slowly we will bring the philosophy in. To change now from one day to the next and try something totally new would be crazy."
There is enough talent at Sunderland's disposal to avoid the drop if Poyet can get the best out of some of the players who have not been performing to their potential at the start of the season.
O'Shea and Carlos Cuellar are experienced defenders and Lee Cattermole has the sort of midfield steel that could be valuable in a relegation fight, while Adam Johnson has the ability to terrorise defenders but needs to find greater consistency.
Fellow winger Emanuele Giaccherini has been one of the few new players to shine and will surely get even better, while Jozy Altidore and Fabio Borini came to England with rave reviews and could be given a new lease of life under Poyet.
The absence of Steven Fletcher due to a shoulder problem has left a major void up front but once he is fit and firing, Sunderland will possess the kind of prolific striker who could make a vital difference.
Sunderland have so far picked up just one point from their opening seven games and are already six points adrift of safety so it will be a tough task, even at this stage, to revive the team's fortunes and avoid going down.
Poyet's first test will be a difficult game away to Swansea City after the international break, before the Wear-Tyne derby against Newcastle United on 27 October.
Victory over their North East rivals will not guarantee a long stint in charge for Poyet, as Di Canio will attest, but it could provide the perfect springboard for Sunderland to pull clear of trouble.