Casillas conundrum
It has been a difficult year for Iker Casillas after he lost his place as Real Madrid's first choice keeper. With the World Cup fast approaching, will he look to jump ship? Tim Stannard offers his view
By Tim Stannard
Last Updated: 15/10/13 2:35pm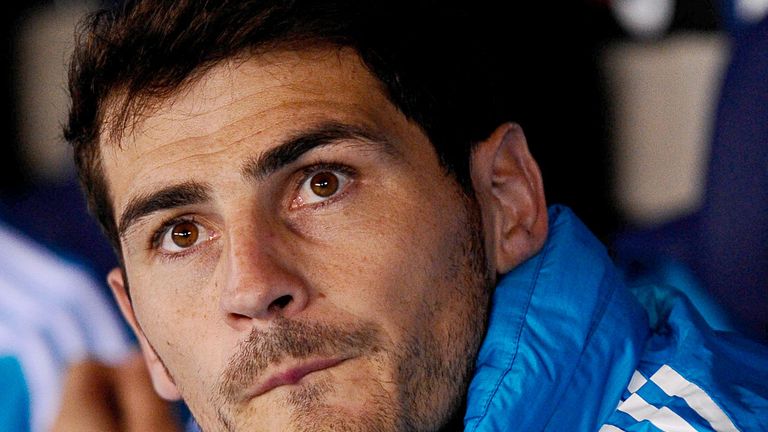 With another bleak working week kicking off for most of the world of a Monday morning, it is a hard sell for this column to try and elicit some sympathy for the current plight of poor Iker Casillas.
For starters, the ruggedly handsome Real Madrid player is a figure that is fortunate enough to be paid to play football and is captain of both his club and country. Casillas has lifted the World Cup, is adored by millions, gets paid by beer companies to sell their products, and probably doesn't have to scrimp and save for a bag of rice at the end of the month to fend off starvation.
But everything used to be so much better for Casillas. One year ago, the goalkeeper was playing on a regular basis, as opposed to once or twice a month. That was before José Mourinho got the hump with his captain last Christmas, dropping him to the bench for his considerably inferior understudy, Antonio Adán.
The reasons for this move are still much mused over in Spain with theories ranging from Casillas either being too comfortable in his starting position, causing dressing room unrest, or simply being one foot too short.
In January, Casillas was booted in the hand by Alvaro Arbeloa in a cup clash against Valencia. Diego López came into the club as cover, and held on to number spot with Mourinho claiming to a disbelieving press that the decision was not personal and that he simply preferred López.
In a hugely surprising move, Carlo Ancelotti has continued to leave Casillas in exile on the bench, revealing that the club captain would only be playing Champions League and Copa del Rey games for Real Madrid. On a technical basis, it is a perfectly valid approach with López having been in outstanding form since returning to the club where he began his career.
However, this has put Casillas in a bit of a bind as Friday's World Cup qualifying clash against Belarus saw the national captain losing his spot to Barcelona rival, Víctor Valdés. "He's only played one game, this month," was the explanation from Vicente Del Bosque, a manager who has previously been extremely vocal in his support of his skipper.
This spiraling situation for Casillas has seen stories since the start of the season on whether the life-long Madridista will be making a move away from La Liga in the winter transfer window, with his starting role in Brazil very much under threat.
Assuming that Diego López suffers neither injury nor poor form, and Ancelotti sticks to his guns, the maximum number of matches Casillas is able to play is just 20 from now until the end of the season. Those are 11 in the Champions League and nine in the Copa del Rey, assuming of course that Madrid make it to both finals. That may be enough to convince Del Bosque that Casillas can remain match ready but it is a risk for the keeper, especially if Valdés has an exceptional season at Barcelona.
Casillas is just one poor Real Madrid performance from a last-16 knock-out in Europe or an early exit in the Copa del Rey that could see him play even less football this season. That's quite a gamble for a player looking to captain his country to back-to-back World Cup wins. For this reason, a swift winter transfer window move to a club with guaranteed weekend football may be a tempting move.
The signing of Casillas may be attractive to a club in England, such as Manchester City, with Manuel Pellegrini looking to promote his former charge ahead of Joe Hart. PSG are another team who may go far in Europe and are always on the hunt for a shirt-shifting signing.
What will be in the back of Casillas's mind though, is that it only takes one unfortunate injury to Diego López to ensure he wins back his place in the Madrid side. And if Ancelotti is consistent, and the player known as 'Saint Iker' plays well enough, then he will be the club's number one choice again. Memories of the previous 12 months, which Casillas has admitted to causing a few sleepless nights, will quickly fade.
Moving away from a club that has been his home since childhood and where he is worshipped would be an enormous personal and professional wrench. However, Casillas must now be debating whether staying on the bench on Real Madrid is going to see him miss out on the upcoming World Cup, probably the goalkeeper's last chance of playing in the tournament.
Whilst Casillas may appear to have everything anyone could ever want in the world, he still has a heck of a decision to make in what could be the ultimate club versus country personal debate.
This article first appeared on Football365