Stop comparing Moyes and Fergie's Manchester United teams, says Brad Friedel
Brad Friedel thinks the fans and press need to stop comparing Sir Alex Ferguson and David Moyes.
Last Updated: 27/10/13 11:50am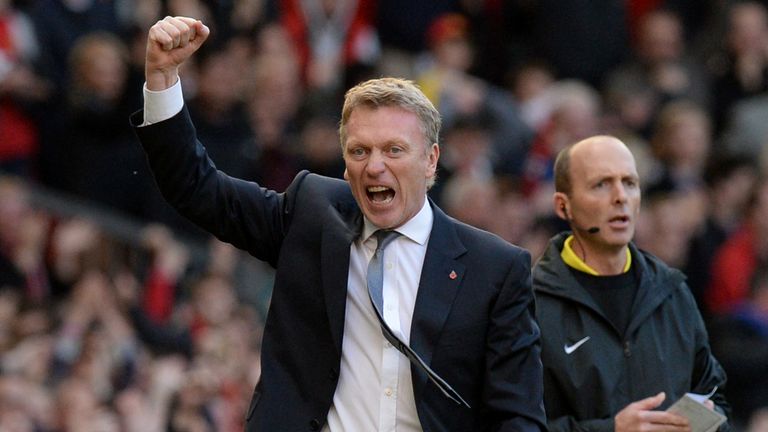 Substitute Javier Hernandez scored a late header to seal the victory after the visitors had led on two occasions through goals from Peter Crouch and Marko Arnautovic.
The last-minute win has drawn comparisons to Sir Alex Ferguson's successes in charge of United; as his teams were admired for their ability to grind out a victory.
The three points take some pressure off David Moyes, who has lost three and drawn two in the league so far this season, but Tottenham goalkeeper Brad Friedel told Saturday Night Football Match Choice that the press and the fans shouldn't make comparisons between the two managers.
He said: "There's been a change of manager from one of the all-time greats, I think that any kind of win or loss is going to be compared to Sir Alex. We need to stop comparing United now to Sir Alex's United, it's not fair on David Moyes and it's not fair on the football club. They have a new man in charge.
"I think Man United will be there, thereabouts come the end of the season. They're very resourceful, they're going to be able to go out and get players from all over the globe and they're going to be a force to be reckoned with.
"I think David Moyes needs a little bit of time to settle in but I think the press and fans alike are making a lot out of a little at the moment."
Title-challengers
During the week his autobiography was released, Ferguson stated that United, who are eighth in the Premier League, 'are the only team that can win the league coming from behind'.
"I think he's just looking at the history of Manchester United and what they're capable of," former Liverpool and Aston Villa keeper Freidel added.
"He's used to managing winning Manchester United sides and he's used to them coming from behind to win. I've played against them so many times when we've been in winning positions and they've come back at the death and beat you.
"The winning tradition is ingrained in Manchester United from youth levels all the way up to the first team. Now there's a new manager that just doesn't evaporate overnight. I think Sir Alex is speaking both from the heart and from his past experiences."
Hard done-by
Manchester United's late win came at the cost of Mark Hughes' Stoke City side who had looked impressive in the first-half but let a two-goal lead slip. Freidel believes Potters fans will feel unlucky with the defeat.
"Stoke fans will be feeling hard-done-by, it was a very similar to their performance at Anfield earlier in the season.
"Mark Hughes knows Old Trafford inside and out, when I played for Hughes at Blackburn every time we went to Old Trafford he did a few surprising things compared to some of the other games; if we were playing one striker he'd turn up with strikers and he always had the mentality that when you went to Old Trafford you had to take the game to them, if you sit back and defend you're invariably going to lose.
"I wasn't surprised to see the way Stoke started with the form Manchester United have been in and Stoke went out and got in the lead, it looked like they were winning a lot of the second balls and a lot of the battles and It took Man United a long time to get in the game, but then they did."