Talking tallies
Sky Bet take a look at the latest betting odds in the race for the Premier League Golden Boot.
Last Updated: 29/10/13 10:03am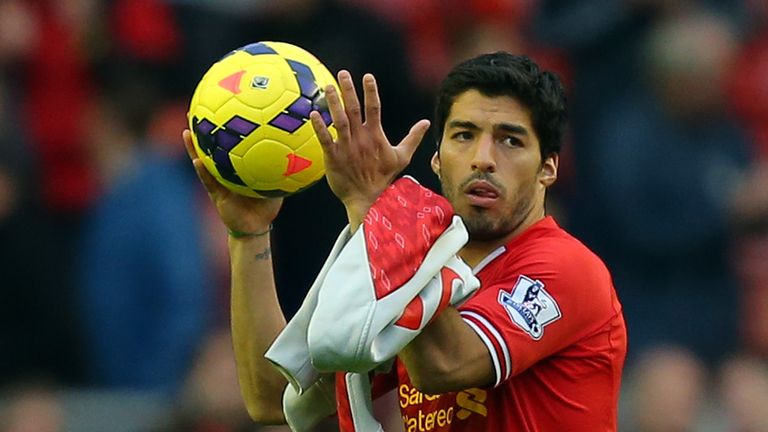 Luis Suarez's first Anfield hat-trick on Saturday saw the Liverpool striker's odds to be the Premier League's top scorer this season slashed from 6/1 to 100/30 with online bookmaker Sky Bet.
For the first time this season, Robin van Persie is no longer the favourite for the crown, having been pushed out to 5/1 with Suarez extending his tally over the Dutchman by two.
However, Sergio Aguero and Daniel Sturridge have both scored more than the aforementioned duo, meaning there's value to be had in the betting odds. Here, Sky Bet analyse the front-runners and outsiders.
With the majority of a 10-game ban rolling over from last season, coupled with his intention to leave Liverpool in the summer, Suarez was as long as 25/1 to top the scoring charts just over a month ago. Six goals in just four Premier League appearances later and the Uruguayan heads the market, being the most-backed player among Sky Bet's customers ahead of outsider Roberto Soldado (14/1).
The former Arsenal man began the season as clear favourite at 7/2 and was shortened to 5/2 after bagging a brace at Swansea on the opening day of the season. Although three goals in seven league appearances since is by no means a dry spell, the superior rate at which van Persie's rivals have been scoring in that time has seen his odds double. Make no mistake, van Persie is still the man to beat having topped the charts in the last two seasons and any punter who passes up the 5/1 may struggle to find a better price for the rest of the season.
With seven Premier League goals to his name, Aguero has already achieved more than half of his tally from last season. Particularly over the last month, the Argentine has been putting in the kind of displays that saw him named Manchester City's player of the year in his title-winning debut season, in which he scored 30 goals in all competitions. With compatriot Carlos Tevez no longer stealing spot-kick duties having left the club in the summer, Aguero, who was 10/1 before a ball had been kicked, can expect to keep his tally topped up from 12 yards, much like van Persie does.
Heading into November, the Premier League's top scorer cannot be ruled out of the equation, but eight-goal Sturridge is listed fourth in the pecking order. His scoring rate in a red shirt has seen his odds repeatedly trimmed from the pre-season price of 22/1, with only Suarez and Soldado attracting more stakes than Sturridge. That he will not get many opportunities from the penalty spot (plus his knack of picking up minor injuries) does not work in his favour, but with eight goals from all nine of Liverpool's Premier League games, it'd be naïve to rule him out. With Wayne Rooney rated 22/1, Sturridge is deemed the likeliest Englishman to top the charts, though Kevin Phillips was the last to do so in 1999-00.
As Sky Bet are paying 1/4 the odds on all each-way bets on the top four Premier League goalscorers this season, there's no shortage of value on the outsiders should any of the above fail to justify their status as a front-runner. Olivier Giroud (12/1) is the most obvious choice having kept up with van Persie's pace so far with five goals, with 5/1 third favourites Arsenal expected to sustain more of a title challenge than outsiders Liverpool. Behind the Frenchman is Romelu Lukaku (14/1), who has hit the ground running in an Everton shirt and only missed out on the top four by two goals in a West Brom shirt last season. Meanwhile, Rooney (22/1), Christian Benteke (25/1) and Fernando Torres (50/1) may all prove good value in the each-way betting.
Odds are subject to change. Click here to sign up to Sky Bet's 'Free Bet Club' and here to brush up on each-way rules. Terms and conditions apply.