That's entertainment?
Andre Villas-Boas caused a stir this week by criticising the levels of support his team receives at White Hart Lane. Adam Bate takes a look at some of the reasons why his Tottenham team are failing to inspire some fans despite currently sitting in the top four of the Premier League...
By Adam Bate - Follow @GhostGoal
Last Updated: 30/10/13 1:39pm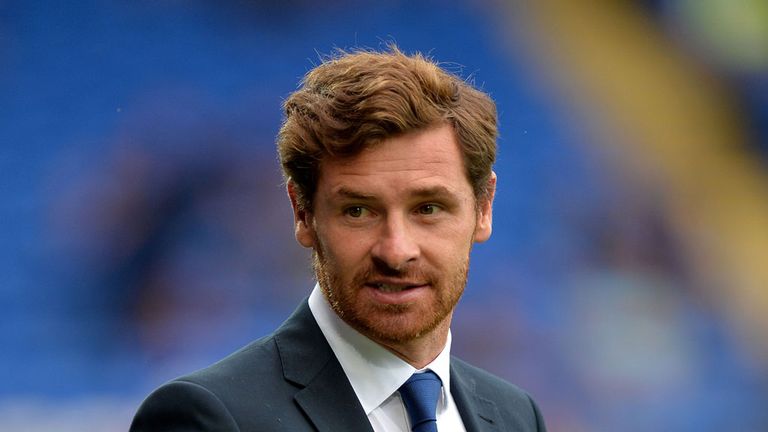 "It was a victory where we had to dig deep in ourselves, because we weren't getting any help from anybody. We played in a difficult atmosphere with almost no support. We have a wonderful set of fans, but they can do better. We don't need the negativity that was in White Hart Lane today. I'm extremely happy with the crowd normally. Fans represent the essence of football. This stadium, with the noise it can generate, can be so difficult to play. But not like this."
Andre Villas-Boas is getting results. But contrary to the old maxim about football management, it seems there is more to this lark than that. Some Tottenham supporters are uneasy with the style of play. A cursory perusal of just one of the many articles discussing the manager's criticism of his fans this week reveals one below-the-line botherer, claiming to have followed Spurs for 46 years, who has never been so bored. Given that the club currently sit fourth in the Premier League and have never finished higher than third in that time, it's clear something is going on here.
Two P words - or should that be a lack of them - seem to be at the heart of the debate. Villas-Boas is calling for patience. Sections of White Hart Lane are demanding more purpose. Tottenham's slow build-up play through midfield differs from the expressive cut-and-thrust of Harry Redknapp's side and is proving particularly testing for some. Here we take a look at some of the issues making it more difficult than it should be for Spurs supporters to fall in love with the current crop...
Tottenham - Premier League Rankings
Discipline
Number
Ranking
Shots
159
1st
Possession
60%
1st
Touch % in opp half
31%
1st
Dribbles
140
1st
Through-balls
4
14th
Offsides
9
20th
Lack of urgency
As shown in the above table, Tottenham have enjoyed more possession of the ball than any other team in the Premier League so far this season. The scoreline will always be the key statistic in football but given that Barcelona top La Liga for possession and Bayern Munich rank No.1 for Bundesliga ball retention, the link between keeping the ball and winning matches is clear. The concern for Spurs supporters is that much of it has been too sterile.
Two of Tottenham's back four - Kyle Walker and Michael Dawson - are currently averaging over 60 passes per game. The only other defenders to be hitting those kinds of numbers this season are the Swansea centre-backs Ashley Williams and Chico Flores. Much like the mid-table Swans, retaining the ball appears to act as a defensive measure rather than an attacking one. Ponderous approach play allows the opposition to set themselves and exposing their weaknesses can then become a trickier task.
Home comforts?
"We managed to beat the record of away wins because we don't find situations of pressure and our fans are amazing," added Villas-Boas in his comments at the weekend. "Sometimes, at home, it is difficult, and it looks like it drags the ball into our goal instead of the opponents' goal." It's all relative. While Tottenham's 10 away wins last season were bettered only by champions Manchester United, five of their eight defeats came on the road. In fact, even this season, the home and away records are remarkably similar. Those fraught one-goal wins a home to Swansea and Hull mirror narrow away victories at Crystal Palace and Cardiff.
Given that teams visiting White Hart Lane are likely to be less inclined to push forward and leave the sort of space for Spurs to exploit on the counter attack, perhaps patience is a particular virtue on home turf. And besides, midfielder Mousa Dembele has another theory - pointing to the size of the pitch. "It's not easy for us," he told the Evening Standard. "We know that some teams are going to come here and make a block, and we don't have a big pitch so it's even more difficult. A small pitch makes it harder. If we have more space, it's easier for us, but we have to find a way."
Congestion charge
The search for space that Dembele highlights is a challenge arguably made more difficult by Tottenham's use of inverted wingers on both flanks. While man of the moment Andros Townsend is utilised on the right wing, right-footers such as Gylfi Sigurdsson and more recently Aaron Lennon have been asked to cut in from the left. It often leaves Spurs with five midfielders operating in front of opponents who are content to defend deep.
Tottenham have had more shots this season than any other Premier League team. But when it comes to shots on target their record dips below Liverpool and Arsenal. With Townsend and Sigurdsson frequently cutting in on their stronger foot in midfield areas, it is perhaps no surprise. After all, such a high proportion of these efforts are coming from long range. Villas-Boas' side are taking 57 per cent of their shots from outside the area. Only Newcastle, Crystal Palace and Fulham can match that and they are hardly teams to seek to emulate.
Furthermore, inverted wingers are best complemented by attacking full-backs able to exploit the space vacated down the flanks. But since the injury to Danny Rose following the convincing win over Norwich, Villas-Boas has been forced to move Jan Vertonghen from centre-back or use the right-footed Kyle Naughton at left-back. Not getting to the by-line and testing teams by getting in behind has proven a problem.
Striker struggles
Strikers thrive on service. Roberto Soldado and Jermain Defoe more than most. It's been a slow start for Soldado at Spurs with three of his four Premier League goals coming from the spot and the team's style of play has contributed to that. As noted by WhoScored, seven of the Spaniard's league goals last season came from either right-footed crosses from the right or left-footed crosses from the left. The use of inverted wingers is not aiding the expert poacher.
Indeed, Tottenham's lone striker - whether Soldado or Defoe - has struggled to get involved in play at all. Despite Spurs having a higher percentage of their touches in the opposition half than any other Premier League team, their striker has cut an isolated figure. While Everton's Romelu Lukaku and Arsenal's Olivier Giroud average at least 30 passes per 90 minutes in the lone forward role, Soldado manages just 24 and Defoe is making only 19 passes per match. And despite the long-held belief that selfishness is a virtue in strikers, this appears to correlate with their goalscoring contribution too.
Is that the fault of a lack of incisive and imaginative movement or is it poor service? That's a judgement call. Either way, the fact that no Spurs player has managed more than one accurate through-ball all season is damning. Jack Wilshere has made four, David Silva five. Albeit a negative statistic in itself, the fact that Tottenham have been adjudged offside on fewer occasions than any other side also suggests the runs are either being missed or not being made.
Premier League striker comparison
Player
Goals (exc pens) per 90
Passes per 90
Romelu Lukaku
1.21
35
Sergio Aguero
1.07
29
Daniel Sturridge
0.89
28
Olivier Giroud
0.58
30
Roberto Soldado
0.13
24
Jermain Defoe
0.00
19
Midfield creativity
Christian Eriksen might be the man to change that. Sigurdsson and Townsend are effectively operating as wide attackers rather than suppliers, with four Premier League goals and no assists between them so far this season. Paulinho is the man described by Juan Roman Riquelme as the 'Tropical Lampard' so it is no great surprise that he should prefer the role of bursting into the box from deep rather than creating for others. Lewis Holtby is a fine athlete too. But the young Dane is different.
Eriksen assisted 17 goals in the Eredivisie last season and has shown glimpses of this quality in the Europa League already this season. But just one assist from 333 minutes of Premier League action suggests it may take a little longer to produce a similar return in England's top flight. A total of just six goals from open play - the same as Norwich, who sit in the relegation zone - indicates that his imagination is much needed if Tottenham are to get that midfield balance right.
It's not all bad
Amid all the concerns, there are obvious signs of encouragement. Villas-Boas has a well-drilled team with the second-best defensive record in the league, having conceded just five goals so far this season. It's no coincidence either. They are one of only three teams to conceded fewer than 10 shots per game and this defensive reliability has allowed them to rack up four 1-0 wins already this term. In short, they are winning matches.
Recent research by StatsBomb indicates that this ability to restrict opponents is a familiar trend for Villas-Boas teams. While Chelsea were a conspicuous success under Roberto Di Matteo, they conceded significantly more shots following the exit of their Portuguese coach. In addition, Villas-Boas has sparked a marked decrease in the number of shots Tottenham are conceding in comparison to the reign of his predecessor.
Conclusion
There is a lot right with Tottenham at the moment. As a result, perhaps patience and cautious optimism should be the watchwords. After all, it's worth noting that some of the criticisms valid of Roberto Mancini's Manchester City side in the season before their title triumph are applicable here. This is a defensively strong team succeeding in controlling matches without really firing as they might. If Villas-Boas finds the right blend and as is able to unleash his players, things could be anything but dull for those sceptical Spurs supporters.