Life goes on
The story of Dean Ashton's premature retirement has been much told but what does the future now hold? After the painful early years of the end of his playing days, the former striker tells Sky Sports about how he is attempting to move on
By Peter Fraser - Follow me on Twitter @SkySportsPeteF
Last Updated: 31/10/13 10:31am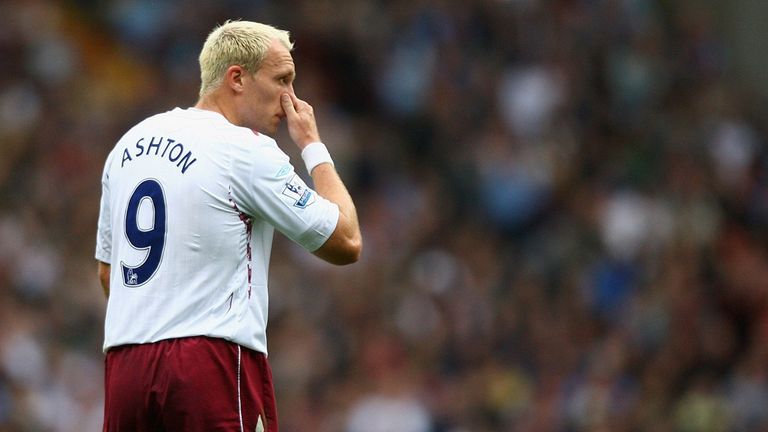 When Dean Ashton last spoke in depth to the media at the end of January about his career since he was prematurely forced to retire in 2009 at the age of just 26, the former Crewe Alexandra, Norwich City and West Ham United striker enthusiastically described his plans to return to football in a coaching capacity. He was preparing to begin work towards the necessary qualifications. After years of despair spent shutting himself away from the game, he was ready. Unfortunately for Ashton, the reality was far more painful.
"I stopped doing the coaching after a few months, because it just did not feel right," he told Sky Sports in an exclusive interview. "I did not have the passion for the coaching and I was coming away feeling a little bit down again having been on the training pitch and getting the feeling again that I should be playing.
"It was a little bit of a shock that those feelings were still there. After five years, I thought it would be okay to be in that football environment again and be around a football club, especially, having the chance to almost join in a little bit. But it just did not feel right. I do not know whether it is because I am still young and perhaps could still be player or what it is. But I just thought it would be better to step away and concentrate on other things."
It was infamously a tackle by Shaun Wright-Phillips while training with England ahead of Steve McClaren's first game in charge against Greece in the August of 2006 which ultimately led to Ashton's retirement. He suffered an ankle medial ligament injury. He eventually managed to regain some fitness in order to make his England debut against Trinidad & Tobago in the summer of 2008 but he then played what proved to be his last professional game for club or county that following September.
Crewe Academy product Ashton, who had joined West Ham in a £7.25million deal in January 2006 having starred in a calendar year with Norwich, would undergo more than a year of rehabilitation in an attempt to overcome the injury. But he finally called time on his career in December 2009. It was a nightmare for a man who had earlier been suggested as an England partner for Wayne Rooney at the 2006 World Cup having tormented Liverpool in West Ham's ultimate defeat by Rafa Benitez's side in the FA Cup final of that year.
What followed his retirement was a period of attempting to claim some closure and it saw a miserable Ashton shut himself away from football, removing any memorabilia from his home and attempting to concentrate on family life with his wife and children while also playing golf.
That story has been much-told but, now, what does the future hold? Speaking to Ashton, in association with Aviva's Financial Planning Week, it is impossible to ignore the fact that he comes across as a genuinely nice guy and it is therefore difficult not to feel sorry for the way his playing days were cut short. However, at the same time, it is only football and far worse things could have happened. For example, Ashton has admitted in previous interviews: "My best friends who were at the Crewe Academy with me but who never quite made it soon remind me, 'Hang on, we did not make it and we have got nine-to-five jobs. You have got to be grateful for what you had'."
For Ashton, who still does not turn 30 until the end of November, coaching, and being back at the coalface of football, was a bridge too far, too soon. But life goes on. He is now concentrating on the future and not dwelling too much on his retirement. Living in Norwich, he has been doing some commentary and punditry work in the media and is also working on a golfing company with his brothers-in-law. While his retirement understandably still hurts, he is looking forward.
"There is not a day that goes by that I do not think about my retirement, mainly because it was everything for me to play football," he said. "Playing football was basically all I grew up thinking about and it was all I wanted to do. So, to have that taken away is hard to take and I wish I could still be playing. But there comes a point when you move on. I have got kids of my own so I like to look at their futures."
However, as was seen by Ashton's tender attempt to return to football in that coaching position, which had seen him back at former club Norwich, there is still too much aggravation under the surface. It is this which has also seen him remain distanced from his last professional club, West Ham.
"I do not keep in contact with the West Ham lads," he said, admitting there is a little bit of regret at this self-enforced decision. "Again, that was partly down to me. I just forgot about anything West Ham related and perhaps did not speak to certain people at the club whether that be friends or staff or anything. That might sound a bit harsh but that was just the way I coped with having to finish. Football moves on so quickly, as well. Yesterday's news is today's chip paper in football. They move on to the next player and players are very focused in what they are doing."
Ashton, though, does have some happy memories of his playing days. His time at Crewe's famous Academy, which also produced the likes of former Liverpool, Tottenham Hotspur and Fulham star and England international Danny Murphy, are fondly remembered. A major factor in this was the presence of legendary coach/manager Dario Gradi. Now aged 72, Gradi's ability to nurture young talent is undisputed and that skill has recently seen him added to the Football Association's Commission - which is tasked with improving the future of English football.
"It is better late than never," said Ashton regarding Gradi's appointment. "I think he probably should have been part of the FA a long, long time ago. He has obviously proven he knows how to bring young kids through Academies and what it takes to produce players. For me, it was a great experience coming through Crewe's Academy. Dario was involved a hell of a lot. He was my Under 14 manager for the whole season, which is very unique. But I think one of the main things about Crewe, and Dario especially, is that he gives players a chance. As a player, you felt like if you got in the first team, he would give you games. If you had a bad performance, it would not be to the detriment of your career. He would give you 10, 15 or 20 games, whatever it took, to get to where you wanted to be. That was one of the main things, Crewe and Dario encouraged players to play and cope with the first team."
Perhaps in the future there could even be a role for Ashton on the FA Commission to give a perspective on players who have been forced to retire through injury? It is a big issue in football and something the FA might be advised to consider. Ashton would "possibly" be interested but believes the FA will be concentrating on players who can represent England for a long time.
That is obviously the main focus for the Commission. Much is made of England's perceived lack of talent and Ashton's potential was denied in the long term as a result of his injury. His is a slightly unusual case of the country missing out but he agrees work does need to take place in order to improve England's international success and homegrown products.
"It is certainly something we need to look at," he explained. "Countries like Spain and Germany went through a few years of being unsuccessful to look at their structure and bring groups of players through like they have done now. That is the first starting point. What will come of it, only time will tell."
Time will tell. The same can be said of Ashton's future. Whether he is able to return to the day-to-day life of a football club or the inside of the game remains to be seen. But he is at least looking forward.
Dean Ashton is talking on behalf of Aviva ahead of Financial Planning Week in November. To find out more about savings and investments, visit www.aviva.co.uk/savings-and-investments.