Can they win it?
Do Arsenal or Liverpool really have the ability to defy the odds and win the league? Peter Fraser looks at the pros and cons ahead of their meeting at Emirates Stadium on this weekend's Saturday Night Football
By Peter Fraser - Follow me on Twitter @SkySportsPeteF
Last Updated: 01/11/13 1:30pm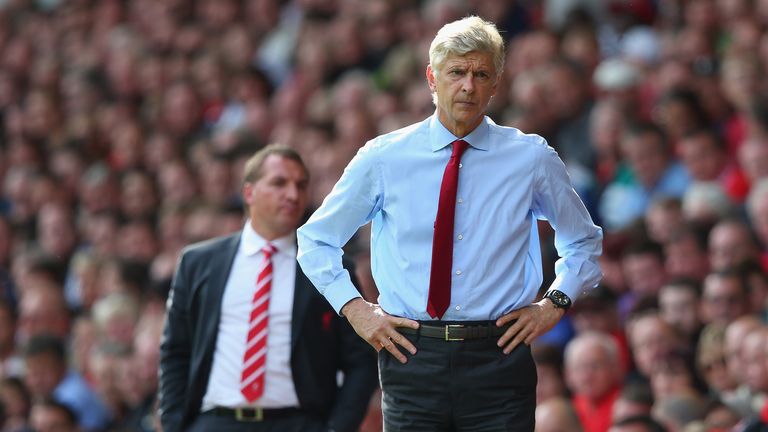 It may still be early but as table-topping Arsenal and third-placed Liverpool continue their respective positive form, their impressive starts to the Premier League are gradually developing into fine campaigns.
Both clubs are facing tough fixture lists between now and the turn of the year which will truly examine their credentials but can they continue to upset the odds which had previously written them as mere top-four contenders?
Ahead of this weekend's meeting between the two sides at Emirates Stadium on Saturday Night Football, Peter Fraser looks at the pros and cons of both Arsene Wenger's Arsenal and Brendan Rodgers' Liverpool.
Can Arsenal Win The Premier League?
Yes, They Can
1 - Wenger's Experience: Wenger's previous achievements in having already won three titles combined with his 17 years in the Premier League means he immediately has a wealth of knowledge to give Arsenal an edge even over the likes of Rodgers, Manchester United's David Moyes, Manchester City's Manuel Pellegrini, Tottenham Hotspur's Andre Villas-Boas or even Chelsea's Jose Mourinho. There is no substitute for that experience and that could be key when the going gets tough. Frenchman Wenger knows how to utilise his options, what to say at the right time and is also familiar with dealing with the pressure and increased media scrutiny.
2 - The Wizard Of Oz: Mesut Ozil may have only joined Arsenal on transfer deadline day but Arsenal's record signing has already become one of the most feared attacking players in the Premier League. The £42.4million German playmaker has already scored twice with a shooting accuracy of 88 per cent, produced three assists and created 21 chances. Ozil's arrival is undoubtedly playing a part in Olivier Giroud's fine season while his influence could also be seen as having an impact on the superb form of Aaron Ramsey.
3 - Money, Money, Money: It is no secret Arsenal have cash to spend if needed in the January transfer market. Their shrewd financial work during the period of paying off the Emirates Stadium means they are one of few big European clubs able to run at a profit. Whether or not Wenger and the club's board are willing to spend that money in January if needed is a source of constant debate. But the signing of Ozil along with the pursuit of Liverpool's Luis Suarez, which could be renewed in January, and links to Borussia Dortmund's Robert Lewandowski suggest they are now not afraid to spend vast amounts in order to acquire top talent.
No, They Can't
1 - Lack Of Squad Experience: In contrast to Wenger, his squad does not have the combined been-there-done-it know-how of having won the title in England. Infamously, of course, Arsenal have not won any trophy since the 2005 FA Cup and with that comes additional pressure when the weight of expectation grows. Getting over the finish line in any title race is an art form in itself and, for all of Wenger's experience, the players could be lacking.
2 - Minimal Strength In Depth: When compared to the riches of City or Chelsea, as highlighted in the midweek Capital One cup defeat by the latter, Arsenal's squad is sadly lacking in terms of their rotation options. Arsenal have arguably the most exciting midfield in the league and still have players to come back from injury in that area, such as Abou Diaby or even Lukas Podolski. But much has been made of the shortage of striking options should Giroud get injured or suspended. An unquestionably reliable goalkeeper with full confidence is also vital in any title-winning team and doubts will always remain about Wojciech Szczesny.
3 - Testing Times: Between now and Christmas, the fixture list is not kind on Arsenal. After facing Liverpool on Saturday, they visit Dortmund in the UEFA Champions League before then travelling to United in the league. Tricky games against in-form Southampton and Everton and a trip to Manchester City are also included along with visiting Napoli in their concluding Champions League group game. Two days before Christmas, Chelsea also again visit the Emirates, this time in the legue. That fixture list would examine the credentials of any would-be champions.
Can Liverpool Win The Premier League?
Yes, They Can
1 - The SAS Partnership: Suarez and Daniel Sturridge are proving the most potent attacking duo in the Premier League. Sturridge is the division's top scorer with eight goals while Suarez, despite missing the start of the campaign due to his suspension, is only two behind. Rodgers has tweaked his formation to a 3-5-2 line-up in order to find a balance and it is working. As a team, Liverpool's chance conversion rate so far is also 15.45 per cent this season in comparison with 13.45% in 2012/13. Having dominated teams in terms of possession last season but failing to take chances, there has also been a shift to a more efficient style in sacrificing an overall 57% dominance of the ball in 2012/13 for 53% at this stage in 2013/14.
2 - Defensive Stability: Only Chelsea, Tottenham and Southampton have conceded fewer goals than Liverpool in the league this season. Those performances at the back have come from the summer signings of new goalkeeper Simon Mignolet and defenders Kolo Toure, Mamadou Sakho and Aly Cissokho. Those arrivals have brought fresh competition for places for the likes of Daniel Agger, Martin Skrtel and Jose Enrique. That has meant they have had to raise their game or find themselves out of the team. Rodgers also demonstrated he was not afraid to off-load popular and influential goalkeeper Jose Reina. There is no danger of complacency.
3 - Brendan Rodgers: This might raise a few eyebrows, as he has his critics, mockers and overall lack of experience, but the Liverpool boss is very good at saying the right thing to motivate his players and protect his club's interests. The manner in which he has dealt with Suarez's various indiscretions, and the way in which he has his finger on the pulse of the club's heritage, is a fine example of his professional approach. The pressure was on Rodgers ahead of this season after a 2012/13 campaign of transition but he has proved he is capable of stepping up. The 40-year-old may be Wenger's junior by 24 years but he is learning fast.
No, They Can't
1 - Combustible Suarez: As much as Suarez is a positive for Liverpool, the Uruguayan is also more than capable of being his club's bad apple. His ban at the beginning of the season which overlapped from the last campaign when he bit Branislav Ivanovic, combined with a summer of which he spent the majority trying to engineer a transfer, are plentiful reminders of his disruptive capacity. Amid rumours he could again seek an Anfield exit in January, there is a sense it will be a matter of when not if Suarez next causes a controversy.
2 - Team Selection: Rodgers has found the perfect balance in his team at present in the 3-5-2 line-up but will he revert to 4-2-3-1 when highly-rated Philippe Coutinho returns to fitness and how will this affect Suarez and Sturridge? Liverpool's team does seem to be in status which is centred around stability and momentum built on flowing confidence from the likes of Jordan Henderson. With players such as Rodgers' personal favourite, Joe Allen, returning to fitness, the boss has decisions to make and there is the risk the on-field harmony could be disrupted. Whether Steven Gerrard can play every game from now until the end of the Premier League season is also essential.
3 - Lack Of Experience: To an even greater extent than Arsenal, Liverpool's team do not have the experience of winning the Premier League. The failure to win England's top flight since 1990 has been an albatross on the shoulder of every player at the club for decades and it will only add pressure to the current crop. A similarly difficult fixture list to Arsenal, which includes trips to Everton, Tottenham, Manchester City and Chelsea before the turn of the calendar year, may suggest Liverpool have had it easy so far but at least they do not have the added burden of Europe.