The Fantasy Football Club: Chelsea's Juan Mata picks #One2Eleven
See how Chelsea and Spain star Juan Mata managed to fit 15 players into his #One2Eleven...
Last Updated: 16/11/13 1:09pm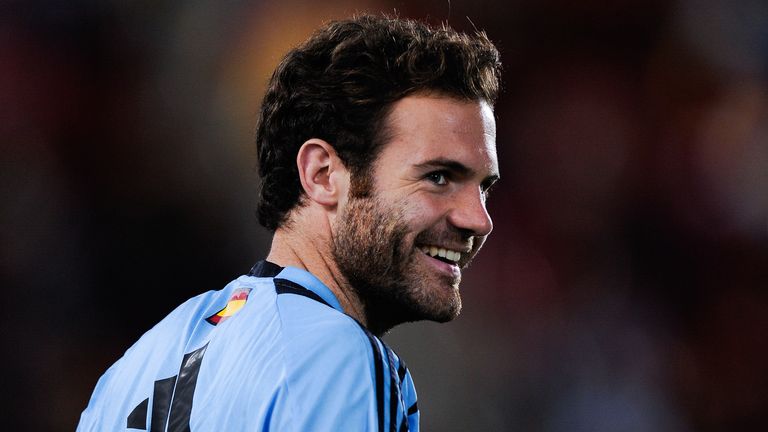 The Chelsea and Spain star - who began his career at Real Madrid and played for Valencia before he headed to Stamford Bridge - picked two goalkeepers, four central midfielders and 15 players in total when The Fantasy Football Club asked him to select a #One2Eleven!
Read on to see why Mata had such difficulty narrowing down his choices and don't forget to give us YOUR views on the 25-year-old's side by filling in the feedback form below.
Goalkeeper: Petr Cech and Iker Casillas
I have been lucky enough to play with Iker Casillas while at Chelsea I think we have one of the best goalkeepers in the world in Petr Cech (pictured). As a person, Petr is 10 out of 10; he is very smart and speaks more than four languages. He is a true bloke, so I can't pick between them.
Right-backs: Branislav Ivanovic and Cesar Azpilicueta
We have two really good right-backs at Chelsea, defensively Branislav Ivanovic and offensively Cesar Azpilicueta. I like Ivanovic's character as he can be strong and is a leader and a true gentleman. Azpilicueta is one of the best people I have ever met in football, so I cannot pick one.
Centre-backs: David Luiz, John Terry and Sergio Ramos
I really like David Luiz, who is like a number 10 playing at the back. He has quality, vision and can pass, while he always tries to make everyone around him happy by joking and smiling. I like the way he faces life.
John Terry is a leader, a true defender who knows how to play, while I also play with Sergio Ramos (pictured) for Spain. He is a really straight man and if he has something to say to you he says it to your face and I admire him for that, and he is also one of the most complete centre-backs I have ever played with.
Left-backs: Jordi Alba and Ashley Cole
Alba was a winger in the beginning but is now a left-back at Barcelona and can be one of the best in the history of our country because he goes forward and has quality but also knows how to defend. But Ashley Cole is the greatest left-back in the history of England and deserves to be in the team, too. He is a really funny and humble guy.
Central-midfielders: Xavi, Andres Iniesta, Sergio Busquets and Frank Lampard
Even if you don't support Barcelona you have to admire Xavi, Iniesta and Busquets. Busquets is so clever and does the rough work but he plays with quality and thinks before he has the ball, while Xavi and Iniesta are probably the best midfielders Spain has ever had. Xavi moves the team he plays in and Iniesta is the best player I have ever played with.
He looks shy and timid in life but as soon as he is on the pitch he is the best. He makes it look like it is easy to play when it isn't and does things no-one else can do. I also don't want to forget Lampard (pictured), who can be a striker with the number of goals he has scored for Chelsea. He has the most important thing in football which is goals and gets 10 or 15 every season. He is a true professional.
Strikers: David Villa and Fernando Torres
Villa is the top scorer for our country and I think he is amazing, while Fernando is mentally very strong and in his hardest moments he was very calm and trying to be a part of everything. He is special because of his mind and always believed in himself and now he is scoring again. I am glad for him and proud of him for that.